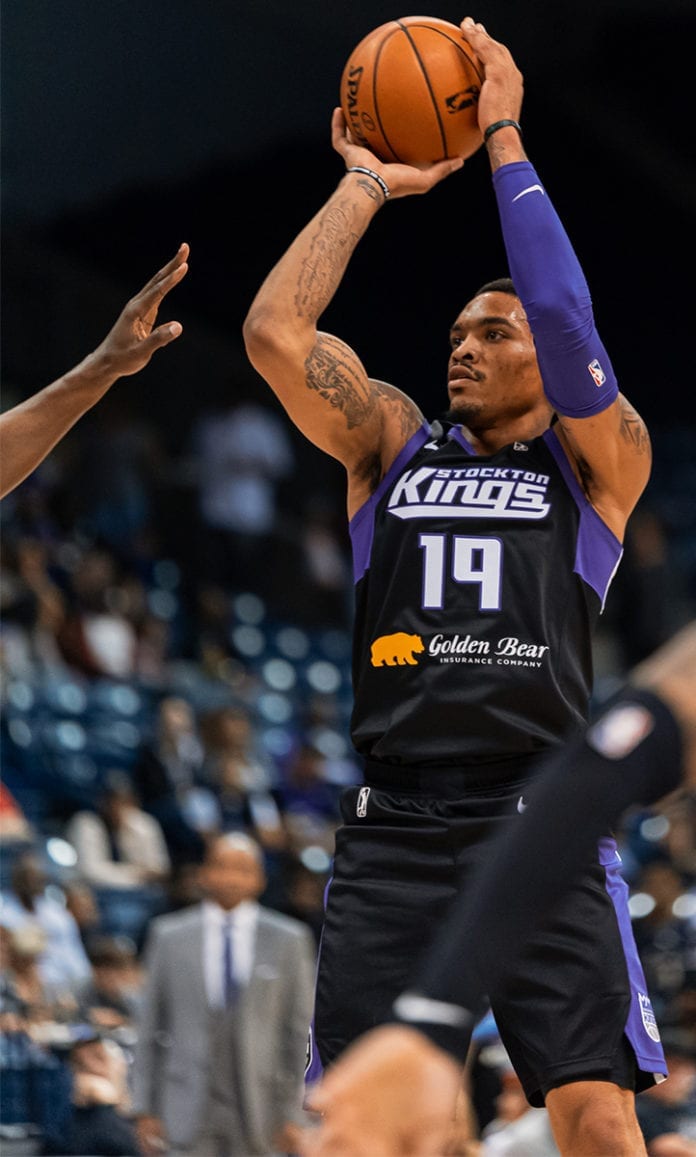 DaQuan Jeffries' professional basketball career hasn't begun like some thought it might.
The Edmond native, who played his final two collegiate seasons at the University of Tulsa, was once a projected second-round pick in the 2019 NBA draft. But Jeffries went undrafted and landed in Orlando before being released in October. He wasn't without a home for long after he signed a two-way contract with the Sacramento Kings two days later.
Under his two-way deal, the 6-foot-5 swingman can spend 45 days at most in the NBA and will play the bulk of his rookie campaign with the Kings' NBA G-League affiliate in Stockton, California.
"It's been pretty good so far. Since I've been in the league, I've learned a lot," Jeffries says. "I think one of the hardest parts of going from college to the NBA is getting used to the speed of the game, getting used to the communication part of the game. You can't take any possessions off, not one."
Jeffries has averaged about 16 points and seven rebounds per game with Stockton. One of his better G-League games came on the road Dec. 7 against the OKC Thunder's affiliate, the Blue. Jeffries scored 29 points, corralled six rebounds and had three assists in 38 minutes – a nice homecoming for the Santa Fe High School product.
"It was an amazing experience," he says. "Getting to play in front of my family as a professional for the first time was a pretty exciting time."
He has appeared in several games for Sacramento and made his NBA debut against the Los Angeles Lakers on Nov. 15 at Staples Center.
"I was pretty nervous," he says. "Once I got out there, I felt pretty good and I was pretty confident. It was pretty great, just sitting on the bench and looking down the floor and seeing those guys [Laker stars Anthony Davis and LeBron James]. You grow up watching those guys, and then to look up and see you're actually playing against them is a pretty amazing moment."
Another squad also drafted Jeffries last summer – the legendary Harlem Globetrotters chose him and former University of Oklahoma quarterback Kyler Murray. Jeffries didn't play for the Globetrotters but says being associated with such a famous team was overwhelmingly positive.
"Having them contact me was surreal," he says. "I thought it was a fake message or something. It was a pretty cool thing to be a part of."
Regardless of whether he's in the NBA or the G-League, Jeffries carries what he learned from his two seasons with the Golden Hurricane.
"I loved playing at Tulsa," he says. "The coaching staff have so much NBA experience and taught me a lot of things that helped me get to this level … and translate it to the floor."