[dropcap]The[/dropcap] U.S. National Library of Medicine offers many suggestions and pathways for older folks to find a fitness routine and stick with it. The four active seniors featured here share what they do to stay fit and show that there's no single way to maintain one's cardiovascular, muscular and psychological edge.
Mixing It Up
Ronny Altman has been a literal and figurative fixture at the Downtown Tulsa YMCA since 1970.
In addition to rarely missing a spin class, self-paced workout or running group in those 47 years, Altman has his name affixed to a banner acknowledging patronage of his home away from home. He's an advocate for the facility vocally, financially and by example.
The cut, angular 74 year old, owner of Altman Energy Inc., has done cross-training long before it became popular. He mixes free weights, weighted exercise balls, aerobics, Bosu balls, resistance machines, kickboxing, running and cycling into his personal fitness program.
His key to longevity is routine. He works out from noon to 1 p.m. (or a few hours later "if life or meetings happen," he says). Regardless, he advises people having trouble getting fit to set aside a specific time everyday and make it a priority.
"Sometimes when I don't feel like coming to the Y, I come anyway," he says. "When I exercise, I feel better. I sleep better. Everything is just better.
"It suppresses my appetite. It's a good way for me to maintain my weight. It's just staying with the program. You have to be in a routine."
Altman got into the running craze of the early 1970s and participated in many races, especially the annual 15-kilometer Tulsa Run and various half-marathons. Through the years, many running partners developed injuries from pounding the pavement.
"Fortunately, I've got pretty good body mechanics," he says, "so I've had good luck on not getting hurt. I was not taking the chance of becoming injured like most runners who do it for any length of time and become injured and ultimately wind up with artificial joints."
His friend Frank Spiegelberg, one of his last running partners with injuries, suggested they take up cycling … and Altman has pursued that sport for the past decade. When it's nice outside, he rides many loops used in the Tulsa Tough series of races, including Crybaby Hill off Riverside Drive. Otherwise, he's on a stationary bike at home or in a spin class at the YMCA.
Altman even bought the first six spin bikes at the Downtown Y because he had heard of this fitness craze hitting the coasts before coming to Tulsa.
"I'm always looking for what's new, what's going on with classes and exercises and programming," he says.
Altman says those with offices downtown have no excuse not to work out. The Downtown Y, which moved from its decades-old building to the Mayo Building more than six years ago, is the perfect place.
"It's right here," he says. "They'll feel better and be fit."
An Expression of Life
Dance guides Carole Holloway's 72 years of health, wellness and fitness.
A certified tai chi, yoga and line-dance instructor and personal trainer, Holloway channels tap-ballet-jazz moves she started at age 6.
"Dance is my passion; I love movement," says Holloway, a teacher at the YMCA Healthy Living Center in Oklahoma City. "All the exercise in my life has revolved around dance. I have never given up my love for it.
"Our whole life is really a dance of energy. We step and misstep throughout our lives, always trying to find the balance. In tai chi, it is called qi gong, the movement of energy. In yoga, we call it prana, or breath energy."
For many of her 15 years as an English teacher in Putnam City schools, Holloway ran dance and aerobic-dance classes in a small studio. When she left the academic classroom, she worked as an education consultant before landing in the health-and-fitness classroom in the 1990s.
Holloway never got into the running craze of the early 1970s, but she found her exercise outlet a few years later when fitness entrepreneur Jacki Sorensen applied to dance the aerobic concepts espoused by Oklahoma City native Dr. Kenneth Cooper.
"It was a perfect fit for me," says Holloway, who integrates her acumen of dance, diet and physiology into lessons. "For example, tai chi is essentially dance because of its movements. With that dance, class members develop balance, strength and memory. People have actually told me that they feel 'smarter' because of dancing!"
Holloway relishes her tai chi classes for aging people because their No. 1 concern is falling. She has received grants to help older folk with their balance; the 12-week, evidence-based program reduces risks of falling by 57 percent.
Tai chi also enhances memory and flexibility. Holloway teaches eight forms: hold the ball, part the wild horse's mane, single whip, wave hands like clouds, repulse like monkey, brush knee, fair lady works shuttle and grasp the peacock's tail. After students learn (not master) those forms, Holloway mixes the order and starting points so they have to employ their short-term, long-term and muscle memories.
Because of her dedication to teaching, "the big picture of fitness" and her older clientele, Holloway also volunteers for the Oklahoma Aging Advocacy Leadership Academy, a Department of Human Services program. She speaks to and on behalf of seniors and their health-and-fitness issues.
"I have spent most of my life re-inventing myself in one way or another, as I am an avowed lifelong learner, and that … has led me down many paths," Holloway says. "Along those curving paths I have always found my passion to be people-centered, so I have had many opportunities to … hopefully help people grow and learn."
Fitness as a Social Network
Numerous studies show that "social capital" – friends, family, clubs, groups and organizations – helps seniors lead healthier lives than those who are isolated.
Tulsan Paula Reno, 73, and her enhanced fitness class illustrate this.
"I could get a video and do all the exercises by myself at home," says Reno, who worked for 30 years in information technology for various banks, "but it's more than that for people our age. It's the social side of things, so that's why I really like the class. Everybody is friendly. Everybody comes up and gets to know you. It makes working out fun."
A supportive atmosphere is common in classes for seniors because many social elements tend to diminish with retirement, adult children having their own families and decreased physical activity. Reno says she feels better mentally and physically because the class is "more than just working out. We have birthdays and sing to each other."
And when Reno had recent hip surgery, "they were sending me cards and calling me and bringing me food. I know that those people in that class would support me if I needed anything because we do it for each other all the time."
Reno understands becoming dispirited when fitness is the goal. She was there after back surgery a few years ago as she looked for "something that was challenging but wasn't more than I could handle," she says. "That's the last thing you want to do: get discouraged to where you don't back."
Her search ended with a Monday-Wednesday-Friday class at the Dickenson Family YMCA in Broken Arrow, which, because of a scheduling oddity, is taught by a different instructor each day. Reno likes this variety because class members expand their regimen with multifold exercises using resistance bands, fitness balls and weights, along with low-impact aerobics and weight-bearing lunges and step-ups.
The biggest problem is getting started. Reno frequently tries to get friends to join her. Some do; others don't. She empathizes.
"When I first started going, I couldn't do all the things they were doing," she says. "But whenever you start just sitting, it's all over. We don't want to do that. If you find yourself not doing anything, it's all in your hands to do something and change. We've done it."
Reno stresses that trainers of seniors understand limitations and "are conscious of a shoulder injury or knee problems, so they'll say, 'If this bothers you, then do it this way or that way.' They're very accommodating so that you can do it."
Reno's advice for contemporaries hesitant to get fit is straightforward: "Go a couple of times and see what it's like and don't get discouraged because everybody's supportive. A lot of it is the mind-body connection. If you're going to move your body a certain way and that's not natural for you, you learn. Everybody's been new at one time or another."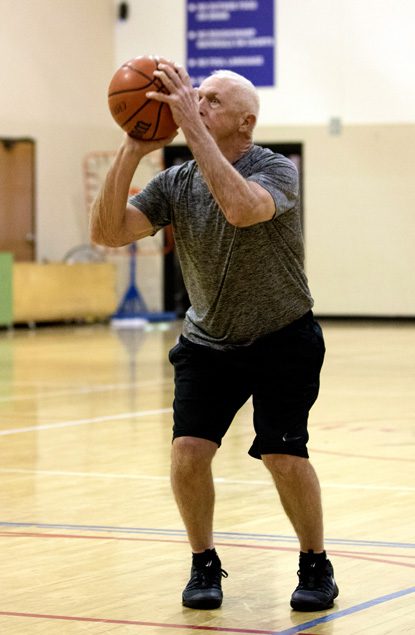 Live and Love for the Game
Mike Collier's reference to being technically dead for many minutes is so casual that one thinks he's talking about someone else.
His on-court collapse 12 years ago is told as an aside as he recounts a lifelong love for basketball.
"I've played pretty much non-stop since joining the team I'm on now over 20 years ago … except for that time I had a heart attack and died," says the 72-year-old Collier, who was saved by CPR from gym staff and defibrilation at the nearby St. Anthony Hospital emergency room in December 2004. "I missed about a month, but I slowly got my game back."
Collier, who has had his insurance business with Oklahoma Farm Bureau since 1978, has won several national senior titles and numerous state championships around the country with the Ball Hawgs, which is based in Houston but has transplanted Oklahomans on it. During a decade-long run, the Hawgs were 156-1 in national play alone. They have won the Oklahoma Senior Games and similar championships in Texas and other states.
The Hawgs, like most senior squads, play the quick-paced, no-check form of half-court ball and "it's probably faster than full court," Collier says.
Collier has played basketball since he was a kid in Hemet, California, near Riverside. He competed on the streets and for his high school, along with a stint "as a junior college player, but nothing major," he says.
After winding up in Oklahoma and getting a degree in electronics at Southeastern Oklahoma State University in Durant, Collier played basketball intermittently while turning his attention to running for several decades. He ran many 10-kilometer races in his 30s, he says. But he retained his hoops passion, and in 1986, he began playing 6 a.m. pickup games at various churches and gyms in Oklahoma City and Edmond (his hometown).
Collier underplays his individual contribution to the teams he has played with over the years.
"I'm certainly not a ringer. The Ball Hawgs have guys who are 6-foot-4 to 6-foot-8; I'm just 6-foot," he says. "I'm just a good team player. It's all about the team, the teamwork, the camaraderie.
"I know hundreds of people all over the city just from playing basketball," he says. "I have a lot good friends from all over the United States because of it. Of course, your teammates are your good friends. It's just a great game."
But it's not the social element that drives Collier as a basketball player: "I'm too competitive to do it just to socialize."
And he maintains that intensity because of "his love of the game and the opportunity to play. If you know where a good game is, you just keep going."