There's something peculiarly primal and satisfying about friends sitting around a fire with delicious meat sizzling in the flames. For that reason and many more, Mr. Kim's is a fun place to be.
Some restaurants might intimidate diners with food and customs from a different tradition. Not here.
"We're playing 1990's hip hop, there's crazy art decor," says chef Ben Alexander, the man behind Mr. Kim's. "Even if you don't know a thing about Korean food, it's a lot of fun.
"There are no rules," he continues. "It's not about what food comes from what region and era, it's about what tastes good that matters."
Ben's casual attitude belies a lifetime of fascination with and immersion in east Asian, specifically Korean, food and tradition. Ben was born in Korea. His birth name was Kim Young Duk – the restaurant is named after him. His father passed away a few months after Ben's birth, and he and his sisters were adopted by Phil and Nancy Alexander. He grew up in Virginia.
The Alexanders sent Ben's sisters to lessons on Korean culture, but Ben was too busy playing on high school sports teams. So, the Alexanders used food to connect Ben with his birthplace. He grew up eating bulgogi and jap chae, and he loved it. Creative even as a child, Ben made himself a daily snack of ramen with hot sauce and American cheese thrown in. Ben's father even invented a Korean marinade that he used when he grilled galbi short ribs; that's now the marinade that Ben uses at Mr. Kim's.
Perhaps because it grounded him in the culture of his birthplace. Perhaps because it brings back Proustian memories of his Virginia childhood. Or perhaps just because it's fascinating and tastes so good. For whatever reason, Ben has been drawn to cooking east Asian food from the day when, a high school senior with some free time, he decided to enroll in a cooking class at the local tech. Starting about 10 years ago, he educated himself in every aspect of Korean cuisine.
"With Korean food, you have the sweet, the savory, the spice, sometimes all in one dish. I love it," he says. "Here at Mr. Kim's, you shouldn't expect traditional Korean food. It's my very personal journey through Korean and all Asian cuisine."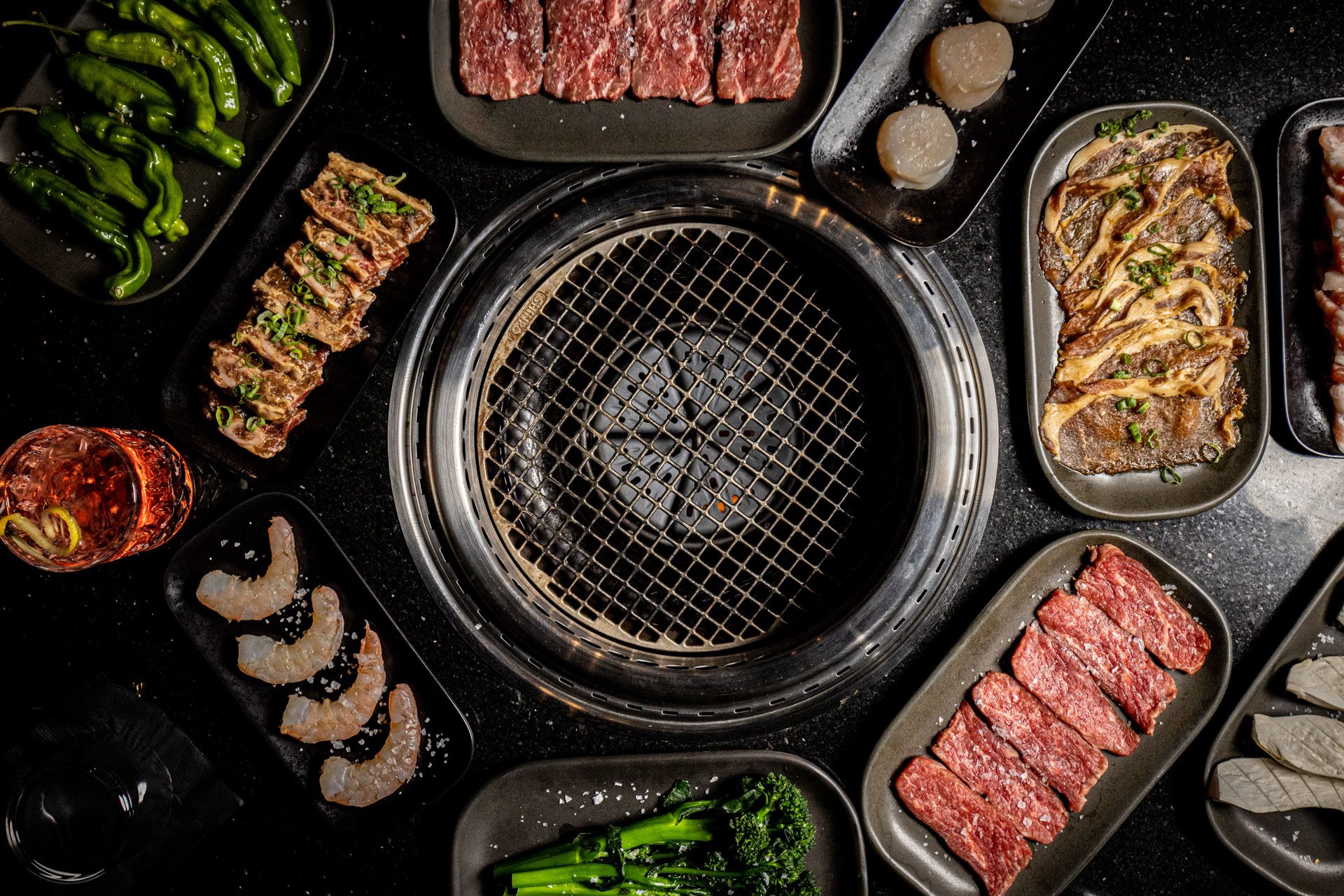 The journey begins at an unmarked door just north of Second Street in downtown Tulsa. The interior, dimly lit and oneiric, has blackened yakisugi walls of burnt Japanese cedar and groups of excited diners seated at tables with a gas fire in the middle. Sit down, relax and order.
Your meal, whether a la carte or one of the Omakase tasting menus, begins with appetizers. Ben is a veteran of fine dining establishments such as The Tavern, and his training in classical French technique shows in these marvelous tidbits inspired by Korean cuisine. Tasty dumplings filled with tender Oklahoma Wagyu are topped with a beautiful spiderweb rice flour tuile. Thin slices of hamachi are served with julienned apple and creamy ponzu sauce. (Yes this is more Japanese than Korean, and why not? It's delicious!) Steak tartare is topped with caviar.
And then comes a platter of the meats you've ordered, glowing in the firelight. If you've ordered the higher-end omakase, that platter includes glistening slices of USDA Prime ribeye and strip, Oklahoma Wagyu from Grand Cattle Company, prime ribeye cap, diver scallops, marinated beef (bulgogi) and marinated short ribs (galbi).
And, star of the show, the finest A5 Wagyu from Kagoshima, Japan, with impossibly rich flavor that explodes in your mouth. The server will be happy to cook your food on the grill, or you can do it yourself. There are lettuce wraps and tasty ssamjang sauce for the meat, or you can eat it plain with knife and fork.
There are no rules – but there are banchan. Those tiny vegetable dishes are rich with traditional Korean flavors, and you get five of them, including kimchi, which takes Ben two weeks to make. If you want more starch, you can round out your feast with fried rice made with prime beef and some of that kimchi. It's a filling, wonderful feast. Your journey has a sweet ending with a scoop of Rose Rock Creamery tangerine sorbet.
Ben's personal journey has a happy ending too.
"Those past two years of COVID … bleak, miserable, day after day just going through the motions, fighting to keep our restaurants alive," he says. "But now at Mr. Kim's, I'm doing something I love. It feels so good to be happy! Food is fun again."