[dropcap]To[/dropcap] most, the small, absorbent, often-white square in a lunchbox is a practical object that helps them avoid making a mess while they chow down on their midday meals. To two Green Country dads, that square is a canvas and a portal into their children's worlds.
"I decided I needed to start making lunches for my daughters to go to school instead of buying them at school," explains Marty Coleman. "Since I'm an artist, I started drawing little drawings on each of the napkins. I would put a quote on the napkin with the drawing."
Coleman had three daughters when he started his napkin art. He is now remarried with a fourth daughter, and all four are grown. At the time, though, his three were in junior high and high school, and he hoped the napkins reflected what they were experiencing in those preteen and teen years.
"They weren't little kids, so I was able to give them quotes that I thought would be interesting to them – individuality, racism, peer pressure," says Coleman. "Maybe they came home and talked about how someone was made fun of at school. So the next day I may find a quote about bullying or about standing up for yourself."
The mealtime messages reached more than just his kids. Their friends also enjoyed the daily dose of wisdom and entertainment.
"They would pass this napkin around the table, and it would facilitate some discussion about it," says Coleman. "As a matter of fact, years later, I had emails from former friends of my daughters saying, 'I used to sit next to her in lunch, and we loved getting those napkins because they were fun, they were interesting, they were thought-provoking.'"
Despite now having an empty nest, Coleman continues to create the absorbent art to post on his blog The Napkin.
Kevin Kirby's ventures in napkin art provide his two sons with daily depictions of their favorite characters. From Futurama's Bender to the minions of Despicable Me, the colorful creatures are reminders of their time together.
"It was all based on whatever we were doing as a family, if we're seeing a movie or something was funny or something was interesting," Kirby says. "It's just a neat way to remind them that we are thinking of them."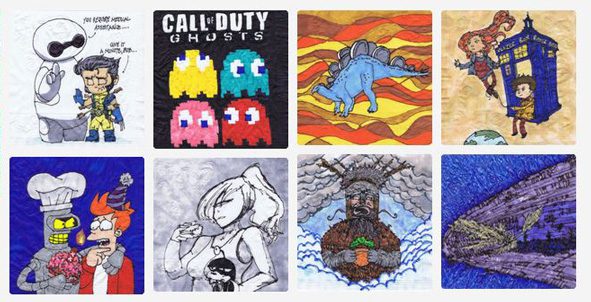 While Coleman earned the title "Napkin Dad" for his dedication to the lunch table treats, Kirby's creations are a team effort, with his wife helping to make the illustrations pop.
"A great many of them, I'll draw the line work, and Sabrina (Kirby's wife) will color them all in," he explains. "So she does all the elaborate coloring. It's not a one person thing; it is a mom-and-dad thing."
Still, napkin art can be a tricky endeavor, as it is a material designed to soak up spills not to display detailed images.
"It's really challenging," says Kirby. "It's something that tears; it's something that's very fragile. When you put a pen on a napkin, it soaks it up like crazy. You can't pause to think. You'll always get a big puddle."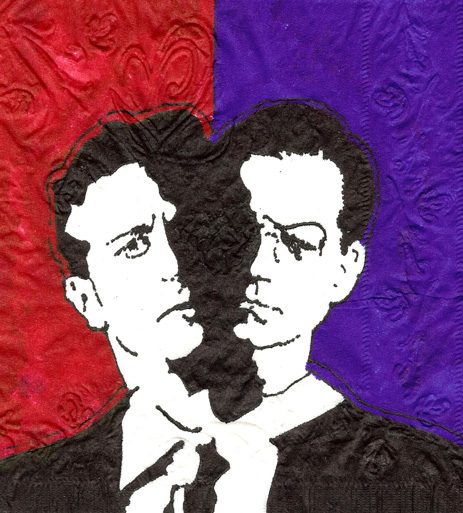 The two men have had a lot of practice, however, and between them they have drawn on nearly 10,000 napkins. Both Kirby and Coleman have received national attention for their work. An assortment of Kirby's Futurama-themed napkins were featured on Comedy Central's Tumblr page, and Coleman got exposure in a popular publication after he posted a response to Barack Obama's successful presidential campaign on his Flickr page in 2008.
"The day after his election, I went looking through my old napkins thinking, 'What would be a good one to put up today that would illustrate how I felt?' And I couldn't find one so I drew one – first one I had drawn in years," says Coleman. "It simply said, 'America the Beautiful is beautiful today,' and it shared a little cartoon picture of him with a crowd behind him. Time magazine found that napkin, and they put it in their Person of the Year issue."
Coleman and Kirby both have artistic backgrounds that allow them to excel at drawing these daily delights for their kids' lunches, but, as Coleman points out, it is not about the skill, but about the sentiment.
"The expression of your interest in them is what really matters," he says. "If you put out something that you created, that is what they are going to remember. They're not going to be judging whether it looks like a good piece of art or not. I tell people all time, they look at me and say, 'Yeah, but I can't draw a stick figure, you're an artist.' Yeah, well, that doesn't really matter. What matters is, are you expressing your love and care for this person? If you are, then they are going to appreciate it."