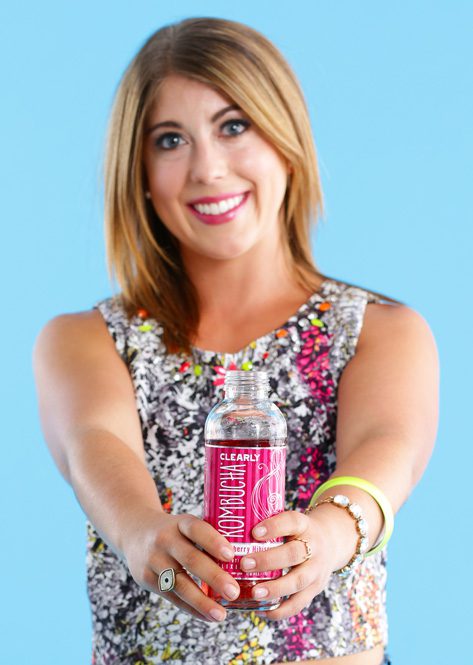 [dropcap]Born[/dropcap] and raised in Tulsa, Ali Zarrow moved to the west coast to attend college at Stanford University. While living in Palo Alto, Calif., she was introduced to kombucha, a health drink that was relatively new to the U.S. market. With her intuitive, entrepreneurial spirit, Zarrow and her business partner tapped into the up-and-coming industry, creating a successful business that has moved onto the shelves of national retailers this summer. She co-founded Clearly Kombucha to offer consumers an alternative to sugar- and caffeine-laden beverages.
What is kombucha?
Kombucha is a fermented tea that is believed by some to boost the immune system and aid in digestive health. Clearly Kombucha is what we call a functional beverage made with a whole-leaf green tea; SCOBY, a symbiotic colony of bacteria and yeast; and organic sugar. After about a 30-day fermentation period, the brew is ready to be mixed with juice. The result is a light, non-alcoholic, fizzy beverage with all the benefits of tea and very little sugar. We make our kombucha in seven flavors like Asian Pear, Chia Cola and Strawberry Hibiscus.
How did you move from drinking kombucha to creating Clearly Kombucha?
Liking how store-bought kombucha made us feel but not enamored with the flavor, my business partner and I wanted to craft a beverage that was smoother and easier to drink. Traditional kombucha can have an off-putting appearance, taste and texture. Feeling so good after drinking it, I wanted to make a product that would reach a broader audience and create something that actually tasted good. While still brewed in the traditional, ancient method, we devised a filtering system that offers kombucha drinkers a more approachable, palatable experience. We like to call our product the "booch of the future."
What is next for Clearly Kombucha?
We have big plans in the works to become a national kombucha brand. We launched our product into a couple national retailers this summer that will put us just about everywhere in the country. Oklahomans will be able to buy Clearly Kombucha at The Fresh Market chain of gourmet supermarkets, Natural Grocers locations and Sprouts Farmers Markets.
Have your Oklahoma roots impacted Clearly Kombucha's business success?
Yes, I definitely think it has. As soon as I admit that I am from Oklahoma, the state's reputation of trusting and genuine people, I believe, gives me an advantage, and living up to that reputation has made me a better business person, as well.
What advice would you give others trying to turn an idea into a profitable endeavor?
Starting a business from the ground up is exciting, but it commands extraordinary amounts of time, energy and responsibility. The main thing that has gotten me to where I am today is really just about seeing my vision and following it up. It took a few years to learn how to crack into the business. I knocked on the same doors until I got a yes. I had to have multiple meetings that seemed like for weeks nothing was happening, but success could be right around the corner. When one thing changes, other things tend to fall right into place.