As spring sneaks in on cool breezes and sunny days, redbud trees burst into their fuchsia glory and tulips begin to peek through the soil, your backyard and all the fun you plan to have in it are likely on your mind. It's time to sweep away fall's leaves, turn over the soil and start anew. Learn more here about the latest gardening trends, luxurious backyards and how to grow ever-beautiful azaleas.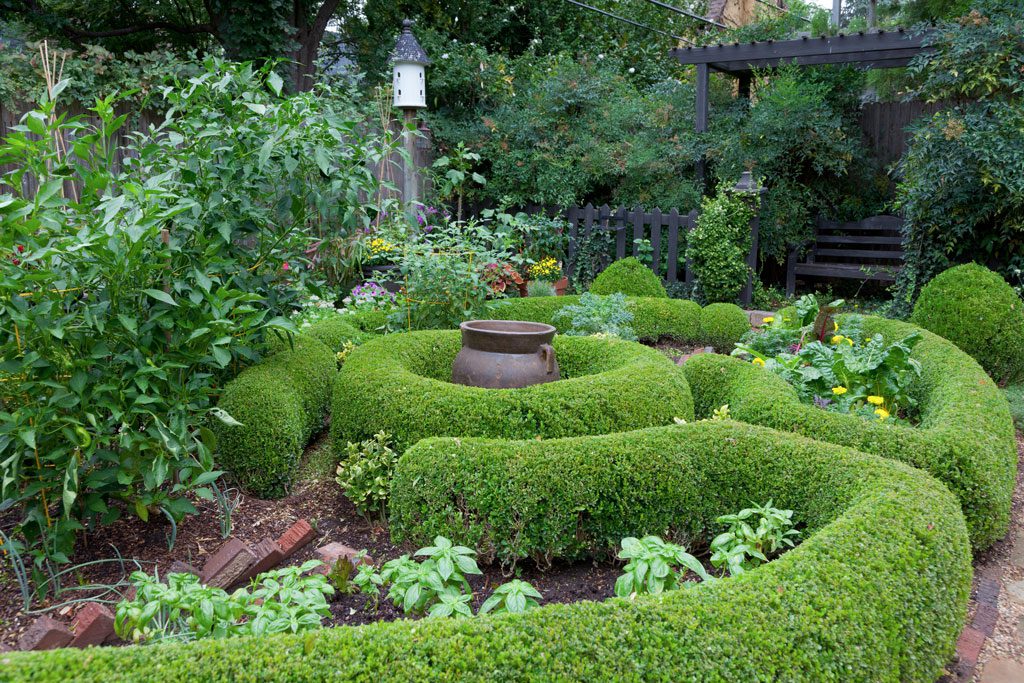 For the Novice or Professional
Getting started on a new garden project can be a breeze.
If you want an enticing spring/summer garden, it's essential to plan ahead. To see what's new and unusual this season, visit your local landscape centers to survey what works best for your planting zone.
Think in technicolor terms when planting your garden. Use vivid colors as a companion to the green you want as a backdrop. Evergreens like cedars, boxwood and Nellie Stevens hollies are staples. Hostas also serve well as a spring/summer background for colorful annuals and perennials. Pale gray/green plants, such as dusty millers and lamb's ears, also add unusual color and texture.
Think of your garden as a painting, and consider what colors you love to see in nature. You want a pleasing mix of lights and darks, shade and sunlight and, in certain areas, real showstoppers – something brilliant and flamboyant – like luscious tropicals, hibiscus or mandevillas.
Don't be afraid to have dramatic clashes of color. Mix purples with light blues and whites. Mix reds with pinks and fuchsia. Add surprises with hues of orange, splashed with shades of lemon, lime and chartreuse.
Think, too, about varied shapes and heights. For drama, nothing beats irises, lupines, sunflowers, hollyhocks, gladiola or alliums. Add interest under your trees with low-growing plants; pansies are perfect in spring and fall.
Perennial favorites like begonias, dahlias and marigolds have new varieties this spring and some don't set seed. Instead, they bloom from spring through fall and are a good buy for your garden dollar.
Linda Vater, host of a weekly garden program on Channel 4 in Oklahoma City, adores shaped boxwoods, her garden signature. Her favorite area is the potager, a French-style garden that mimics a small vegetable farm. To make her garden look fresh every season, Vater plants more blooming shrubs, like hydrangeas, viburnums and crepe myrtles (an Oklahoma standby), along with her favorite perennial, tulips, and a variety of annuals.
Her advice for the beginner is simple.
"Start small. Figure out what works for your area. Then move on to bigger spaces and projects," she says. "Nature has so graciously provided a wealth of colors, shapes and sizes for your garden. Don't be afraid to tantalize nature's color palette. It's your garden."
Numerous other garden professionals encourage novices to do the same by starting with inexpensive seed packets, which provide all the necessary planting information. The packet's cover photo shows what to expect.
Proper tools are a must. Hardware stores are your new best friend for seasonal updates. Remember to keep tools clean.
For more inspiration, tour public gardens, like Muskogee's Honor Heights Park, Tulsa's Woodward Park, the Tulsa Garden Center and its Linnaeus Teaching Center, the Tulsa Botanic Garden, the Botanic Garden at Oklahoma State University in Stillwater, Oklahoma City's Myriad Botanical Gardens or OKC's Will Rogers Gardens. Museum gardens offer a wealth of ideas; try Philbrook and Gilcrease in Tulsa and the National Cowboy and Western Heritage Museum in Oklahoma City. Every site is worth a field trip.
Always remember that gardening is trial and error. If this year yields a disappointing garden, there's always a new horizon next season.
Another helpful tool for any gardener – from novice to professional – is Oklahoma State University's Extension Service. According to Brian Jervis of the Tulsa County office, OSU tests your soil for you, the first step to creating a successful garden.
Jervis also warns gardeners about this season's crepe myrtle bark scale, a pesky insect. Look for black, sooty mold on leaves, branches and the trunk.
"OSU has fact sheets on how to rid your crepe myrtles of this pest," he says.
For specific lawn and garden help, go to tulsamastergardener.org.
Year-Round Outdoor Oasis
Mike Freeman took what he calls "a raw piece of land – a wild piece of nature" in Arcadia, northeast of Oklahoma City, and turned it into a masterpiece. Today, that once-barren property is home to the growing, young family of Mark and Ashlee Rodden, who love their outdoor lifestyle.
Freeman, owner of Red Valley Landscape and Construction in Edmond, came to his calling as a builder of beautiful homes and outdoor living areas via a unique route. He grew up in Montana and Dallas, two different environments for outdoor living, then attended the University of North Texas in the mid-1990s to study business and marketing.
"After living and working in the Dallas landscape industry for 25 years, I moved to Edmond six years ago and formed my own company," says Freeman, known for his unusual, inventive outdoor living projects. "My passion is in creating new living spaces for people to enjoy."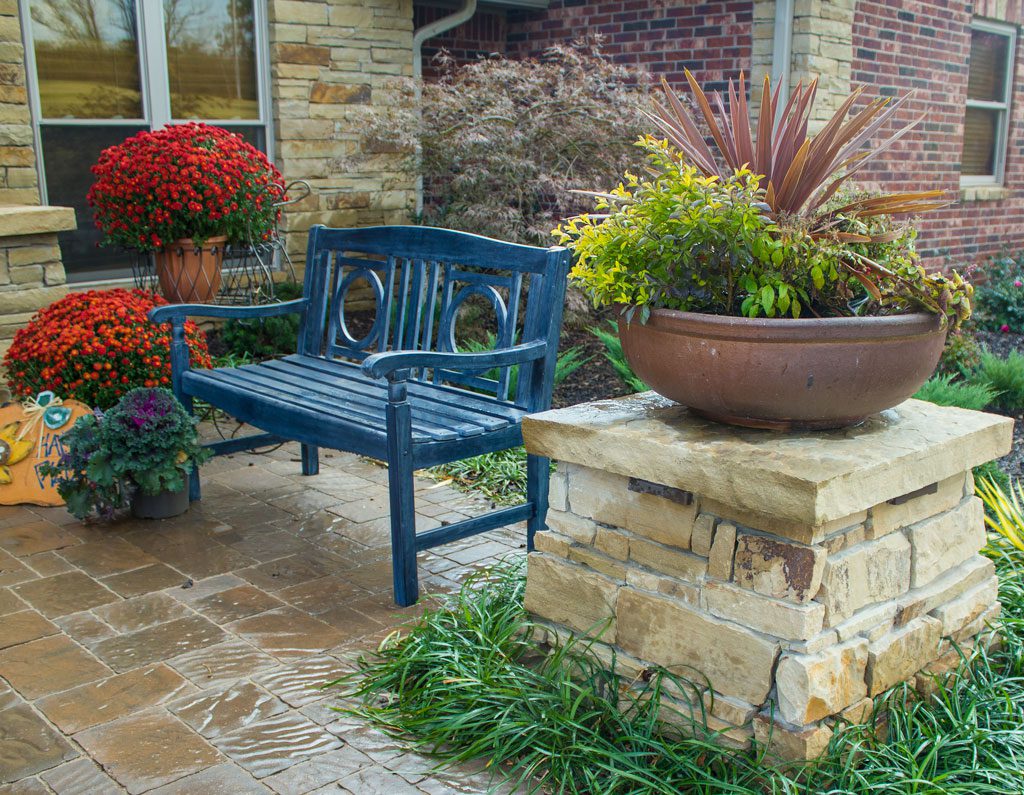 The Arcadia project was the second time around for the Roddens to enlist Freeman's expertise. He designed their previous home and they called him back to create this 6,000-square-foot dwelling.
The home, which took a year to build, is fashioned of brick and natural stone on three acres in woods near Lake Arcadia. The lush, 5,000-square-foot outdoor living area includes a pool and patio.
Freeman used Lueders chopstone for the outdoor kitchen and living areas. He complemented the stone with Belgard pavers, a man-made material, for the patio. He did this in lieu of concrete and gravel in the outdoor entertaining areas.
"The chopstone is from a West Texas quarry and has become very popular with Oklahomans," he says. "These pavers have come a long way in shapes and colors in the past years. They are worry-free and don't get cracks from nature's unpredictable moods or earthquakes."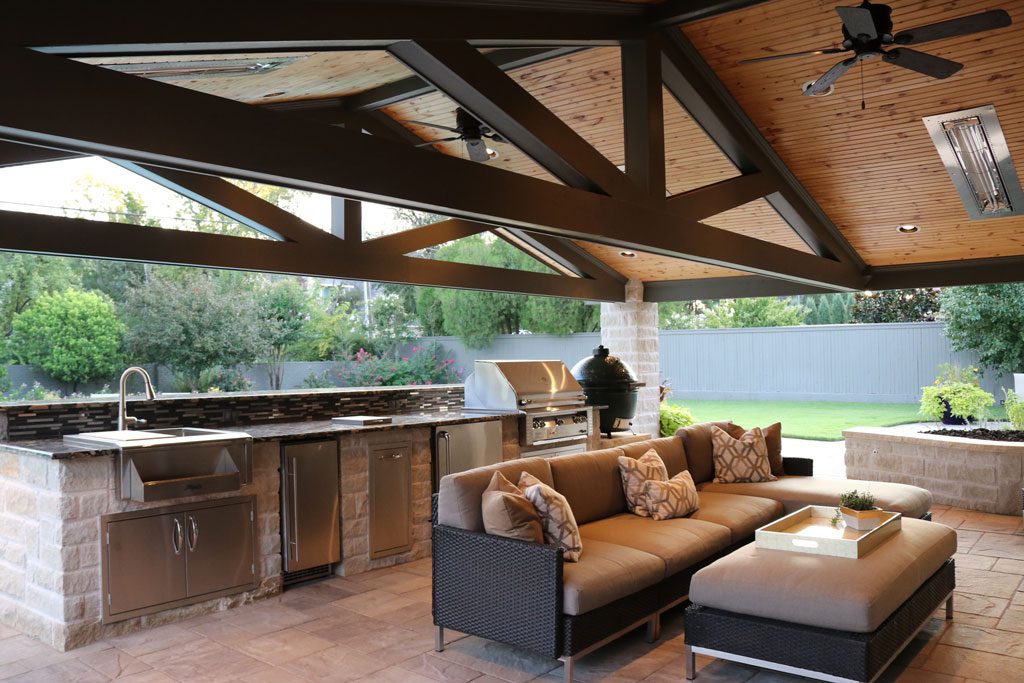 That was all the better for this designer/builder, who loves the freedom of creating a project from the ground up. He used the same materials in the outdoor living area as he did throughout the rest of the home's exterior to maintain a consistent architectural theme.
That entertainment space encompassed Freeman's ideas for the outdoor living and entertaining.
"I designed the expansive back lawn as a place to entertain different age groups," he says. "There's a 400-square-foot, glass-tile tanning ledge where the small children can play in the pool all summer. There's a fire pit for roasting marshmallows in the fall.
"The Roddens wanted a master plan design for the entire property, from the landscape and hardscape to the driveways and walkways. They wanted to create an oasis where their young children could grow up and have a place to entertain their friends."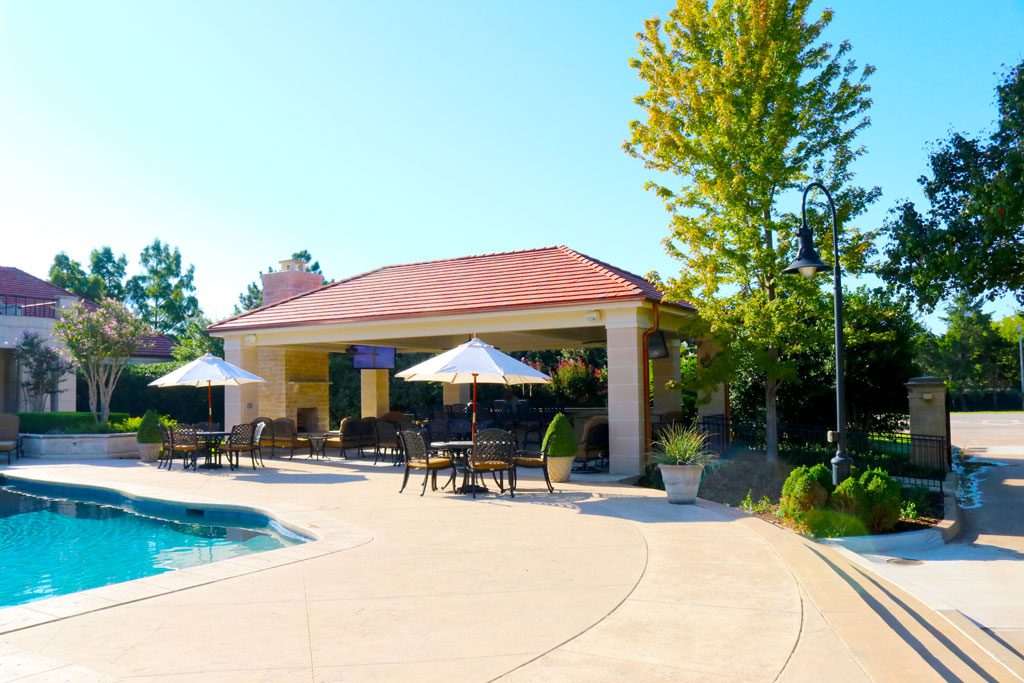 The outdoor cooking area features a state-of-the-art grill favored by many professional chefs and culinary artisans. The full patio kitchen provides a variety of casual furnishings and seats six guests. A pavilion easily hosts a dozen people or more. There's a large television on the patio and an additional area where guests can relax and enjoy the outdoors. A fireplace and heaters warm the setting on chilly fall or spring nights; ceiling fans help to chase away the summer heat.
"We tried to create outdoor spaces the family can use 12 months out of the year rather than just five," Freeman says. "This way, the Roddens and their children can enjoy their outdoor living area 365 days a year."
Gardening Trends
Edible Gardening
Carla Grogg, co-owner of Grogg's Green Barn in Tulsa, designs her family's urban garden to include a variety of treats that feed numerous guests in the barn's dining room. Grogg's business is a good example of organic gardening, which uses zero human-made chemicals or pesticides. It's a user-friendly style of gardening – easy on people, pets, insects and the environment.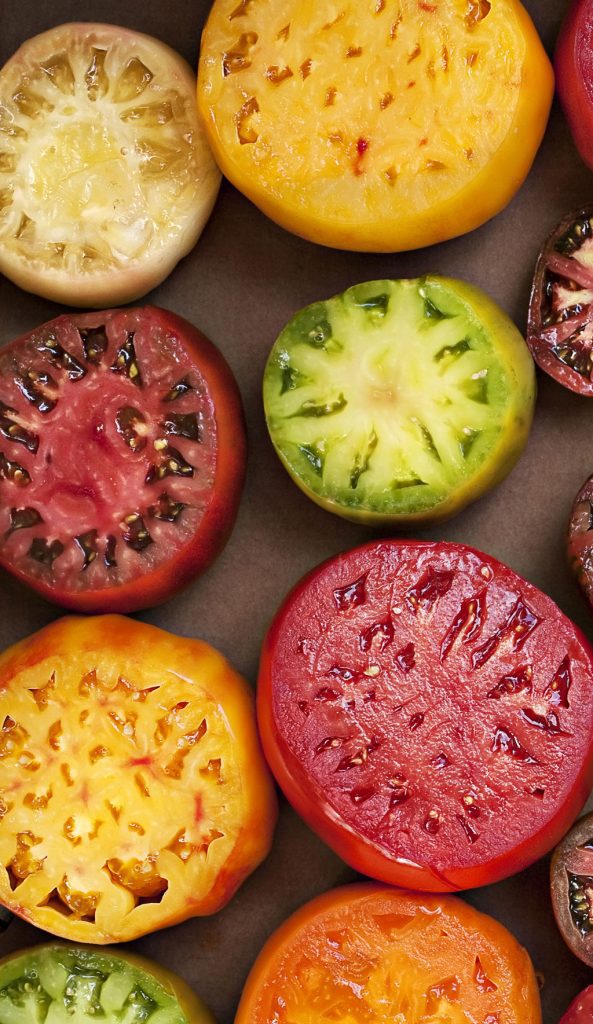 "Edible gardening is still a hot topic that will increase as natural food markets and more chefs continue to include local, farm-fresh ingredients in their menus," Grogg says. "That creates an awareness of sustainability that people want to be involved with. They are seeking classes on sustainability.
"People want easy fruit and successful vegetable gardens as a way to participate in sustainability on a personal level. That takes patience and knowledge, but the payoff is huge when it comes to health."
People want fresh ingredients and Grogg says growing produce like freckles lettuce, dragon carrots and blood butcher heirloom tomatoes at home is a breeze.
She adds that many Tulsa chefs, including Matt Owens at her business, have stepped away from the monotony of repetitive menus to create from-the-garden meals for their patrons.
A Landscape Designer's Advice
Northeastern Oklahoma landscape designer Jim Thompson, who worked for Tahlequah's Greenleaf Nursery for more than a decade, offers a great shopping list of trendy flora for 2018.
Dwarf crepe myrtle varieties, especially the 24-inch-tall Pocono dwarf
The micropoly variety of boxwood, similar to dwarf yaupon holly
The late-blooming limelight hydrangea and its little brother, little lime (their white blossoms turn pale yellow and can be easily dried for lasting flower arrangements; they bloom right up until frost.)
Ornamental grasses, especially the small Hameln dwarf fountain grass
Magic carpet spirea, a great low-blooming plant
Shelly border forsythia, which holds its blooms longer than the typical two weeks
Purple crepe myrtles, a good bloomer that only reaches 6 inches (Thompson notes crepe myrtles could have problems this year, thanks to Oklahoma's capricious weather conditions.)
Sunshine ligustrum, a yellow and green plant that holds its color in the Oklahoma sun and doesn't overgrow itself (Thompson says it was Southwood Landscape and Garden Center's No. 1 seller last year.)
Lowe's black diamond crepe myrtle with pink blossoms
Bright edge yucca, which has a striking yellow-and-white flower spike ("If it will grow in a ditch, and it does, it will grow in your backyard," Thompson says.)
Lantana's bandana series ("A great bloomer, compact, good strong colors, polite – it stays where you want it to," Thompson says.)
Crossandra orange marmalade ("A nice border plant that blooms all summer, then bids you farewell on the first strong frost," he adds.)
A Garden Center's Viewpoint
Susan Brammeier of Southwood Landscape and Garden Center in Tulsa touts new varieties of old favorites for spring and summer planting; many of them play to the vivid color theme popular in gardens.
Among those are calliope geraniums and cone flowers, which attract pollinators. Sun impatiens is also hot, as are beefsteak begonias.
A new version of lantana, which is sun and heat tolerant, has more flower power this year, Brammeier notes. A profusion of red zinnias can make a real show, and new varieties of petunias, planted from seeds rather than cuttings, add a fresh look in gardens. Brammeier describes these flowers as "big, showy and colorful."
"There's also a lot of buzz about bees this year," she says, with gardeners planting flowers designed to attract these busy creatures.
For more information on Southwood's selections, contact, Brammeier at [email protected].
The Alluring Azalea
This unique flower may be tricky to grow, but the payoff is worth it.
For 28 years, Rick Ewing has pampered azaleas, especially those in Muskogee's Honor Heights Park. His affection for these floral beauties shines especially bright during the city's monthlong Azalea Festival in April.
"Azaleas' blooms emit very little fragrance, even though pollinators love them," says Ewing, assistant director of Muskogee's parks and recreation department.
Azaleas' birthright is Asian – China, Korea, Japan. Today, they are revered in the American South, which has a more temperate climate, the key to successfully growing the flowers.
"Oklahoma's mercurial temperatures are no friend to azaleas, yet they can survive," Ewing says.
In compatible conditions, azaleas can live indefinitely. Honor Heights has a 40-year-old azalea, and the park has a designated area for older azaleas that still have curb appeal.
Ewing says those older azaleas' quality of life is akin to those of people. "Some have good genetics and live in almost perfect situations," Ewing says.
Perfect Growing Conditions
Azaleas need abundant moisture that drains quickly. They prosper on a high organic content soil and proper fertilizer. They are happiest in wooded areas, under trees and in shade.
A thriving azalea garden requires smart shopping. "Shop for full green leaves missing brown spots or insects," Ewing says. "If any stem bark is split, put it back on the shelf."
Preparing the Azalea Bed
A raised bed – minus borders – encourages success. This allows azaleas to live comfortably. The soil needs an amended mix of sandy loam vegetative compost mixed with peat moss. This combination holds moisture and provides nourishment.
Planting the Azalea
"A $1 plant will prosper in a $10 hole. You must plant the azalea deep enough so it can grow comfortably," Ewing says. "Don't plant an azalea any deeper in the ground than it is growing in the pot.
"Azaleas don't take much effort when planted. But they make you look really good as a gardener."
For more information on the festival, contact Ewing at 918-684-6302 or [email protected].
A Sunny Investment
Technological improvements and declining costs make solar power a serious consideration for Oklahoma homeowners.
People rely on electricity. Nearly every modern person needs it for even the most basic of daily functions. Most can't cook dinner, turn on a light to read, binge-watch show or use other technology without electricity.
With an ever-growing need for more power and a desire to lower our carbon footprints, some have started to turn to renewable energy options like wind, water, geothermal and solar. In particular, solar power continues to rise in popularity, thanks to the increase in affordability and technology.
Monocrystalline and polycrystalline are the most common types of solar panels; both are made of crystalline silicon. In the past, mono silicon panels had a higher function rate; enhancements, however, have changed the game.
"Historically, those [panels] have had different performance characteristics and cost, but in the last few years the performance and cost have come together where there isn't a lot of difference between those two technologies," says Steve Wilke, owner of Delta Energy + Design, a Norman provider of renewable energy solutions. "Whether the panels are poly (blue) or mono (black), you are going to get very similar performances."
Another important impact on the solar power industry has been the emergence of module-level monitoring.
"We can now see how an individual solar panel in an array is doing so that we know every system is performing to spec," Wilke says. "The panel-level monitoring allows customers to dig down into their data."
Anyone interested in a solar array should start with a site assessment from an expert to determine how big of a system is needed and what the initial and long-term costs will be for it, Wilke says. The timeline varies with each project. Installation has multiple stages and standards that have to be met before the system is complete.
"These systems have a long operational history," he says. "The operation phase is 25 years, and that's the system making electricity for the owner."
There are three main options for erecting an array, Wilke says: roof mounts, which often have the lowest installation cost and are a space saver; ground mounts, which need a relatively large space; and shade structures, which are usually multipurpose, like a backyard pergola or a carport.
Solar power systems are relatively low maintenance. The panels occasionally need cleaning, but often, if the slope of the modules is steep enough, they can be self-cleaning.
"There is very little service associated with solar and the maintenance that is required is something that we build into our client's expectations and cash-flow model," Wilke says.
Most residential solar installations in Oklahoma include about 20 panels and each module is 3 feet by 5 feet. Aside from the panels, the equipment needed is simple. The solar panels are conductors that collect direct current and an inverter is needed to convert that power to typical household electricity or alternating current, Wilke says.
"Beyond that equipment, it's monitoring," he says. "Inside the inverter, you have electronics … capable of seeing what the panels are doing and talking to the internet, so you can pull out your phone and see how your solar system is doing at any given time."
As solar technology continues to improve and the cost to produce it decreases, more people see solar energy as a legacy for their families.
"It is important that people take control of their own energy production to protect themselves from the ever-increasing cost of electricity and provide themselves energy security when they retire," Wilke says. "Solar is an incredible investment for Oklahomans and I think they're starting to realize what a great investment it can be."
To stay up-to-date or learn more about solar power, visit energy.gov/sunshot.