"It was like fireworks going off in my brain."
This is how Nicole Crestmont recounts the first time she took oxycodone. In Spring 2008, Crestmont struggled with depression and thoughts of suicide. When a co-worker offered her the drug, everything seemed to turn around.
"Oxy made all of my emotional pain completely disappear," says Crestmont, a Norman resident who asked that her real name not be used. "It began as something I was in control of, but it spun far out of my control in only a few months."
Crestmont describes the highs of opioid addiction as "floating in a warm ocean," but the withdrawals as "utter hell."
"Coming down off opioids is like being in a car that is about to slam into a brick wall and you can't find the brakes … because there are no brakes," she says. "Being without opioids after you have taken them for a while feels like vomit, lots of vomit, and pain in places you didn't know could hurt – your teeth, your hair, every single muscle between your ribs.
"I first knew I was an addict when I started throwing up first thing every morning. Or maybe it was when I started crawling around on my knees digging through my carpet for a piece of a pill that I 'might have dropped.' Being an addict feels like sheer desperation."
Crestmont has been clean for almost 10 years, but she'll never forget how addiction nearly destroyed her life.
"My life is so much better than I ever could have imagined back then," she says. "I'm glad I stuck around to see these days. I very nearly didn't."
Crestmont made a clean break. She never returned to her job or saw that co-worker, who introduced her to the drug, again. She embarked on a new career, a new relationship with someone to whom she is now married, and a new life.
Count her as lucky.
Methamphetamines cause the majority of drug-related deaths in the Oklahoma, but the opioid epidemic has garnered much attention, in part to the dramatic increase in usage, according to an analysis from the Oklahoma Bureau of Narcotics and Dangerous Drugs Control.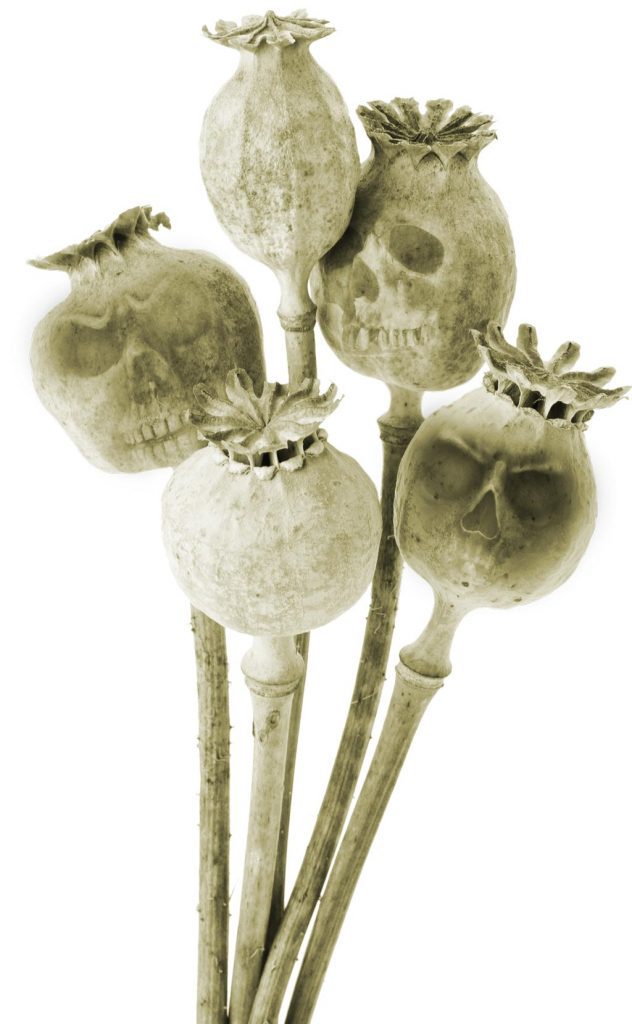 According to the Oklahoma Commission on Opioid Abuse, the state consistently ranks near the top in the nation in painkiller abuse. Between 2007 and 2016, overdose deaths increased by 68 percent. Many Oklahoma children are born with neonatal abstinence syndrome and spend their first moments of life suffering withdrawals after being exposed to opioids in utero.
Some users, like Crestmont, begin using illegally as a way of self-medication. Many others begin their dark journeys with valid prescriptions.
"Those who have not experienced opioid dependence need to understand that legitimate prescriptions for legitimate pain still cause dependency," says Justin Wedman, who holds a doctorate in pharmacy. "Opioid dependence is not necessarily a result of drug abuse."
Wedman has interacted with many patients whose appropriate opioid prescriptions have escalated to increased needs for the drugs.
"The experience with opioid-dependent patients varies greatly," he says. "Opiates are prescribed for pain, so you mostly see a patient's consumption increase over time as tolerance builds. Eventually, they reach a limit set by either their prescriber or their insurance company and, due to tolerance, find that they are taking medicine but still experiencing pain. As a group, opioid-dependent patients are frustrated with their inability to find relief."
Addiction can arise quickly.
"It's important to understand that many individuals who become dependent upon opioids may not have had any prior history of substance use or dependence," says Frannie Pryor, a licensed clinical social worker and project director of the Community Health Centers of Oklahoma's Screening, Brief Intervention and Referral to Treatment program.
The initiative, funded by the Substance Abuse and Mental Health Services Administration, emphasizes early intervention with primary-care screenings. If struggles with substance use and/or depression are identified, a patient is offered up to 12 free behavioral health sessions a year and a referral to a higher level of treatment if necessary.
"Opioids are substances with a very high ability to lead to physical dependence, regardless of someone's state of mind or history," Pryor says. "More awareness and education about the potential issues related with these substances could go a long way toward helping individuals be proactive and communicate with their medical provider if they begin to notice any indications that they are developing issues."
Understanding and catching problems early make a difference.
"Education and prevention are huge," says Capt. Mark Wollmershauser Jr., with the Tulsa police department's special investigations division. "We must stop addiction before it begins. Otherwise, we will be fighting a never-ending battle. Doctors in all medical fields can better educate their patients as to the risk of addiction with these legally prescribed opioids."
Prescription opioids account for a large number of addicts, but legally available drugs are far from the only problem facing Oklahoma's social workers, doctors, law officers and families. Between 2015 and 2016, Tulsa police saw a 300 percent increase in heroin arrests, largely due to increased trafficking by Mexican drug cartels. A recent bust yielded 18 pounds of heroin, and law officers have seized record numbers of other opioids as well.
"Whether it is the illegal sale of hydrocodone and oxycodone, the influx of heroin from cartels, or even illegally made pills of fentanyl and other forms of this extremely potent drug, our officers see the entire spectrum of opioids," Wollmershauser says. "One search warrant … resulted in the recovery of 8,000 pills that appeared to be oxycodone, but were actually clandestinely made cyclopropyl fentanyl. This is a synthetic opioid that was not scheduled at the time but, because of its appearance nationwide and its cause of so many fatal overdoses, was quickly placed by the DEA [Drug Enforcement Administration] in the Schedule I category of controlled drugs, along with heroin."
Cooperation is needed between law enforcement, legislators, medical personnel and the community to halt the flood of opioids into Oklahoma's streets and help those who have become dependent.
"As a community, we need to work together to provide opportunities to assist individuals to defeat alcohol and drug addiction," says Capt. Bo Mathews, public information officer for the Oklahoma City police department. "Together, police and the community need to find a way to provide services for inpatient detoxification, outpatient detoxification, assessment and referrals. The citizens of Oklahoma City work well with the police. The continued assistance from the community – being 'an extra set of eyes and ears' to report drug activity – is extremely helpful in planning proactive practices and apprehensions if needed."
In Tulsa, officers work with the Department of Mental Health and Substance Abuse Services to provide Narcan, a crucial drug to reverse opioid overdoses. And they've not stopped there.
"We have been working with Oklahoma Attorney General Mike Hunter and his commission on opioid abuse to make recommendations to our state legislators," Wollmershauser says. "We have also been working with Tulsa County Social Services and other non-governmental partners in support of legislative actions. The biggest recommendation we made to the commission … for legislators to pass immediately is the electronic prescription requirement.
"There are thousands of pills that flood the streets of Tulsa and Oklahoma daily because of individuals forging prescriptions and then selling those pills to addicts. The electronic prescription requirement would almost end that ability. Pharmaceutical companies also have a role in this….They must take a more responsible role in their business practices."
Wollmershauser also advocates tough sentencing for opioid traffickers.
"This is not a victimless or nonviolent crime," he says. "Just ask the family members of those who have had a loved one die from an overdose."
Oklahomans should be cautious about making assumptions, he says.
"This epidemic knows no boundaries," Wollmershauser says. "No matter the demographic, or socioeconomic status, this is affecting us all. While aggressively pursuing the drug traffickers that prey on these victims of the epidemic, we've served search warrants in all parts of Tulsa, neighboring suburbs and other parts of Oklahoma. Every Oklahoman should be aware and concerned."
The Rise of Fentanyl
Fentanyl is an exceptionally deadly opioid – easy to manufacture and potentially fatal upon minute contact. The increase in overdoses from such drugs has prompted the Tulsa and Oklahoma City police departments to issue naloxone (commercially called Narcan), a drug that can save the life of someone who has overdosed if it is administered quickly enough.
Capt. Bo Mathews, with the OKC police department, says officers used naloxone kits 12 times in 2017. In Tulsa, since Anthony First initiated the police department's program to provide officers with kits in 2014, officers have saved 50 lives with Narcan.
"We've had to adjust the dosage recently in these kits because of the potency of fentanyl," says Capt. Mark Wollmershauser Jr., with Tulsa police's special investigations division. "We not only have these kits for citizens who overdose, but also in case of exposure to our officers who are handling these drugs. It is a huge officer safety concern throughout the country and in Oklahoma on how to avoid exposure while dealing with fentanyl, which can be absorbed through the skin and is 30-50 times more potent than heroin, and 50-100 times more potent than morphine. Two milligrams, just an amount the size of a few grains of salt, can be a lethal dosage."
Breaking Free From Addiction
Nicole Crestmont, a former opioid dependent, has personal advice to those who want to stop the cycle of addiction.
"You have to make a complete break," says the Norman resident, who asked that her real name not be used. "If it's people you work with, get a new job. If it's people you hang out with, find a new crew. They might be nice people, but they are not your friends. Real friends don't drag you into emotional hell or try to kill you."
For those taking opioids to deal with traumatic emotional pain, she recommends seeing a therapist, if possible, as part of recovery.
Above all, she says: "You need to be honest … most of all with yourself. I am super great at rationalizing any decision I want to make, but it does me no favors in the long run. It is excruciatingly hard sometimes, but it is worth it."
Empathy As A Solution
According to Frannie Pryor of Community Health Centers of Oklahoma, a crucial part of addressing the rising use of opioids is empathy.
"I think it's important to keep in mind that any people struggling with opioid-related issues are human beings," she says. "These are people who have lost a very important connection to others. In many cases that connection could be love and acceptance, a sense of belonging or a sense of purpose. Also, it's important to remember that each person is an individual. How they got to where they are is individualized. Treating everyone in the same way is ineffective; we have to tailor our response to each person in a unique way that fits their specific set of issues."
Pryor says society must reach out to those struggling with dependence.
"I think the answer lies in the way we approach the problem and in changing the way that substance dependence is perceived as a personal character flaw rather than a larger social issue," she says. "Empathy is key. The amazing thing about empathy is that we can all utilize it. It doesn't take specialized training or a degree to feel empathy for people going through substance dependence. Imagine being cut off from everyone who is supposed to love you, care for you and treat you with humanity. How important would it be to you to then be treated with kindness and respect?"