There's a bit of a hip California feel to in the raw in Tulsa's Brookside (its copyrighted name is, indeed, all lower case).
Wiry, relaxed, and radiating contentment, owner Greg Hughes sits near the entrance as crowds pour in.
"I was trying for a west coast water vibe, popping with color," he says. "It's lively; there's music. It's sushi with a pulse. Some of them are the children of my first regulars."
It's been 20 years since in the raw opened, and what seems like a sure-fire bet now was a long-shot gamble then. Something must have possessed a University of Southern California business graduate to open a cutting-edge sushi restaurant in what used to be a strictly meat-and-potatoes town.
"I remember those first years like it was yesterday," Hughes says. "I'd work every day till midnight and then sleep on a bean bag in the dining room. Wake up and it was time for work again. I'd drag out the garbage just before bed and it just wasn't working. Sometimes I'd be close to tears. Month after month, I lost 35 pounds, and then suddenly we were a success."
Reasons vary.
"Well, we appeal to everyone," he says. "Meat people from Dallas stop by just to try our steak. I love to go to Cabo [San Lucas, Mexico] and our fish tacos are based on my favorite restaurants there, where you eat fish fresh off the docks. Our fish is flown in overnight.
"Our sushi rolls are nontraditional, flamboyant and extremely taste-filled. We have 22 on the menu and over a hundred others available. Some of our regulars have a roll created just for them. And as for connoisseurs of traditional sushi, we can accommodate them. Joseph Moodoh, for example, is as good as any sushi chef in the Midwest."
Seven miles away, at the second branch of in the raw, high on a hill with a dramatic view of the skyline, Moodooh is hard at work. He's soft-spoken and scholarly outside the kitchen, but put a fillet knife in his hands and he moves with the grace and assurance of an Olympic gymnast.
"My wife was surprised how quickly I learned," he says as he gently slices the belly of a hefty yellowtail flown in from Okinawa, Japan. "But I have been studying all my life."
A few quick slices and the skin is gone.
"I grew up in a tiny seacoast town in [South] Korea and spent my childhood days watching the fishermen fillet their catch, watching my mother prepare sushi," he says.
Quick delicate slices remove waste parts and bone, and all that's left are four long, glistening fillets and a smooth white piece on top.
"Later, I came to Los Angeles to study business management," he says. "But I realized that cooking was what I loved to do."
A few deft cuts and the white piece ("It's the neck, the best part of the yellowtail") becomes sashimi. Two smaller sticks, with Moodooh's hands working quick as a flash, are draped over sushi rice and, just for variety, quickly seared with a blowtorch. Neatly placed on a plate with little spheres and flowers made of wasabi, of ginger, of bright orange carrot, they become a work of art that you hesitate to touch. But when you do, the clear, sharp flavors burst in your mouth with the essence of ocean.
By now, Moodooh has left tradition behind as he crafts the large, dashing California-style sushi rolls for which in the raw is best known; many are his own invention.
"For this roll, I use cucumber instead of nori [seaweed] – crisper flavor," he says while peeling an unbroken cylinder of cucumber and stuffing it with long slices of bright red tuna, salmon and yellowtail.
These become shiny green circles surrounding colorful triangles of white, orange and red, each with a wood skewer.
"We call this the lollipop," he says of his bright, whimsical creation.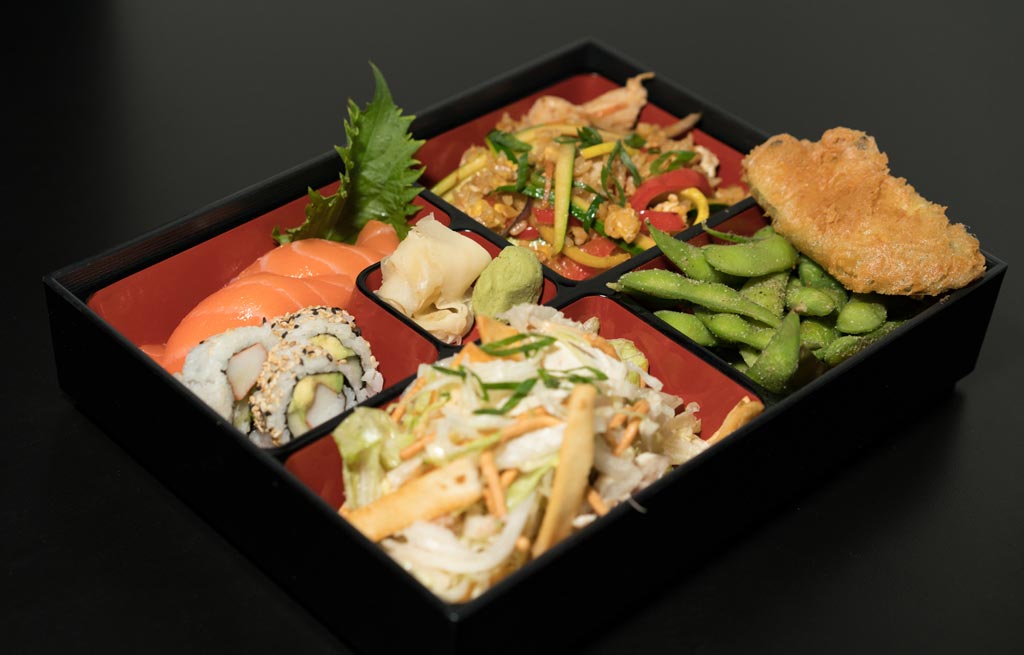 Meanwhile, at the saute station (yes, there is that), a line cook simmers a sauce for another sushi creation, and now Moodooh gently pours it on top. This A-list dish has tiny discs of crab cake, cream cheese and jalapeno, each topped with a big chunk of lobster (a whole lobster in each roll) and now with the rich bubbling gravy, a classic French sauce made with chilis and fresh cream. The sauce and lobster dominate and melt into a luxurious blend – California sushi that a classic French chef would love.
Back in Brookside, Hughes makes his way home.
"I was full of fire back then. Now, I'm content with my three daughters," he says. "I named a sushi roll after one and she's never tried it. Maybe one day. So it worked out. Still, I fantasize about writing a book. The title: How to Open a Restaurant: DON'T."