Riding a bike is more than a great form of exercise. It's also a means to explore more of the state's history, arts and architecture.
You can pedal your way through notable neighborhoods and attractions, explore local breweries and restaurants and, in the case of one seasonal trip, you can use those spokes to scare up some fun.
These adventures await Oklahoma residents and tourists alike who participate in bicycle tours in Oklahoma City and Tulsa.
"I don't think there's a better way to see a new city than on a bike," says Chris Bouldin, owner of Tulsa Bicycle Tours. "You can cover a lot of ground in a fairly short amount of time."
Ryan Fogle, co-founder of Ride OKC, says many participants on his tours are "looking for a new and fun activity."
Fogle believes bikes are a great transportation option to view a city thanks to unobstructed views and a "perfect speed to look around. You just can't get that inside of a car or bus tour."
Ready to give these tours a spin? We have the details.
A Wheelie Good Time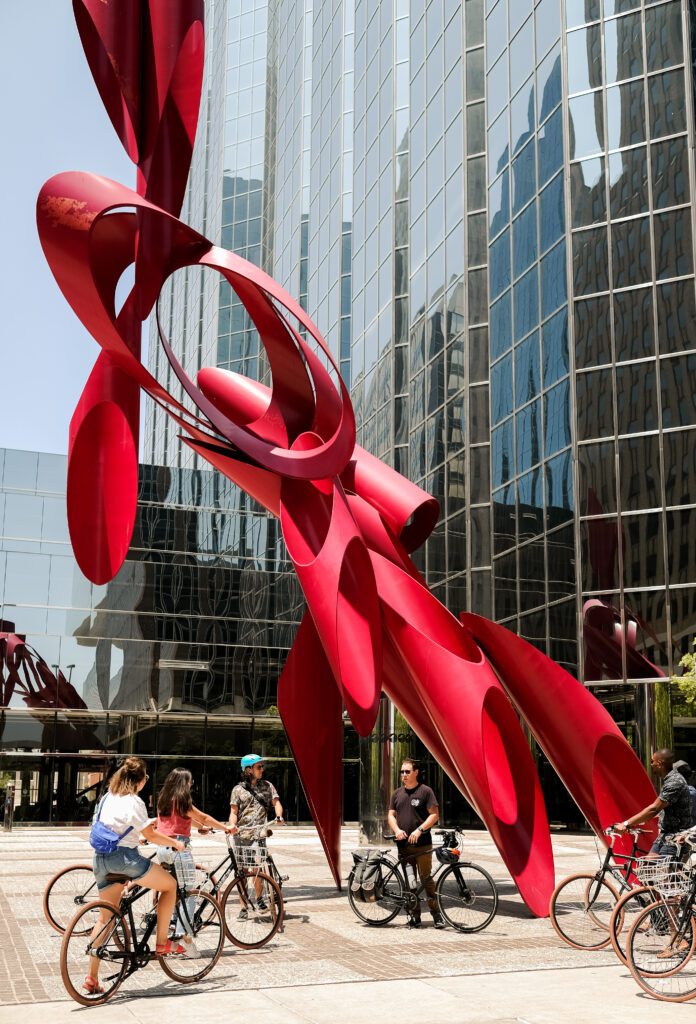 Beginners and experienced cyclists are welcome on these tours. Bikes and helmets are provided, although participants can bring their own of both. Both tours offer a variety of sightseeing options.
In Tulsa, riders can choose tours that are two, three or four hours. Highlights include riding through historical downtown Tulsa, seeing cultural and architectural sites, the Riverside area and stops on Route 66. Tulsa Bicycle Tours and Ride OKC also offer brewery tours for riders who are 21 years old and older.
Bouldin describes his tours as a low-impact ride, and flexibility is available on ride times and tour duration. He welcomes riders who are 15 years of age and older, and anyone younger than 18 is asked to have an adult with them. Bouldin says he also asks riders what interests them about Tulsa so he can highlight those themes along the way.
"I just take them by literally everything I would find interesting if I were on a tour," he says.
Participants with Ride OKC can choose tours that bring them to vibrant arts areas and delicious treats. Fogle offers a two-and-a-half-hour tour of art and architecture that features downtown districts, the Oklahoma City National Memorial and the Overholser Mansion. Other options include custom tours, a cookie tour highlighting some of the city's tastiest treats, and special holiday tours, including a ghost tour in October and a ride through holiday lights in December. Participants ages 13 and older can join a Ride OKC tour. Individuals with younger children can contact the business about booking a private event.
Fogle says Ride OKC also offers rentals for people who want to explore more of the city's bike trails.
Fogle and Bouldin say they enjoy offering the tours and giving people a new perspective of their respective cities.
Phi Nguyen, a frequent participant of the Ride OKC tours, encourages others to give it a try and see a new side to the city.
"Whatever your interest or your age range, there truly is something for everyone," he says. "Whether you're a bike pro or bike newbie, these bicycles are easy to operate and participants will learn about our community in a fun and active way." 
Main image cutline: Anyone age 13 or older can join a Ride OKC Bike Tour. Photos courtesy Ride OKC Bike Tours