Breathtaking holiday lighting, visits with Santa and family togetherness in carriages pulled by gentle Belgian horses are among the holiday experiences offered across the state every year, and business owners and hardworking Oklahomans who love the season put in the work to make it happen.
At Tulsa's Utica Square shopping center, Luther Potts, 79, is in his final season as one of the helpers Santa Claus dispatches across the globe to collect Christmas wishes from children. He joined the bearded legions 39 years ago.
He and his wife, Mary, run the Santa House at Utica Square, and Potts is one of four men the young hopefuls entrust with their toy orders every day starting Thanksgiving weekend. All are required to grow their own whiskers.
"It's very rewarding," Potts says. "I enjoy it, especially with the young kids who still believe."
Every child who visits the Santa House gets a homemade cookie, and that includes nearby neighborhood kids who show up every night of the holiday season.
"We give out 8,000 to 10,000 cookies every year," Mary Potts says.
Families can buy color photos of their Santa House visits for $10 each, and Santa House hours are 11 a.m.-9 p.m. Monday through Saturday and noon to 6 p.m. Sunday.
Whitney Tatum, president of Oklahoma City-based Eventures, calls the holiday season "an adrenaline situation."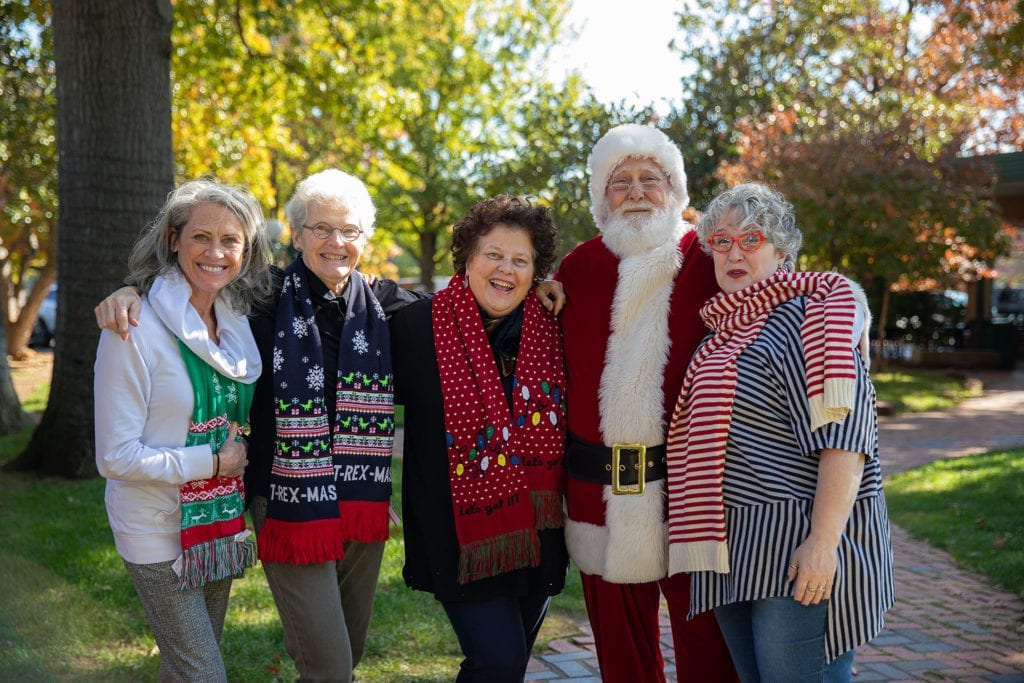 The event-planning company orchestrates about 25 parties in December, mostly for corporate clients hoping to give their employees something special, says Tatum, who has worked nine years for Eventures. She says the company starts preparing for the holidays each January. The firm, created in 1994 by Mary Ellen Alexander, is booked for Christmas by October.
"We try to do most of the pre-planning in the first half of the year," Tatum says. "The rest of the year we are implementing those plans."
Eventures provides food, decorations, programs and general staffing for these events. Depending on the client's budget, entertainment can be anything from a jazz trio to a nationally known entertainer. The company scripts the entire evening to make sure the program goes off without a hitch.
"Our goal is to make it a seamless process for the client, so they can just show up and enjoy the party," says Tatum, who travels the country looking for inspiration. "We try to not do the same thing twice."
In Tulsa, Gil Gilley, owner of Gilley Electric, describes himself as a big fan of Christmas … and of doing electrical work the best and safest way possible. When his workers anchor strings of lights to housetops and treetops, they use bucket trucks and safety harnesses.
"I'm licensed by the city of Tulsa and the state of Oklahoma," he says. "I have workers' comp and general liability [coverage]. So if anything should happen to your home, your insurance may not cover it, but mine will."
Photos courtesy Eventures

Photos courtesy Eventures

Photos courtesy Eventures

Photos courtesy Eventures

Photos courtesy Eventures

Photos courtesy Eventures

Eventures, an event planning company in Oklahoma City, starts planning for holiday parties in January. Photos courtesy Eventures
Gilley, who assigns a dozen of his 40 employees every year to holiday lighting duties, says some senior citizens light up their houses primarily to delight their grandchildren. Some customers have even invited the Gilley Electric crew "for hot chocolate and a lights-on party out in the front yard. So many of our clients are more like family," he says.
Bright Star Carriages is one of six horse-drawn carriage operators adding to the holiday ambiance on Mickey Mantle Drive in Oklahoma City's Bricktown. Owner Marylou Gwozdek says people like the romanticism of a carriage ride.
"Stress at the holidays is the highest," she says. "They find out that the simpler things in life make the best gifts."
Some people reserve carriage rides as Christmas gifts to loved ones. Others plan marriage proposals around them.
Gwozdek named her business for the biblical bright star in the east and, if customers ask, she tells them, but she's not overt about her faith.
"Everybody has their own belief systems, and we have to live and let live," she says.
The two carriages are driven by Gwozdek and her husband, John. They typically offer reserved rides until 9 p.m., then open up their conveyances to visitors on a first-come, first-served basis until about midnight. One carriage holds eight riders and the other seats four. Go to brightstarcarriages.biz or call 405-317-8722 for rates.
Gwozdek learned about the horse industry from the ground up after switching careers.
"At 32, I wanted a change," she says. "I had stressful jobs in my young life and I traveled a lot. So I got into riding horses. I did a lot of education of self before I got into this carriage business because it's a totally different thing than riding. You have to have a lot of trust in the horses and they have to have a lot of trust in you."
Bright Star is a year-round business, and the horses work extra hours in Bricktown through New Year's Day.