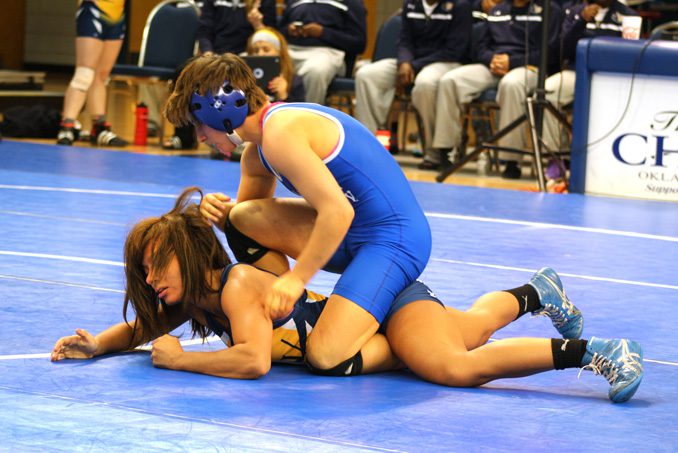 [dropcap]Oklahoma[/dropcap] City University wrestling phenom Emily Webster has retired her singlet, for now. The 4-foot, 9-inch, 100-pound former OCU wrestler took home four consecutive national titles in wrestling during her college career, the last in 2015. With a fierce determination both on the mat and in her chemistry classes, Webster was an instant standout.
Webster began wrestling in middle school; basketball practice had been scheduled too early. Although her dad, a former wrestler, was skeptical of his daughter's choice of sport, that quickly changed once he saw her on the mat. In spite of her small stature, there was no denying her power for taking down competitors.
As the first collegiate women's wrestling program in the state, OCU had seen a multitude of standouts: national and world team members, Olympic trial qualifiers and even national titleholders. None of them were quite like Webster. It made for a wonderful match: Webster, with her four national titles and 118-0 career, became the second OCU athlete to grace the pages of Sports Illustrated.
But now, she's switching gears.
The former star worked through the summer as an intern at a bakery in Wisconsin – a far cry from the wrestling mat. Even before tearing her ACL in her last season, Webster had decided on foregoing training for the Olympics. As a "firm believer that all good things must come to an end," she says, Webster intends to spend time cultivating her other interests.
"Baking and brewing [beer] are two of my hobbies that I didn't really have time for," Webster says.
Known throughout her wrestling career for her drive and determination, Webster has a habit of setting lofty goals and achieving them. Her dad would find her awake at early hours of the morning during high school, working out before practice: 200 pull-ups, 500 push-ups and 700 sit-ups. With that level of dedication, it isn't a stretch to imagine Webster opening her own bakery or brewery soon.
While an internship at a bakery may seem like an extreme change of pace, Webster insists it wasn't as random as it may have seemed. From experimenting with healthier baking without losing flavor to flavored wheat beers, crafting experiments seem to be a theme for Webster.[pullquote]My entire life had been planned around wrestling. I don't know what's next. It's scary and freeing, kind of worrying. But mostly I'm looking forward to what's next."[/pullquote]
Despite the dramatic change of pace, Webster isn't quite finished with wrestling. In 2014, she helped coach the Fargo team, Missouri's national women's wrestling team.
"Seeing all the pictures and memories pop up on Facebook," she says. "It's really bittersweet. I hope to return next year."
Coaching is high on the list, although the former star hasn't completely ruled out competing again. It's now been five months without wrestling, after 10 years of competing without breaks.
"Two weeks post-surgery, I was working out," Webster says. "Running always kept my stress in check during wrestling season, and I've stuck with that."
She ran her first [post-surgery] 5k in late July and hasn't ruled out more races in her future. In fact, nothing seems to be out of the question for Webster.
"My entire life had been planned around wrestling," she says. "I don't know what's next. It's scary and freeing, kind of worrying. But mostly I'm looking forward to what's next."
After spending a summer in Wisconsin, Webster returned to Missouri to live with her family. While she plans on looking for a career at a chemistry lab, she is keeping her options open.
It would seem the 22-year-old wrestling superstar is still victim to the typical experience of post-grads: the great unknown. Instead of worrying too much, however, Webster has been busy making plans. Whether that's graduate school or opening her own bakery, it isn't likely Oklahoma.