[dropcap]According[/dropcap] to Dr. Tommy Poole, noted saxophonist and former director of jazz studies at Northeastern State University in Tahlequah, a new NSU Jazz'Tet disc called Out Front is noteworthy for a couple of reasons.
"One, this is the first small-group jazz CD that the NSU jazz program has ever released," he says. "There have been seven since Hour of the Pearl in 2005, but they were all done by the NSU Jazz Ensemble, the big band, and they all featured a guest artist from the jazz world. Besides being the first time we've recorded a jazz combo, as opposed to the full-on big band, this is also the first CD where we haven't flown in some big-name jazz artist. To me, that speaks to the level these students are on, that it's still a very strong CD, even without a marquee artist. We've been getting some nice reviews."
Indeed they have, including a very positive piece by Jack Bowers on the influential website Allaboutjazz.com. He calls the NSU Jazz'Tet "a bright and well-rehearsed group whose proficiency belies its undergraduate status" and the disc "a conclusive pleasure to hear."
What makes praise like that even more impressive is that, except for one tune penned by jazz legend Billy Strayhorn, all the cuts on Out Front were written by Poole or one of the other six members of the group: tenor saxophonist Joe Barger, trumpet and flugelhorn player Austin Stunkard, guitarist Nick Meena, pianist Hiroki Ohsawa, bassist Matt Butler and drummer Katy Peacock.
"I wasn't around for several of the CDs that were done [by NSU] in the past, but it's my understanding that the previous discs largely featured the original compositions of the guest artists who were brought in," says Poole. "For this one, all the material was composed by the students [and Poole himself]."
[pullquote]Not everyone who writes jazz follows my philosophy, but I prefer when writing my tunes to write chords I can imagine someone having fun improvising on."[/pullquote]"The way it worked was, on a break between semesters I wrote some songs especially for that combo – 'Calle Fortaleza' [the name of a famous street in San Juan, Puerto Rico], 'Out Front' and 'Simple Song' – and brought them in. The group sounded good on them. Then Joe Barger came in with his own song and said, 'I'm working on another one, too.' Austin said, 'I've got one.' Matt Butler said, 'I've got one,' and Hiroki said, 'I've got a couple.' I could see that we had seven to 10 tracks [of original material], so I said, 'Why don't we just make a CD out of all this?'"
Which prompts a personal observation: As someone who's written a few songs through the years, along with seeing and hearing my share of jazz, both live and recorded, I've long wondered how someone actually writes a jazz tune, especially one with no lyrics. In jazz, so much improvisation is involved in presenting a song that it seems little actual writing would be necessary.
Luckily, we have someone like Poole to explain the process he and his students – and by inference, all jazz composers – go through.
"I don't think writing for jazz is a whole lot different from writing, say, a pop song –  not that I've written any pop songs," he says. "But I'd say it's similar to that, where you're thinking of a main melody and what chords would make it sound good. Some people will write the chords first, and then come up with a melody that fits those chords. Some people will hear a melody first, and then they'll put chords in that match it. Not everyone who writes jazz follows my philosophy, but I prefer when writing my tunes to write chords I can imagine someone having fun improvising on. After I write the chords and the melody, then I'll have to think about whether to adjust the chords to make them fun to improvise over in the improvisational sections. Sometimes I leave the chords exactly the same for both the melody and the improvising, as was the case with 'Calle Fortaleza.' But for 'Out Front,' I made some slight adjustments for the improvising sections."
"So first you play the melody, and the chords are going on underneath, along with the rhythm and the drum groove and all of that stuff," he adds. "And then, typically in jazz – it's not always this way, but it's most often this way – after the melody goes all the way through, you'll go into the improvised solo, where someone improvises a new melody over the song. So the chords stay basically the same, but now whoever's taking the solo has the freedom to make up her or his new melodies over those already established, fixed chords."
Of course, music in lots of other genres, from western-swing to pop, also feature solos that don't necessarily adhere to the melody.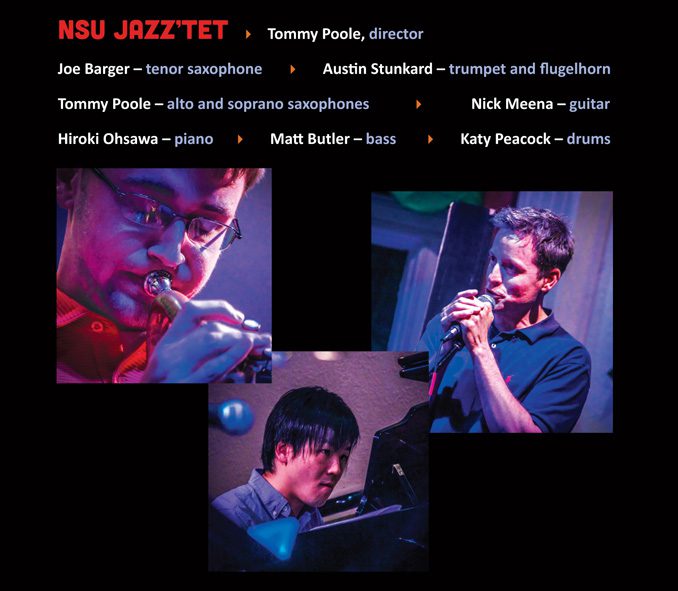 But, Poole notes, jazz is a little different: "I think one of the most important things that says, 'This is jazz, not pop,' is the percentage of improvised material. How long is the solo section? If it's short, I wouldn't consider it jazz, even if it's in a jazz style. For it to be real jazz, I think there should be a high percentage of improvisation. It's every jazz critic's or jazz listener's or jazz lover's own decision."
In addition to creating good opportunities for plenty of improvised solos, the small-group framework of the NSU Jazz'Tet allowed for a lot of musical brainstorming once the seven members began rehearsing the tunes for the disc.
"We were all chiming in with ideas," recalls Poole. "Like, 'Hey, what if we did the bridge reggae?' or 'What if we did this funky?' Originally, I don't think [the Stunkard] composition 'Blues for Roddy' was a funk number. I think it was a swing number."
[pullquote]We have some talented kids here at NSU, and they did a fantastic job,"[/pullquote]Once they'd worked up all the songs, the musicians entered the studio at NSU's Jazz Lab and began cutting tracks for what would become Out Front.
"We did it three different days, just to make it comfortable," he says. "There was one day when the students were feeling a little tired – I think it was the second day, when we did Hiroki's tunes, 'Forastero' and '3 2 Waltz.' I had to go get Katy a candy bar," he adds with a chuckle, "and I think I bought Matt something, too, over at the local Love's convenience store across the street from the Jazz Lab."
"But you know, that was a special group. After we were done recording it, I was sitting in the booth mixing the CD and I said, 'Man, I can't believe I'm listening to undergrads from little old Tahlequah.' It just blows me away what these students are able to accomplish."
Poole has since moved to a similar position at Oklahoma State University, but his successor, saxophonist-flutist Dr. Clark Gibson, has similarly good words for the disc and its creators.
"We have some talented kids here at NSU, and they did a fantastic job," says Gibson. "We're scheduling a CD release party for November at the Oklahoma Jazz Hall of Fame."
The date for the CD release party is scheduled for Sunday, Nov. 1 at 5 p.m. For more information, go to www.okjazz.org. Out Front is also available for purchase at cdbaby.com. All proceeds from the sale of the disc benefit the NSU Jazz Studies Program.