By Mary Willa Allen and Tracy LeGrand
All photos courtesy the businesses unless otherwise marked.
Keeping it Simple
Utilizing the Golden Rule, Wallace Design Collective and its CEO, Tom Hendrick, attract and retain top talent through an absence of micromanagement and extra doses of respect, creativity, professionalism and flexibility.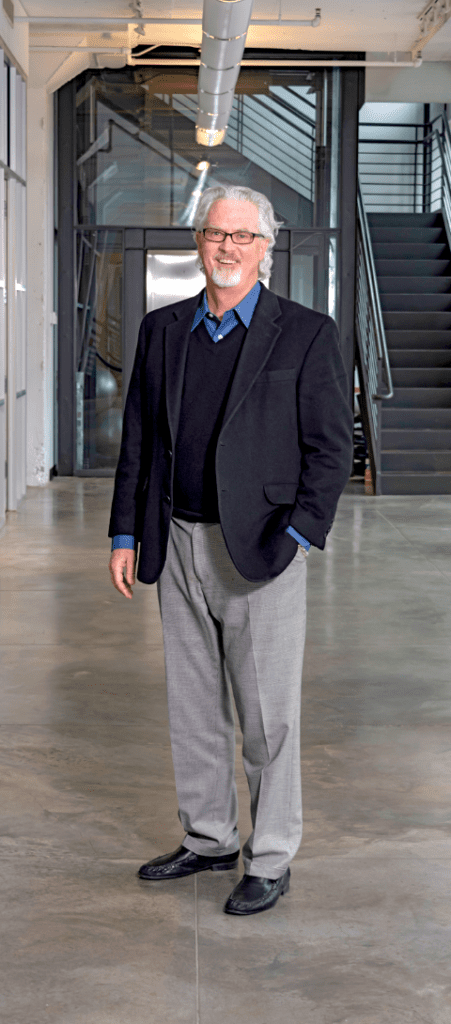 Creating a great workplace environment "is not rocket science, in my opinion," says Tom Hendrick, the president and CEO of Wallace Design Collective. In fact, it's pretty simple to him: "My philosophy has been to treat people like we would like to be treated," he says.
Hendrick says the 200 or so people who work at Wallace's five locations are professionals, "and we treat them professionally. We leave it up to them, how to get their work done. We don't make a lot of rules and regulations. We don't have a lot of turnover, once people come to work for us."
Tulsa is headquarters for the company, which partners with architects and provides structural engineering, civil engineering and landscape architecture with additional locations in Oklahoma City, Atlanta, Denver and Kansas City.
Projects run the gamut, from small remodeling jobs to the massive Miami Beach Convention Center renovation, Hendrick says, and they include school buildings, healthcare facilities, manufacturing centers and retailers such as Walmart, a longtime client. Some projects involve rehabilitating older structures that have outlived their original purposes.
"Adaptive re-use reduces urban sprawl and has a low impact on the environment," the company says on its website. And Wallace puts that belief to use in its own headquarters, which was a former grocery warehouse and a metal casting foundry built in 1927.
Wallace has a slew of recognitions already under its belt: It was named the 50th top engineering firm in the nation by Giants 400 Top Engineering Firms (as compiled by Building Design & Construction) in 2020, along with being named the 11th top retail design firm in the nation by Giants 400 Top Engineering+ EA Firms.
"We believe that we have more fun doing our job than just about anyone else," the company's website reads. "Wallace doesn't operate as a series of separate offices. Each office is part of the whole, allowing us to bring together the individual talents required – regardless of location – to produce projects that are seamless. Projects that flow. Projects that delight."
The employees, Hendrick says, "got into this business to build cool stuff that makes life better for others. To make lives better is our core purpose."
The company's namesake, Tom Wallace, founded the business in 1981, with the "goal of having eight employees with a computer on every desk," says Hendrick. "So he overachieved."
Hendrick continues: "He was founder and CEO for the first 35 or so years. He turned that over to me five years ago. He's been a great mentor to me, and gave me great opportunities to work into this position."
The firm was created as Wallace Engineering Structural Consultants, with civil engineering added in the early 1990s.
"When we added landscape architecture, we needed to look at a name change," says Hendrick. "We were registered in all 50 states. A lot goes into a name change," which went into effect on June 1.
Even before the COVID-19 pandemic, Wallace offered its employees the flexibility of working from home as needed to accommodate a sick spouse or child, keep a medical appointment or meet a repair person.
"When COVID hit, it was pretty easy to send people home," says Hendrick. "We still have some high-risk people who remain at home."
Additionally, employees are given time off to volunteer.
"We leave it up to each office, they select one nonprofit each year," says Hendrick. This year, the Tulsa office chose the Community Food Bank of Eastern Oklahoma.
As for the company's success with clients, "my view is the way we distinguish ourselves is about the service we provide," says Hendrick. "Our clients always tell us that we are very responsive. We return phone calls and emails and texts in a timely manner, doing everything we can to hit the deadlines."
In the Wallace Design Collective's collaborations with architects, "we want them to think of us as their partners. We do everything we can to make them look good and hit their deadlines."
Although Tulsa is the smallest of the cities where offices are located, the headquarters remain there, with 110 employees. Why? Because that's where it all started 40 years ago, Hendrick says, and the employees like living there.
"I started my career in Oklahoma City, and I always thought Tulsa was a pretty cool city," he says.
Going above and beyond can also mean incorporating small, thoughtful touches. For example, about 15 years ago, the company launched the practice of sending gift cards to the significant others of new employees within a couple of weeks of their being hired.
"We tell them we're glad their spouse or significant other has joined Wallace," says Hendrick. "We want them to go out and celebrate their new position here."
Wallace also sends gifts when children join the families of its employees.
"We have bibs and onesies with our logo on them," says Hendrick. "Those have been a big hit."
Kimberly Burk
Accounting
Eide Bailly LLP
Norman, OKC and Tulsa
With 40 offices in 14 states, Eide Bailly LLP was founded in 1917 and stands among the top 25 certified public accounting firms in the nation. More than 2,500 staff members are ready to assist clients with an array of financial matters, from starting a business to audit and assurance.
HoganTaylor
OKC and Tulsa
More than 100 certified public accountants can help with accounting, business advisory, wealth management and other specialty financial needs at HoganTaylor, one of the nation's largest accounting firms. It was recently named No. 87 on Inside Public Accounting's Top 100 List.
Architecture
Dewberry
Tulsa
Devoted to the community and holding client-centric values, family-owned Dewberry offers architecture, construction, engineering, consulting, mapping and survey services. With more than 50 locations nationwide, Dewberry had $463.14 million in 2020 revenue.
GH2 Architects
OKC and Tulsa
Architecture and design firm GH2 Architects is 48 years strong, with more than 100 major awards, thousands of projects, and unmatched expertise in the areas of hospitality, equine, education, government, healthcare and historic preservation. GH2 has completed projects in 48 states and 13 countries.
KKT Architects
Tulsa
With an array of projects, including the upcoming AAON Exploration Center, KKT Architects is a full-service architecture, interiors and engineering firm offering everything from interior design and structural engineering to master planning, feasibility studies and conceptual design. In business since 1989, KKT works to curate a "vibrant, dynamic and creative" company culture.
MATRIX Architects Engineers Planners, Inc.
Tulsa
From the iconic BOK Center to world-class projects in the commercial, education, wellness and industrial sectors, MATRIX Architects Engineers Planners, Inc., delivers excellence with a focus on each client's individual needs. The team believes each client is unique, meaning each project is unique, too.
Rand Elliott Architects
OKC
A multi-disciplinary design firm specializing in space planning, lighting design, historical preservation, architectural design and master planning, Rand Elliott's projects garner heaps of praise, including over 350 recognitions for architectural excellence and ten national AIA honor awards.
TriArch
Tulsa
A Native American-owned firm, TriArch is led by owner/principal AIA Scott Vrooman, who fosters a culture of empathy and authority. Specializing in purpose-driven architecture, TriArch's projects span the tribal, education, religious, residential, wellness and commercial industries. TriArch creates spaces that help everyone to connect, thus empowering its clients to impact others.
Banking, Finance
& Investing
Ameriprise Financial
Statewide
For over 125 years, Ameriprise has provided financial planning products and services, including asset management, insurance annuities, wealth management and estate planning, to its varied clients. With industry leading insights and resources, Ameriprise helps people reach their financial goals.
Arvest
Statewide
Arvest can be found in Oklahoma, Arkansas, Kansas and Missouri and is one of the largest banks in the nation, with assets totaling over $26 billion. Services include personal and business banking, home loans, wealth management, investment help and more. Despite its large size, Arvest still focuses on staying active in the numerous communities it serves, with a commitment to protecting its members privacy.
Bank of America
Statewide
Headquartered in Charlotte, NC, Bank of America is a multinational investment bank and financial services resource, founded in 1998. The company can assist in estate planning, home and auto loans, investing, as well as traditional banking services.
BOK Financial
Tulsa
BOK Financial was founded in 1910 and offers a variety of services, including traditional banking, loans and wealth management. The BOKF Foundation has contributed almost $95 million to community efforts in support of economic development, education and assistance to the vulnerable.
Charles Schwab
OKC, Norman and Tulsa
Founded by Charles Robert Schwab in 1971, the firm describes itself as a "champion of investors and those who serve them." With the primary goal of putting the client first, Schwab is a full-service wealth management leader dedicated to achieving better financial outcomes for all they serve.
Fidelity Investments
Statewide
More than 40 million people, 22,000 businesses and 13,500 financial institutions lean on the expert staff at Fidelity Investments, who provide insight into the entire market with innovative investment and technology solutions. The end goal? To strengthen and secure clients' financial well-beings.
First Fidelity Bank
Statewide
An OKC-based retail bank and financial services corporation, First Fidelity Bank has been serving Oklahoma since 1920. Offerings include personal, commercial and small business banking; a variety of loan services; and personal, business and investment planning.
First National Bank & Trust Co.
Statewide
First National Bank continuously invests in its communities, a legacy begun in 1983. Offerings range from personal and business banking to commercial and business loans and a variety of helpful lending resources. With 10 locations across Oklahoma, First National Bank specializes in small and middle-market lending and aims to "grow with you and be your bank for life."
JPMorgan Chase
Statewide
With origins that trace back to 1799, JP Morgan Chase now harbors trillions of dollars in client assets. The company, which strives to drive an "equitable and inclusive economy," provides investment services and products to its varied clients, with a commitment to help close the racial wealth gap.
Mabrey Bank
Statewide
With Oklahoma roots that date back to 1924, family-owned and operated Mabrey Bank offers private and business banking services at 15 locations statewide. With a "best of both worlds" approach, Mabrey can give its clients friendly and flexible service along with competitive, cutting-edge technology to rival national banking chains. Committed to being good corporate citizens, leadership and employees at Mabrey invest into Oklahoma with both financial contributions and volunteer efforts at over 100 organizations annually.
Merrill
Statewide
As a wealth management and investing division of Bank of America, Merrill offers a variety of investment options and methods, including the self-directed Merrill Edge: with tools and financial insights as well as guided investment strategy programs monitored by professional advisors.
MidFirst Bank
Statewide
With over $31.3 billion in assets, MidFirst Bank is the largest privately owned bank in the U.S., serving 900,000 customers. Based in OKC, MidFirst offers a full range of financial services, including personal, commercial, private, mortgage and trust banking. With an emphasis on loyalty, MidFirst employees – described as "thoughtful, intelligent and honest professionals" by CEO Jeff Records – are committed to the clients and communities they serve.
Regent Bank
Statewide
Founded in 1898 in Nowata, Regent Bank offers cash management, mobile deposits, a slew of personal and business banking services, as well as offerings to assist small and mid-market businesses with their goals. Providing award-winning service, Regent strives to be the region's premier business bank.
UBS Wealth Management
OKC
UBS Wealth Management, founded in 1862 and headquartered in Zurich, has more than 70,000 employees worldwide. The firm specializes in mortgage planning, digital experience, retirement planning, financial planning and more, with goals to connect people and reimagine the power of investing.
Vast Bank
Tulsa
Serving northeastern Oklahoma, independent and locally-owned Vast Bank has offered full service business and personal banking for 35 years. Vast is also the first nationally chartered U.S. bank that allows the purchase, sale and holding of cryptocurrency assets directly within one's bank account.
Communication
AT&T
Statewide
AT&T is a top-tier broadband connectivity provider that connects clients around the world with technology, entertainment, news and advertising. The company has been transforming the modern media game for more than 140 years, with a company emphasis on diversity, equity and inclusion.
Cox Communications
Statewide
The largest division of Cox Enterprises, Cox Communications serves approximately 6.5 million total homes and businesses in 18 states. With an array of digital cable television, telecommunications and home automation services, Cox employs 18,000 people nationwide. Looking to the future, the company has invested billions of dollars in the communities it serves, helping to create infrastructure to better deliver services. A leader in customer satisfaction, Cox has earned 34 awards from J.D. Power and Associates.
Public Strategies
OKC
Public Strategies provides management, strategic planning and communications services to private and public sectors. Handling everything from program design and consulting to storytelling and marketing, Public Strategies translates theory into practice for its clients.
Construction
Cowen Construction
OKC and Tulsa
A part of the Oklahoma construction landscape since 1896, Cowen Construction offers a vast portfolio that includes projects in the healthcare, education, banking and industrial sectors. Notable projects include The Health Zone at Saint Francis, Tinker Federal Credit Union and Clary Sage College.
Crossland Construction Co.
OKC and Tulsa
Ivan 'Red Iron' Crossland, Sr., founded Crossland Construction in 1977; today, Crossland is a multi-company entity with locations across the region. Still family owned and operated, Crossland's expertise encompass myriad industries, from education and industrial to retail, entertainment and healthcare. The company aspires to be among the top fifty contractors in the country by 2027.
Flintco
OKC and Tulsa
Founded in 1908, Flintco offers a full range of construction services, including design-build, management, general contracting, and project and program management. Other self-performing capabilities include process piping, steel erection, excavation and underground infrastructure.
Manhattan Construction Group
Statewide
For more than 120 years, Manhattan Construction has provided building and construction services that include preconstruction, construction management, along with general building and program management. Serving varied industries – from aviation and civil to sports, recreation and higher education – Manhattan has completed projects across the U.S., the Caribbean, Mexico and Central America.
Nabholz Construction Corp.
Statewide
Founded in 1949, Nabholz offers construction, facility maintenance, custom fabrication, environmental hazard services, and machinery moving and installation. The company's charitable foundation, created in 1987, has contributed millions to community and charitable organizations, schools and hospitals. Guiding principles include safety, quality, service and innovation.
Ross Group
OKC and Tulsa
Founded as a small contracting company in 1979, privately owned and operated Ross Group has since grown to provide industry-leading services in construction development, engineering and facility and EPC projects for government-sector and private clients nationwide, with more than 150 employees at four offices.
Credit Union
Communication Federal Credit Union
Statewide
Founded in 1939 as Pioneer Bell Credit Union and headquartered in OKC, Communication Federal Credit Union now serves nearly 100,000 members at 23 branches in two states. With over $1.6 billion in assets, CFCU has been named by Forbes as the No. 1 credit union in the state in 2020 and 2021.
Oklahoma Central Credit Union
Tulsa
Oklahoma Central Credit Union offers a full array of financial products and services, including mobile banking/deposit, online bill pay, money management, credit scores and reports, financial planning and more. Started in 1941 with 27 charter members and $628 in assets, OCCU has grown exponentially but has kept the same mission: to make a difference in the lives of employees, members and the communities it serves.
Tinker Federal Credit Union
Statewide
Headquartered in OKC, Tinker Federal Credit Union offers investment and financial planning services including loan pre-approvals, general banking and financial coaching. With more than 435,000 members and $5.7 billion in assets, Tinker is Oklahoma's largest credit union, offering its members low fees, high dividends and competitive interest rates. Founded in 1946, Tinker's mission continues to be providing the best financial services and convenience for its members using sound financial principles.
TTCU Federal Credit Union
Tulsa
Originally known as Tulsa Teachers Credit Union when established in 1934, TTCU Federal Credit Union is now the second-largest credit union in Oklahoma with $2.5 billion in assets. The institution offers financial advisory and lending services to a membership of more than 140,000.
Tulsa Federal Credit Union
Tulsa
With a membership of more than 54,000, Tulsa FCU is a community-chartered credit union with membership available to area residents with a $5 share deposit. Founded in 1943, Tulsa FCU handles $885 million in assets and supports 52 charities annually with its Tulsa FCU Tulsa Run.
Distribution
APMex
OKC
As one of the largest e-commerce retailers in the nation, APMEX has a selection of more than 20,000 products, including precious metals, numismatics and semi-numismatics. Headquartered in OKC, APMex works closely with the Regional Food Bank of Oklahoma to combat hunger in the area.
Fabricut
Tulsa
As one of the largest, most progressive distributors of decorative and wholesale fabric in the world, Fabricut believes that a dedication to the customer should be the center of its business model. Offering traditional, transitional and contemporary styles, Fabricut is the "designer's preference" for everything from fabrics and trimmings to wallcoverings, decorative drapery hardware, furniture, finished product, rugs and leather.
Energy
Chesapeake Energy
OKC
Chesapeake Energy, with an industry-leading portfolio of unconventional, onshore oil and natural gas assets, is headquartered in OKC and focuses on delivering a "profitable and sustainable future" for all. Core values include integrity, trust, respect, transparency and commercial focus.
Magellan Midstream Partners
Tulsa
Magellan Midstream Partners transports, stores and distributes refined petroleum products and crude oil with a 9,800-mile refined products pipeline system and 54 connected terminals. Magellan believes its core values of integrity and honesty are critical to a successful business model.
OG&E
OKC
Serving more than 870,000 customers, OG&E provides life-sustaining and life-enhancing products and services while honoring its commitment to strengthen the community. The company is a leader in economic development and philanthropy, and its employees volunteer nearly 20,000 hours each year.
ONE Gas
Tulsa
A 100% regulated natural gas utility, ONE Gas serves more than 2 million customers in Oklahoma, Texas and Kansas. Founded in 1906, the company assists clients in the residential, commercial, industrial, transportation and wholesale industries. Core values at ONE Gas include safety, inclusion and diversity, ethics, service, and value, with a mission to "deliver natural gas for a better tomorrow," and a vision to be a premier natural gas distribution company.
ONEOK
Tulsa
Connecting prolific supply basins with key market centers, ONEOK is a leading midstream service provider in the U.S. Self-described as "integrated, reliable and diversified," ONEOK was founded in 1906 and has grown to become a Fortune 500 company.
Public Service Company of Oklahoma
Tulsa
Providing power to 30,000 square miles of Oklahoma, PSO employs about 1,645 people, with clients in the residential, commercial and industrial markets. Committed to giving back, PSO is passionate about bolstering teachers, STEM initiatives and early childhood education through charitable donations and grants. PSO is also one of the largest purchasers of wind power in Oklahoma.
Williams
Tulsa
Williams offers natural gas processing and transportation, along with electricity generation and petroleum assets. Committed to being a leader in "providing infrastructure that safely delivers natural gas products to reliably fuel the clean energy economy," Williams handles approximately 30% of the nation's natural gas production.
Engineering
Advance Research Chemicals, Inc.
Catoosa
In 1987, Dayal T. Meshri formed Advance Research Chemicals as a resource for high purity inorganic fluorine compounds. Looking to serve the needs of large corporations and major industries including automotive, pharmaceutical and agriculture, ARC offers competitive pricing and high quality.
CEC
OKC, Tulsa and Duncan
Multi-service engineering firm CEC offers everything from transportation design to power delivery, materials testing and surveying. With such a wide array of expertise, CEC is involved in its projects all the way through – from conception to design and construction. Core values include humility, honesty, self-control and generosity, and CEC believes serving others is the core of company culture.
Garver
OKC, Tulsa and Norman
Garver offers multi-disciplined engineering, planning, architectural and environmental services with an emphasis on federal, transportation and facilities design. Named in the top 125 of the Engineering News-Record's Top 500 Design Firms, Garver employs nearly 900 people across the U.S. Committed to philanthropic efforts through its charitable organization, GarverGives, the company has supported over 500 nonprofits since 2015.
Wallace Design Collective
OKC and Tulsa
Wallace offers structural and civil engineering, landscape architecture and survey consultation, with services to help tackle project visions from start to finish, along with an unwavering commitment to listen to clients' needs and expectations. Projects run the gamut of industries, from adaptive re-use to healthcare, retail and commercial. The firm, which has offices in four states, has received a slew of national and regional recognitions since its founding in 1981.
Entertainment
Choctaw Casino Resort Durant
Durant
Whether you come for the live acts in the Grand Theater or to test your luck at 7,400 slot machines, over 100 table games, or the state-of-the-art poker room, Choctaw Casino Resort delivers the five-star treatment. Amenities abound and include six movie theaters, an arcade, bowling, three acres of poolside paradise, endless shopping and 1,700 luxury hotel rooms. An array of cuisine options are at guests' fingertips, as well as a state-of-the-art spa with massage, facial and body treatment services.
Hard Rock Hotel & Casino Tulsa
Tulsa
Brimming with a variety of venues and spaces, Hard Rock Hotel & Casino Tulsa offers 454 rooms, fine and casual dining, ample performances at Hard Rock Live and gaming options galore. With more than 2,600 electronic games, 36 table games and a poker room, Hard Rock encourages its guests to "live it up."
Oklahoma City Thunder
OKC
More than an NBA basketball team, the OKC Thunder strives to be a leader both on and off the court, providing meaningful connections with its partners, fans and community. Through its philanthropic arm, Thunder Cares, the company has forged programs and partnerships to improve the OKC community.
Osage Casino Hotel
Tulsa
Osage Casino Hotel's high-stakes betting tables, electric gaming and luxurious suite amenities make it a top entertainment and relaxation hub in Tulsa. With competitive pay, sign-on bonuses and benefits, Osage Casino Hotel prides itself on career advancement opportunities for its employees.
River Spirit Casino Resort
Tulsa
Reaching 27 stories skyward with 483 hotel rooms and suites, River Spirit Casino Resort offers over 3,100 electronic games, table games, poker rooms, live entertainment, ample dining, a state-of-the-art pool and cabana area, and a spa. An active community partner, River Spirit positively impacts the Tulsa economy, with resort proceeds funding a variety of programs for the Muscogee (Creek) Nation, from elderly assistance and healthcare to housing and education. Additionally, the resort leadership cultivates a culture that "celebrates diversity and diverse perspectives."
Food/beverage/convenience
Bama Companies
Tulsa
"Bama has come a long way from that soda fountain in Texas," says Bama Companies CEO Paula Marshall, describing the megalithic output of the Tulsa-based international mainstay since its founding in 1927. Currently producing two million biscuits a day, plus buns, pie shells, pizza crusts and hand-held pies, Bama fosters a healthy environment for its employees that stresses education, training and well-rounded lives.
Love's Travel Stops & Country Stores
Statewide
Headquartered in OKC, Love's Travel Stops & Country Stores has presence in 41 states with more than 550 locations, serving motorists and truck drivers as a safe stop for fuel and snacks. Love's has additionally raised more than $35 million for Children's Miracle Network Hospitals over the past 20 plus years.
QuikTrip
Statewide
More than a gas station, QuikTrip grew from humble roots in 1958 to now include 850 stores in eleven states with $11 billion in assets. A privately held company, QuikTrip employs over 24,000 people and donates 5% of its annual net profits to charitable organizations.
Healthcare
Advanced Orthopedics of Oklahoma
Tulsa
As the largest orthopedic practice of fellowship-trained orthopedic and sports medicine experts in northeastern Oklahoma, Advanced Orthopedics offers urgent treatment, comprehensive orthopedic care, surgery and nonsurgical medicine at four clinic locations and seven physical therapy centers.
Ascension St. John Health System
Tulsa
Ascension St. John Health System provides top-tier healthcare to northeastern Oklahoma, with extensive clinics and the Ascension St. John Medical Center Hospital, which is equipped with a 24-hour Level II Trauma Center. Additionally, the Ascension St. John Medical Center Cancer Program is accredited by the Commission on Cancer of the American College of Surgeons. At its core, Ascension is a faith-based healthcare organization "dedicated to transformation through innovation across the continuum of care."
Center for Orthopaedic Reconstruction & Excellence
Jenks
On the cutting edge of the latest technology, the Center for Orthopaedic Reconstruction & Excellence (CORE) offers its patients a $45 million facility that includes 24-hour emergency, physical therapy and orthopedic care. The 51,000-square-foot center includes six operating rooms, four procedure rooms, 25 in-patient beds and a physical therapy wing, all equipped with top-tier surgeons, staff and other physicians. The center's mission is "to be the preferred provider of healthcare in Oklahoma by making a positive difference in every life we are privileged to touch."
Dean McGee Eye Institute
OKC
Founded in 1965 as the Oklahoma Eye Foundation, the Dean McGee Eye Institute is now a national leader in vision research. The skilled physicians range in specialties and offer everything from general optometry to LASIK vision correction and specialized treatment for eye conditions like cataracts, glaucoma and diabetic retinopathy.
Eastern Oklahoma Ear, Nose and Throat
Tulsa
Eastern Oklahoma Ear, Nose and Throat has served the state for more than 40 years, offering a full service allergy team, doctors, audiologists and other professionals – including the only fellowship-trained neuro-otologist and rhinologist in Tulsa. EOENT is now the largest ear, nose and throat clinic in eastern Oklahoma.
INTEGRIS
OKC
Helping healthcare consumers keep up with annual screenings and check-ups is a focus at INTEGRIS, the state's largest not-for-profit healthcare system. INTEGRIS offers 16 hospitals and health providers in 49 Oklahoma cities and towns, with a mission to partner with people to live healthier lives.
Norman Regional Hospital
Moore/Norman
With 219 beds and a range of services including spine and orthopedic surgery, Norman Regional Hospital serves Norman, Moore and surrounding communities. The first hospital in the OKC metro to receive the Chest Pain Accreditation with Percutaneous Coronary Intervention from the Society of Cardiovascular Patient Care, Norman Regional's mission is to serve the community as a leader in health and wellness care.
Oklahoma State University Medical Center
Tulsa
As a teaching hospital, Oklahoma State University Medical Center offers an array of clinics and services, including private birthing suites for expectant mothers. Recent state-of-the-art innovations include the acquisition of the robotic surgical equipment Da Vinci Xi Surgical System to provide minimally invasive surgeries in cardiac, general, gynecology, thoracic and urology cases.
The Orthopaedic Center
Tulsa
Specializing in orthopedics and sports medicine, The Orthopaedic Center offers medical and surgical care, along with the utilization of the latest non-invasive options, like electro-stimulation, nutrition, new medications and physical therapy. Physicians at TOC participate in research programs and stay up-to-date on technology in orthopedic surgery to deliver best results to their patients. Dedicated to improving quality of life, TOC serves everyone from toddlers to seniors, treating each patient like family.
OU Medicine
OKC and Tulsa
OU Medicine serves Oklahoma residents by training the next generation of healthcare providers, offering top-tier medical services and advancing scientific research. Part of the OU Medicine system, the University of Oklahoma Medical Center has been ranked a Top 100 Hospital by Becker's Hospital Review.
Saint Francis Health System
Tulsa
Saint Francis Health System serves the region as a not-for-profit entity, completely governed and operated in Tulsa. Whether it's primary, urgent or emergency care, the physicians, healthcare staff and leadership at Saint Francis provide top-of-the-line service, with the anchor of Saint Francis Hospital and additional branches that include the Children's Hospital, Warren Clinic, the Heart Hospital and the Laureate Psychiatric Clinic, among others. The largest private employer in Tulsa country, Saint Francis has more than 10,000 employees, 1,000 physicians and 700 volunteers.
Stephenson Cancer Center
OKC
Part of the OU Health Sciences Center, Stephenson is Oklahoma's only NCI-Designated Cancer Center, one of only 71 in the U.S. As the state's largest and most comprehensive oncology practice, physicians and staff at Stephenson offer all-inclusive, multidisciplinary cancer care close to home.
Tulsa ER & Hospital
Tulsa
Providing concierge-level emergency care to the community, Tulsa ER & Hospital offers comprehensive healthcare in a state-of-the-art, 16,372-square-foot facility. Medical professionals can treat both minor and major injuries, test for infections, provide bone imaging and handle occupational injuries.
Higher Education
Northeastern State University
Tahlequah
Preparing students for successful careers, Northeastern State University has three campuses, numerous undergraduate and graduate degrees, and a College of Optometry. NSU also curates a well-rounded experience for its pupils on campus with student government, intramurals and Greek life.
Oklahoma Panhandle State University
Goodwell
OPSU stresses student learning, resource optimization, graduate production and life-long learning. Offering three colleges – Agriculture, Science and Nursing; Arts and Education; and Business and Technology – students can choose programs leading to nearly 60 baccalaureate and associate degrees.
Oklahoma State University
Stillwater
OSU has graduated more than 264,000 students at its five campuses across the state since its founding in 1890. Committed to the public good, OSU focuses on accessibility; health and wellness; cooperative extension; diversity; outreach and community engagement; research; and safety and sustainability.
Oklahoma State University Center for Health Sciences
Tulsa
Created to fulfill the healthcare needs of rural Oklahomans, OSU-CHS strives to educate and prepare osteopathic physicians, scientists and other healthcare workers. Offering graduate and professional degrees, OSU-CHS offers programs ranging from osteopathic medicine to forensic science.
Oklahoma State University-Tulsa
Tulsa
OSU-Tulsa is a public comprehensive research university offering bachelor's, master's and doctoral degrees, along with graduate certificates. Students can also participate in ground-breaking research with the Helmerich Research Center and OSU Center for Family Resilience.
Rogers State University
Claremore
Recognized for high-quality academic programs, a strong scholastic atmosphere, accessible distance education and a high-tech learning environment, RSU has three campuses in Oklahoma. With two schools – Arts and Sciences; and Professional Studies – students have numerous program options.
Tulsa Community College
Tulsa
Committed to accessibility, TCC believes in fostering a culture of diversity, equity and inclusion with affordable, quality education. Associate degree and certificate program options are extensive, laying a strong groundwork for lucrative careers or continued education at four-year institutions.
University of Oklahoma
Norman
With 170 majors and three campuses, OU boasts a top ten petroleum engineering program and a top three dance program, nationally. With varied study abroad opportunities, OU is passionate about creating global citizens, and also offers a rich campus life with athletics, Greek life and student government.
University of Science and Arts of Oklahoma
Chickasha
A liberal arts university, Science & Arts encourages students to think and speak for themselves, and is known for its small class sizes and passionate professors. Scholarships and financial aid opportunities are plentiful, as are degree programs – from biology and business to deaf education and theater arts.
University of Tulsa
Tulsa
With a 11:1 student/faculty ratio, TU offers individualized attention to pupils in myriad degree programs, with the goal of blending liberal arts, professional studies and career support to create well-rounded graduates. With a robust campus life, students can join one of more than 200 on-campus organizations.
Human Resources and Staffing Agency
Express Employment Professionals
Statewide
The largest staffing firm in Oklahoma, Express Employment Professionals's 34 offices in the state have worked overtime through the pandemic, placing more than 51,500 candidates into new jobs; the company is currently on pace to exceed 14% in growth over 2020. With hope and inspiration at the core of company culture, Express cares for its employees, clients and associates, and is excited to help reawaken the economy by helping clients find employees who are critical to national recovery. Founder Bob Funk, Sr., firmly believes in Oklahomans, attributing the company's success to their strong work ethic and values.
Heartland
Edmond
Heartland Payment Systems began as a small financial technology company and was later acquired by Global Payments in 2016. Heartland's mission, however, remains the same: to be a pioneer in modern payment processing as well as a complete technology solution for businesses.
Key Personnel
OKC and Tulsa
Key Personnel works to place the best candidates in the best jobs, while taking away the headache of hiring from businesses through its cutting-edge employment strategies. Specializing in six divisions – industrial, administrative, financial, medical, legal and technical – Key's core values include authenticity, integrity, family and a passion for service, which includes finding candidates that fit not only the position but the culture of the company. The company now serves the OKC metro.
Nextep
Norman and Tulsa
Simplifying human resource solutions so business owners can focus on what's important, Nextep supports companies with quality benefits, HR expertise, payroll and technology. Internally, Nextep fosters a strong company culture, described as "fun, people-first and supportive."
Robert Half
OKC and Tulsa
With awards like Forbes' 2021 World's Most Admired Companies, Robert Half has helped businesses find highly skilled employees in a range of industries since 1948. Boasting more than 345 staffing locations worldwide, Robert Half can offer assistance to companies anytime, anywhere.
Insurance
American Fidelity Assurance
OKC
American Fidelity was founded with a core belief: the most important asset anyone has is their ability to work and earn a living. The company offers supplemental benefit products in the education, public sector, automotive and healthcare industries, with a commitment to diversity and inclusion.
Blue Cross Blue Shield of Oklahoma
Statewide
With a wide array of offerings, BCBSOK is a leader in the state's health insurance landscape. Offering individual, family and Medicare plans, BCBSOK's main goal is providing quality coverage, with a variety of helpful member services to ensure each client finds the plan right for them.
CommunityCare
Tulsa
CommunityCare, dedicated to offering top-tier, affordable healthcare management services, is owned by two of the region's premier health systems: Ascension St. John and Saint Francis. Whether you're looking for individual, family, Medicare or group plans, CommunityCare has everything you'll need.
Delta Dental
Statewide
Providing coverage to 80 million people in all 50 states, Delta Dental is a national leader in dental insurance. The organization's core purpose is the advancement of the oral health of its customers, partners and consumers through providing dental insurance and supporting philanthropic efforts.
Farmers Insurance
Statewide
With competitive coverage in home, auto and life insurance, Farmers has been a leading provider since 1928. Dedicated to delivering peace of mind and innovative solutions for its customers, Farmers agents make getting a quote, filing a claim or finding a plan as easy as possible.
Gallagher Insurance
OKC and Tulsa
Gallagher presents customers with a "stronghold of insurance practices" that work across multiple industries. From finding gaps in coverage, to construction bonds tailored to each person's needs, to small business quotes, products and services, Gallagher ensures every client is covered.
GlobalHealth
OKC and Tulsa
GlobalHealth separates itself from the pack by offering "high touch, high value, and a partnership" with its members. With a vision for genuine care and optimal health for its clients, GlobalHealth tailors its offerings to state, education, local government and federal employees.
HUB International
OKC and Tulsa
A leading insurance brokerage in the U.S., HUB International helps both individuals and businesses reach their goals. From wealth management products to property, casualty, risk management, life and health insurance, HUB handles it all. Core tenants of the business include entrepreneurship, integrity, teamwork, accountability and service.
Rich & Cartmill
OKC and Tulsa
A pioneer in the realm of insurance coverage since 1922, Rich & Cartmill handles everything from commercial property to general liability, home and auto, disability, and risk management. Industries covered run the gamut, including construction, healthcare, education, retail and hospitality.
State Farm
Statewide
Presenting a range of choices for home and property, small business, life, health, disability, liability and even pet medical, State Farm covers virtually every realm of insurance with highly competitive rates. With more than 19,000 agents across the country, State Farm has guidance and expertise in its arsenal for any situation – with the goal to serve customers well and to give back to local communities.
Law Firms
Barrow & Grimm
Tulsa
Offering "counsel for the business of life," Barrow & Grimm was founded in 1976 with expertise in commercial law, civil litigation, tax law, labor law and more. Boasting 25 accomplished attorneys, Barrow & Grimm offers responsible and timely service, along with personal attention for any legal need.
Calvert Law Firm
OKC
Attorneys take on the roles of business partners at Calvert, with the goal of ensuring the value of their services is greater than their fees. Handling complex litigation, transactional matters, appeals, and mergers and acquisitions, these attorneys pride themselves on strong client relationships.
Hammons, Hurst & Associates
OKC
Under the guidance of Mark E. Hammons, Sr., this firm offers experienced, compassionate and thorough counsel for any employment law needs. Practice areas include gender, race, pregnancy, disability and age discrimination; along with sexual harassment; denial of overtime pay; and medical leave violations. Regardless of the issue, this firm is committed to making the workplace better for everyone.
The Handley Law Center
El Reno
Known as Oklahoma's personal injury, drug possession, DUI and criminal defense lawyers, the Handley Law Center focuses on providing quality legal services for reasonable fees. Helping clients in Canadian County and around Oklahoma, Handley has received numerous accolades for its work.
Jones Gotcher
Tulsa
A 30-person firm, Jones Gotcher offers the resources to handle any case while maintaining personal attention for each client. Listed in the Bar Register of Preeminent Lawyers, Jones Gotcher covers a variety of cases, from banking and financial matters to family law, real estate and employment.
Latham Steele Lehman
OKC and Tulsa
A full-service law firm that focuses on strong client-attorney relationships – whether those clients are small businesses and individuals or major companies – Latham Steele Lehman offers experienced lawyers who deliver successful verdicts, settlements and appeals. With more than 300 jury trials under its belt, LSL has numerous areas of expertise, including corporate services, litigation, medical malpractice defense, workers' compensation, real estate, and tax, trusts and estate planning.
Stange Law Firm
OKC and Tulsa
Stange operates with responsive, diligent and communicative representation in family law. Some areas of expertise include divorce and separation; child custody; family violence; and military divorce, with the end goal to help every client rebuild his or her life. The firm has experienced exponential growth since its founding in 2007, and now serves Missouri, Illinois, Kansas and Oklahoma. Additionally, the firm engages in charitable giving and community service to give back to the areas it serves.
Manufacturing/Industrial Supply
AAON
Tulsa
A leader in creating healthy indoor environments, AAON engineers, manufactures, markets and sells HVAC equipment. Founded in 1988 following the acquisition of the heating and A/C division of the John Zink Company, AAON has grown to support new production lines, machinery, and 1.51 million square feet of facilities in Tulsa, with two additional plants in Texas and Missouri that employ, in total, over 2,000 people. The company prides itself on its diverse workforce, plus competitive benefits and wages.
Airgas
Statewide
Airgas is a leading single-source supplier of gases, welding equipment and supplies, and safety products. Founded in 1982, Airgas has grown through the years with more than 500 acquisitions and is now the largest U.S. distribution network in the packaged gas industry.
Brainerd Chemical Company, Inc.
Tulsa
Founded in 1959, Brainerd excels in chemical manufacturing and distribution, with stewardship, safety and service at the heart of the company. Spurring change within the industry, Brainerd has a proven track record of dedication to safety, government compliance and environmental protection.
Ditch Witch
Perry
Ditch Witch has produced cutting-edge underground utility construction equipment since its founding in 1949. The company touts experienced industry professionals and thorough, accessible reference materials for their products, which include directional drillers, vacuum excavators and trenchers. Known for the slogan "we bleed orange," Ditch Witch finds success through its passionate employees, who bring grit, pride and work ethic to their jobs each day.
Hilti
OKC and Tulsa
Hilti has grown into a global business while retaining its family-owned status. A developer and manufacturer of products in the construction, maintenance and energy industries, Hilti is committed to building a better future with its over 3,800 highly-trained North American employees.
Kimray, Inc.
OKC
Producing top-of-the-line oil and gas control equipment, Kimray is dedicated to making a difference. The company was founded in 1948 and its core passions include treating its people with respect; producing quality products; ensuring close customer relationships; and upholding strong values.
Matrix Service Co.
Tulsa
Devoted to reaching a higher standard, Matrix offers services in construction, management and fabrication for the energy and industrial markets. Twice recognized on Forbes' Most Trustworthy Companies list, Matrix also boasts a number of sizeable acquisitions since its founding in 1984.
Paragon Industries, Inc.
Sapulpa
With the singular goal of customer satisfaction, Paragon manufactures quality oil country tubular goods, line pipe products and more. The company prides itself on safe operations, high quality products, low costs and high productivity, growing from 2 employees in 1970 to over 400 today.
Webco Industries
Sand Springs
North America's foremost provider of innovative tubing solutions, Webco excels through its core practices, which include empowering people; dominating niche markets; and embracing change. Employing the industry's best talent, Webco has worked to create a dynamic network of facilities since its founding in 1969 as Southwest Tube Manufacturing.
Zeeco
Broken Arrow
Specializing in the design and manufacture of advanced combustion equipment and the creation of environmental solutions, Zeeco employs more than 1,000 people with over 25 global locations. The company's equipment is created to reduce emissions, optimize processing industries and maximize operating efficiency – all while meeting government compliance requirements. Zeeco's Broken Arrow headquarters include a 250-acre campus with a 100,000-square-foot manufacturing facility.
Miscellaneous
Alert360
Tulsa
With a variety of home and business security equipment and packages, Alert360 works diligently to make clients feel safe and secure, and touts the rare designation of a TMA Five Diamond Alarm Monitoring Center. Founded in Tulsa in 1973, the company has grown to become the fifth largest residential security provider in the U.S., with nearly a quarter of a million customers.
Oklahoma State University Foundation
Stillwater
The private fundraising organization for Oklahoma State University, the Foundation leads with the goal of uniting donor and university passions and priorities to achieve excellence. Managing donor dollars, the Foundation creates scholarships, community programs and educational opportunities for students, faculty, staff and alumni to support the spirit and traditions of OSU.
Real Estate
Chinowth & Cohen Realtors
OKC and Tulsa
With fourteen offices across Oklahoma, Chinowth & Cohen Realtors – led by Sheryl, Leland and Taylor Chinowth and Lee Cohen – is an independently-owned, full-service residential real estate company offering the best agents in the business. Along with record breaking sales numbers exceeding $2 billion annually, philanthropy is at the center of the business model, with outreach events for numerous local nonprofits including Family & Children Services and Habitat for Humanity.
Coldwell Banker
Statewide
Coldwell Banker's mission is to "deliver the treasure of home ethically and honestly," and the business has been doing just that for over 100 years. Begun as a start-up in 1906, Coldwell Banker has expanded tremendously and now boasts 3,000 offices in 49 countries and territories.
Keller Williams Realty
Statewide
Described as a "technology company that provides the real estate platform that our agents' buyers and sellers prefer," Keller Williams excels in real estate, tech and entrepreneurship. From luxury homes to commercial properties and land, K W helps its clients acquire or sell exactly what they desire.
McGraw Realtors
Tulsa
With the goal of making real estate simple for clients, McGraw offers the expertise of 800+ associates in Oklahoma and Arkansas. A full-service firm, McGraw also handles property management and relocation services, and boasts a real estate academy for those interested in the industry.
Stan Johnson Co.
Tulsa
Stan Johnson believes real estate is a relationship business. Also offering investment sales, corporate solutions, and debt and structured finance services, Stan Johnson has exceeded $40 billion in total transaction volume and reaches the asking price for its properties 97.1% of the time.
Technology
CACI
OKC
A $6 billion company, CACI and its technology plays a crucial role in national security while keeping troops safe and helping the federal government deliver support to the country. With defense, intelligence and civilian customers, CACI presents digital solutions to transform how clients do business.
CoreLogic
OKC
CoreLogic offers financial, property and consumer information, analytics and business intelligence to the real estate, financial, insurance and government sectors. With an emphasis on recruiting, retaining and developing its people, CoreLogic believes its employees are its most important resource.
InterWorks
Tulsa
A people-focused consultancy, InterWorks offers clients expertise in analytics, strategy, infrastructure and data management. Through expert hiring, savvy partnerships and the empowerment of its clients, InterWorks built its success through the business intelligence revolution of the early 2000s.
Paycom
OKC
An industry-leading tech provider, Paycom helps to digitally evolve businesses. Excelling in talent acquisition and management; payroll and HR; and time and labor management, Paycom is passionate about connecting employees to their personal data in businesses of various sizes and industries.
TMA Systems
Tulsa
A world-class provider of advanced Computerized Maintenance Management Systems, TMA has been transforming businesses since 1988. TMA's products and services serve a range of industries, from rural school districts to Fortune 500 companies, and clients include American Airlines and QuikTrip.
Transportation
Freymiller, Inc.
OKC
One of North America's leading trucking companies, Freymiller operates on four core values: safety, professionalism, integrity and excellence. Freymiller is committed to providing the most reliable, temperature-controlled equipment and time-sensitive services with over 50 years of expertise.
Melton Truck Lines
Tulsa
Founded in 1954, Melton Truck Lines is one of the nation's leading flatbed and step deck trucking companies. Melton, which employs over 1,250 drivers, treats its employees like family, supporting them both on and off the road. With customized solutions for all flatbed transportation needs, Melton finds success (and builds up happy employees) through its top base pay, tarp pay, competitive benefits and bonus/recognition programs for drivers.
Private Jets, Inc.
Bethany
Founded in 1987, Private Jets, Inc., provides charter flights for private and business travelers. With an impressive fleet and a dedication to aviation safety, quality aircraft and top-notch service, Private Jets offers clients an unbeatable private travel experience not found elsewhere in the state.
TBS Factoring Service
OKC
Providing factoring services to businesses in the transportation industry, TBS brings over 50 years of expertise to the motor carriers it serves, with a commitment to driving change for small businesses through digital transformation. Core values at TBS include honesty, integrity, respect and teamwork, and the company puts those values to practice through numerous partnerships with local nonprofit organizations like Junior Achievement, Children's Hospital Foundation and the Central Oklahoma Humane Society.
Tribal Enterprise
Cherokee Nation
Catoosa
With a mission to grow the Nation's economy through diversification and to create jobs for its citizens, Cherokee Nation Businesses employs more than 7,500 people in 26 countries and all 50 states. Business subsidiaries are vast and include those in the hospitality, federal, cultural and economic development sectors.
Chickasaw Nation
Ada
Dedicated to the preservation of family, community and heritage, the Chickasaw Nation's core values include servant leadership, perseverance and cultural identity. Using new technologies and dynamic business strategies, the Nation's business endeavors ensure the Nation remains united and thriving.
Choctaw Nation
Durant
The Choctaw Nation's Division of Commerce bolsters more than 5,000 jobs through its gaming sites, resorts, restaurants, ranches and other subsidiaries. Carrying on the Choctaw legacy of "determination, commitment and community," these businesses generate revenue, create jobs and develop leaders.
Citizen Potawatomi Nation
Shawnee
With enterprises in the grocery, gas, gaming, recreation, entertainment, shopping, dining, industrial, banking and finance realms, Citizen Potawatomi Nation bolsters its economy of over 37,000 tribal members through various entrepreneurial avenues. Additionally, the Nation offers numerous services to its citizens, along with a Cultural Heritage Center that recently underwent a comprehensive, four-year renovation.
Muscogee Creek Nation
Okmulgee
The MCN Department of Commerce fosters, promotes and develops the foreign and domestic commerce of the Nation, which boasts more than 86,100 citizens. Enterprises that strengthen the fabric of the tribe include cultural tourism, gaming, business and a higher learning institution.
Osage Nation
Pawhuska
The business enterprises of the Nation create a viable and sustainable economy with income "responsibly reinvested and reserved for future generations." With an emphasis on education, economy, civic engagement, culture, health and natural resources, the Nation remains a resilient and enduring sovereign entity.
Seminole Nation
Wewoka
The Nation remains steadfast in its goals to build up families, preserve culture, create educational opportunities and foster economic growth. Its major business, the Seminole Nation Gaming Enterprise, consists of three casinos, and its Gaming Agency provides ample employment opportunities, too.