The
Gardening Basics
Learning to garden doesn't have to be impeded by the lack of an experienced friend or family member to help. Gardening classes, clubs and tutorials abound online, and local sources such as Master Gardeners are ready to share their wealth of knowledge.
"One of the best ways to make that most important human connection around gardening is through your county's Master Gardener program," says Allen Robinson, a Master Gardener for more than a decade. "They are typically connected to your county's Cooperative Extension Office, and every county in Oklahoma has one. Master Gardeners are a community of gardeners for all ages. They voluntarily participate in an array of horticultural education outreach program, from schools to senior living centers, as well as community events, gardening shows and many more. Currently, most programs are being conducted virtually, but expect to return to more in-person events later this year."
If you're just looking for a quick tip, the internet, as always, has your back.
Growing
Your Own
With many folks staying close to home over the last year, self-reliance became more popular; this resulted in an interest in growing one's own food.
Robinson's tips include getting earlier crops by starting seedlings indoors with grow lights, and choosing disease-resistant varieties that grow well in Oklahoma.
He advises that February plantings should focus on onions, carrots, lettuce, turnips, spinach and cabbage; March on beets, broccoli, potatoes, green peas, asparagus and radish; April, after last frost, on corn, tomato, peppers, beans, cucumber, squash, eggplant; and May on okra, sweet potatoes, watermelon, cantaloupe and southern peas.
Conserve water with a drip irrigation system, and utilize mulch to control weeds and regulate soil temperatures. Visit your garden daily to check for potential problems.
All-Natural
Along with a focus on self-reliance, many people in the last year have begun to think more critically about the food they put in their bodies. Enter the rise of organic gardening.
Organic gardening results in: cheaper-compared-to-grocery prices; the satisfaction of being a good steward for the environment; the utilization of little to no pesticides; and, of course, tasty, fresh-off-the-vine produce, says Robinson.
The basics are the same as regular gardening: finding soil rich in nutrients with good tilth and drainage; regular application of organic-based compost; choosing seeds and plants that are pest and disease resistant; and proper watering, weeding and mulching.
The use of sweet alyssum, dill and other small-bloom plants attracts natural predators like ladybugs and parasitic wasps, which dramatically reduces the need for synthetic pesticides. Bacillus thuringiensis – also known as Bt – is a naturally occurring bacteria that disrupts the digestion of caterpillars and other leaf-eaters. It can be found at most nurseries.
Pollinator Gardens
If you're looking to enrich the environment and save the bees, creating a pollinator garden is a great way to start.
"Three-fourths of the world's flowering plants and about a third of food crops depend on animal pollinators to reproduce," says Robinson. "Honeybees do the heavy lifting, accounting for 80% of the pollination on over 100 fruit and vegetable crops."
To start a pollinator garden, do the usual preparation and nutrient additions to tilled soil, such as humus, and then choose plants that attract pollinators, like colorful blossoms and plants like milkweed (host plant to Monarch butterflies), fennel, dill, rue, bee balm, raspberry brambles, coneflowers, elderberries, mountain min, goldenrod, ironweed and ornamental grasses.
Going Vertical
Whether you're short on space or just wanting to add upward variation, vertical gardening allows plants to grow on a – you guessed it – vertically suspended panel, which can either be freestanding or attached to a wall, says Robinson.
A variety of designs are available online, or you can build one using common materials like a trellis. With vertical gardening, you're able to grow more plants in a limited space. It's also physically easier to maintain, since you're working at eye level. Other pros include improvement of air quality, less exposure to chemicals and disease, and, of course, the aesthetic appeal.
Initial material costs range from $150 to $300. Challenges include the potential to promote root rot if plants are over-watered, so use a drip irrigation system. You'll need to increase water and fertilizer maintenance due to the drying effects of the wind and sun, and remember to prune regularly.
Tips and Tricks
Novice gardeners learn quickly that soil matters.
"One of the most important aspects of successful gardening is to ensure the soil you are using has the proper pH and nutrients," says Robinson.
For healthy, thriving plants, a soil test is required, and the OSU Soil Testing Lab performs tests for $10 per sample. It takes about two weeks to receive the diagnostic report with a list of what nutrients are needed and instructions on how to rectify any issues.
Free of charge, Tulsa Master Gardeners answer gardening questions online at tulsamastergardeners.org; by phone at 918-746-3701; and via email [email protected].
Curb Appeal
Looking to create an enticing lawn? For a memorable front yard, the year-round pop of evergreens is a good choice, along with differing heights, textures and colors of plant materials to create a dramatic and welcoming effect, says Kelly Caviness, president and principal designer for Caviness Landscape Design.
He advises to consult a local nursery or a landscape designer for suggestions for your particular spot's sun, shade and direction variations. For sun and partial shade, try evergreen canarti junipers and the eye-catching variegation of sweet flag acorus and blue pacific junipers for ground cover. For shade, consider gold dust acuba or a sango kaku Japanese maple.
Smart-Home Advancements
The more technology grows, the larger the uptick in home theaters and all manner of home automation.
Jeff Bezdek, president of OKC's Vox Audio Visual, says there's increasing use of intuitive, interfacing, one-app home technologies such as SAVANT, a small computer hub that controls much more than security, lights and thermostat. Perks like coordination with window coverings to regulate home temperature, and establishing differing audio zones for multiple occupants, are just two of numerous examples, as anything electric can be automated.
In this hub-type system, connected devices are orchestrated and operated at home and remotely.
As a night out at the movies isn't really an option right now, Bezdeck has seen more reinvesting in home theaters. The prices have come down as technology has evolved into a conversion from large TVs to laser projection systems, with no-bulb LED technology for the centerpiece of any theater: very large images.
Enhancing Your Space
Fooling the eye, optimizing a room – there are always ways to enhance one's décor, and Tulsa-based interior designer Laura Ellis Barnes says to start with scale and choose furniture that is appropriate in size for the space.
Be sure to declutter and use mirrors and cohesive colors and designs, maintaining clear walkways. Creating gallery walls and hanging pieces asymmetrically can be an interesting feature, achieved through grouping photos and art together that are different in size but with the same visual weight to create balance.
For optimal color use, start with a piece you love – whether a piece of furniture, fabric or piece of art – and build around it from there.
"I love using color," says Ellis Barnes. "It allows for less decoration or art on the walls because it creates visual interests. Makes a space more inviting, warm and interesting."
A Back Yard Oasis
Outdoor living is huge right now, says Caviness. Creating another 'room' outside as a retreat can increase the value of your home. Privacy screens or evergreen plant material can create 'walls.' For larger yards, pathways leading to a destination spot can create intrigue.
Create outdoor spaces that can be destinations: A water feature can bring a sense of calm and is proven to lower heart rates. For covered patios, electric heaters that can be mounted on the ceiling, or even standing propane heaters, can extend the outdoor living from early spring well into late fall and winter.
A fire pit can redeem almost 100% of the cost if you re-sell, according to real estate professionals. Pricing can start at around $200 for propane heaters and go up from there. Misters can provide respite from the heat for patio areas, and ceiling fans for covered porches can offer a breeze … and also help with mosquitos and flies.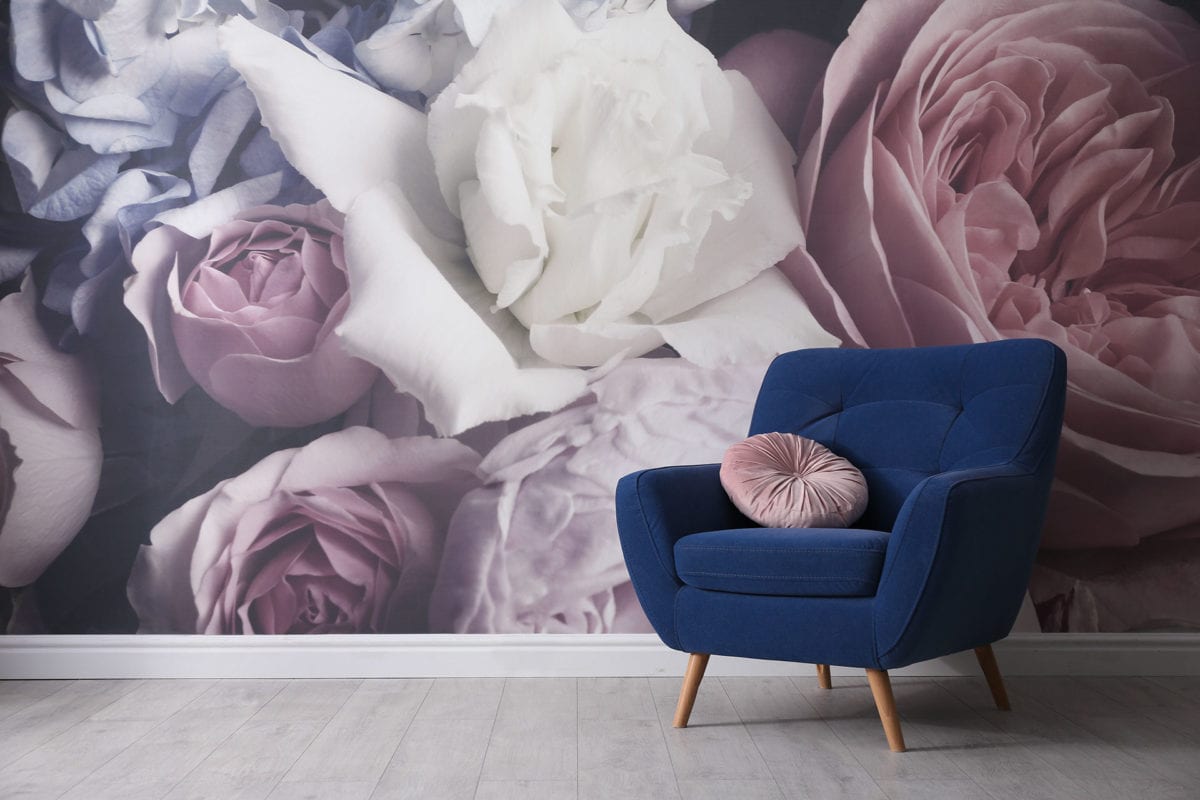 Interior Design Trends
With people staying home now more than ever, interior design interest is skyrocketing. Influences for 2021 include what Ellis Barnes calls 'classic traditionalism' or 'grand Millennial,' with traditional elements brought back into the space, using colors, patterns, and antique and sturdy crafted furniture, along with carved moldings and detailed woodwork making a revival.
This ode to old school involves a meeting of pattern and texture, while embracing comfort and tradition. Think skirted side tables and silk accessories. Trending away from colder color tones and powdery pinks, warm colors like red are back, along with purple and deep pink, says Ellis Barnes.
Wallpaper has been, and remains, in for 2021. More on the outs of current aesthetics are the all-white palette. Instead, mix wood tones, stained cabinetry and countertops for more color and warmth. Gold and mixing metals is still au courant, while all-grey is out.
The
Organization Game
To optimize the at-home lifestyle, clutter is the enemy. Enter Becky Marple, licensed and insured professional organizer and owner of BeeNeat. To begin your organizational journey, Marple advises starting with the home's hub – the kitchen – to dump expired, duplicated and little-used items. Other tips include putting donations in the car's front seat to get rid of them quick; organizing like items together; and not buying organizing products until measuring spaces.
"The less we have, the less we have to dust, move, think about, spend time moving and organizing," she says. "Once a client sees that they have seven spatulas, or 18 nearly identical tank tops, they begin to see that they don't need quite that many, and that is what is causing their space to feel cluttered, tight and difficult to keep organized. I encourage clients to shave off the excess."