Gwendolyn Robinson-Johnson's Habitat for Humanity house came with bedrooms for each of her sons – a significant factor in the family's evolution.
"The house was the stepping stone," says Robinson-Johnson, a legal secretary celebrating 10 years as a Habitat homeowner in northeast Oklahoma City. "They were able to express their personalities in decorating their rooms. They could stay up and study."
Her sons, already avid readers, ingested even more books in the quiet of their own rooms, she says.
In the two-bedroom apartment they left behind, "I would tell them they had to share a room so they could learn to … get along. You make up things so they wouldn't think that we were lacking."
Tameka Morrison, another Habitat homeowner, has fond memories of her move-in date, Aug. 31, 2018.
"I'm not a person that likes to be in the spotlight," Morrison says, "but it was kind of cool that everybody came to celebrate."
Among the gifts Morrison received were a custom-made quilt, a Bible and new cookware and silverware. The best present, she says, was no longer allotting the lion's share of her money to rent.
"The amount I was paying for that one-bedroom apartment almost covers my mortgage, taxes, insurance and utilities," Morrison says.
Cameron Walker, president and CEO of Tulsa Habitat for Humanity, says most new Habitat homeowners earn between $14 and $18 an hour, which doesn't leave much money after bills for investments or retirement accounts.
"One of the biggest drivers of wealth for a family is often the primary residence" because a house's value appreciates over time, he says.
Habitat for Humanity International, founded in 1976, is an ecumenical, Christian housing ministry. With the help of donations and volunteers, Habitat builds houses for first-time homeowners, who sign 30-year, low-interest mortgages. In some cities, homeowners earn down payments through "sweat equity" (actual work) on their own houses or other Habitat homes.
"It's the most challenging, worthwhile thing I've ever been involved in," says Ann Felton Gilliland, chairman and CEO of Central Oklahoma Habitat for Humanity. "For over 30 years, I've had the opportunity to see these kids grow up and go on to college and jobs and the military and start their own businesses. I see what a difference it makes in their lives."
Central Oklahoma Habitat, chartered in 1987, will dedicate its 1,000th house March 12, Gilliland says. The chapter, launched by volunteers from First Presbyterian Church of Edmond, opened its first office at the Presbyterian mission in Oklahoma City.
Today, it has a 10-acre campus with 50 employees. The nonprofit also operates two ReStores, which sell new and used furniture, appliances and building materials. Its critical home repair program helps low-income homeowners struggling to maintain their dwellings.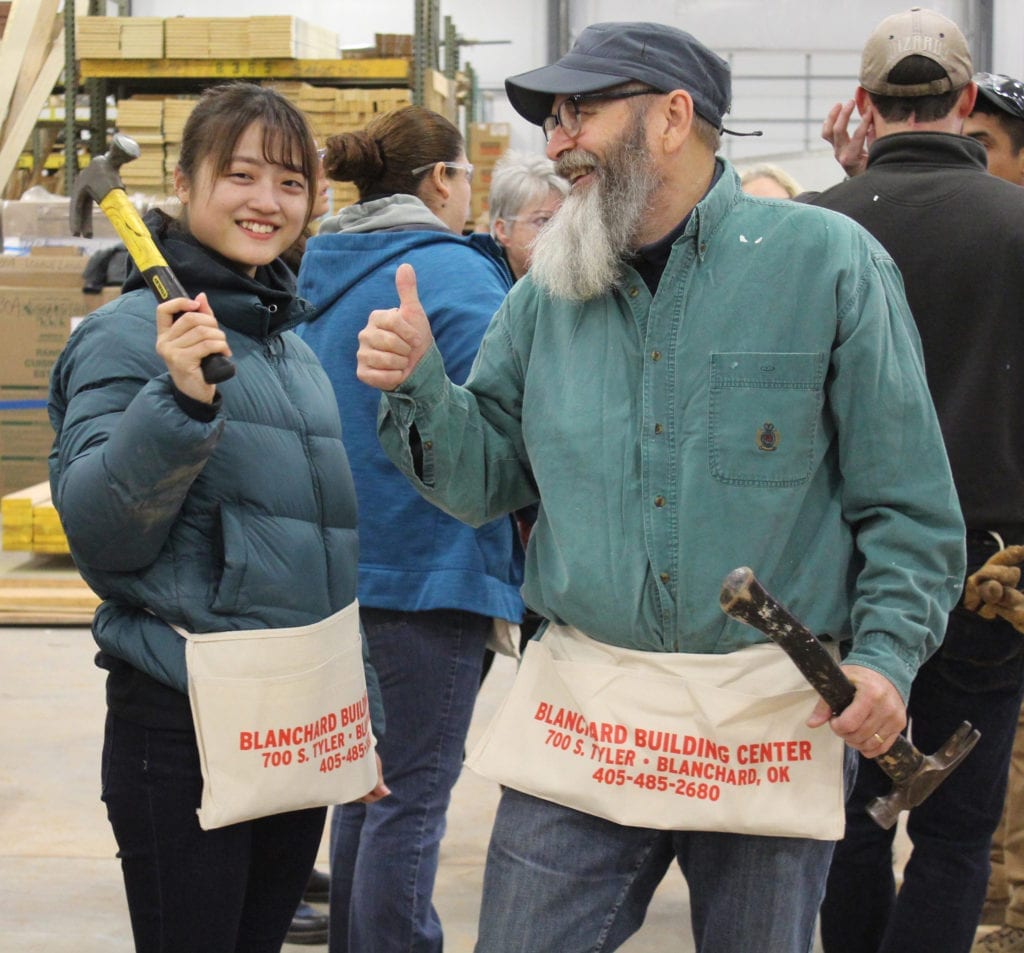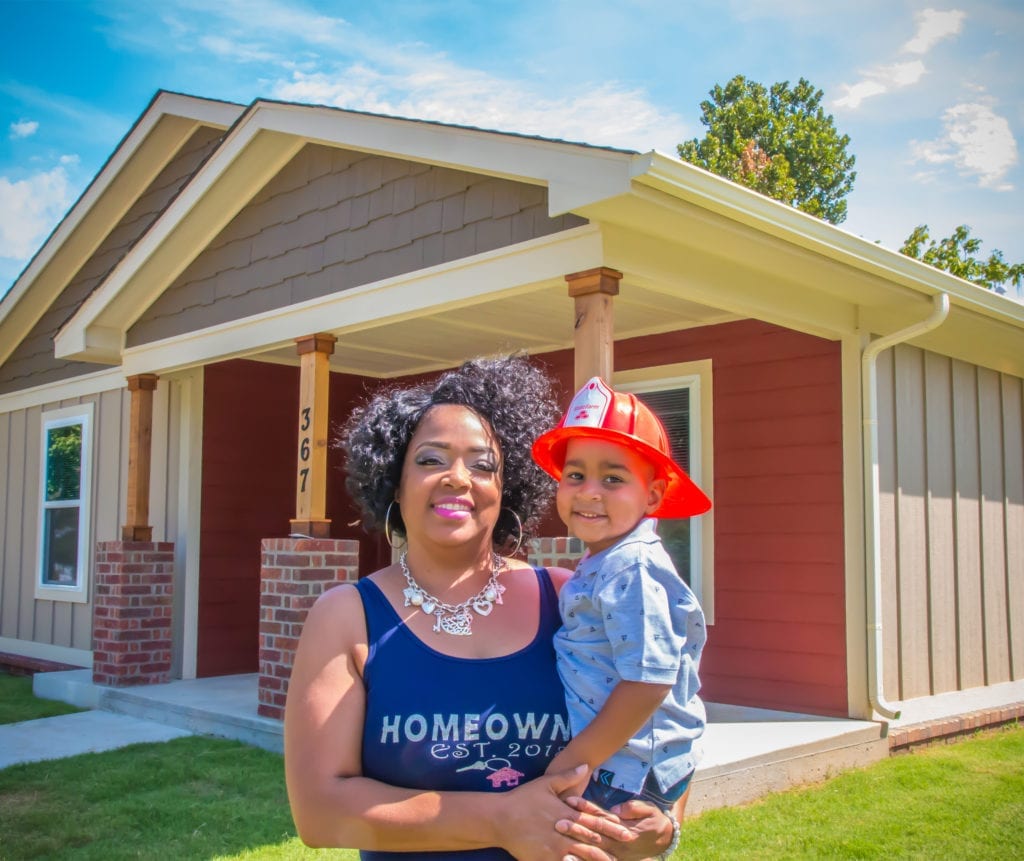 Presbyterian volunteers also kicked off Habitat in Tulsa in 1988, Walker says; it's grown to 60 full-time employees.
"We completed our 400th home in 2017, but we have picked up the pace since then," he says. "We had done 10 to 20 homes a year since inception, but this year we will complete 40, and we have a goal of 100 a year."
Of the 40 homes going up this year, 10 will be built by volunteers, Walker says.
Applicants for Habitat homes undergo background and credit checks, Gilliland says.
"It's not easy to get in, but once they get in, we do everything we can to assure their success," she says. "They get a mortgage with 3 percent interest, and utilities that are generally half what they would be otherwise. The typical monthly house payment is $750."
Central Oklahoma Habitat, which built its first homes near downtown OKC, has expanded to Spencer, Mustang, Blanchard, Midwest City and elsewhere in Oklahoma County and often creates large neighborhoods on donated or purchased land.
"We are always looking for good places to build – in good school districts and safe neighborhoods," says Gilliland, adding that a recent acquisition includes 160 acres in the Piedmont school district, where about 500 houses will go up in the next 10 years.
Walker says Tulsa Habitat followed a similar path.
"We are beginning to do neighborhood development, but traditionally have done urban infill," he says. "We would buy vacant lots or old homes that needed to be torn down. We have partnered with an architect to create a Craftsman-style home that fits in the older neighborhoods."
Tulsa Habitat has built in the Kendall-Whittier and Crutchfield neighborhoods and expanded into Broken Arrow, Sand Springs and Skiatook.
Gilliland says a major focus for Habitat is building eco-friendly homes with geothermal elements and hail-resistant shingles that provide savings of up to 30% on homeowners' insurance.
"My house looks nice," Robinson-Johnson says. "It's better insulated than a lot of houses. They equip the home so you are able to sustain it. You have a manageable electric bill."
Morrison says her young son "went crazy" when he saw the amount of space in their new home. She loves their settled life.
"I don't want my son to have to go through a lot of changes," she says.