[dropcap]Whether[/dropcap] you've been planning your dream wedding since childhood or have never contemplated the many variables of a marriage ceremony, a little planning can go a long way. But where to begin? And how can couples minimize the stress of planning a ceremony and reception without caving under the pressure? Some of Oklahoma's matrimonial experts weigh in on the essentials to consider.
Say Yes to the Dress
Let's face it, a lot of work and energy go into planning a wedding, but for the bride, the biggest question after the question is what to wear. While it's tempting to jump head first into the dream dress, Lori Conley at David's Bridal recommends starting with the venue before gown-shopping.
"The venue sets the tone of your entire day and also offers perspective on design elements that will work best with your space," Conley says. "Are you using a grand ballroom for your reception? Wearing a ball gown will allow your style to be as grand as the space itself. Having an outdoor garden wedding? Opt for a style with no train, or even dare to go with a tea-length gown to ensure that your dress doesn't fight the terrain."
In addition to suiting the venue, a dress needs to flatter its wearer. There are as many types and shapes of gowns as there are brides, and while a classy peplum might seem like a sophisticated statement, the reality might be different once it's actually on the bride.
"I always encourage brides to try on a range of silhouettes when they first start shopping," Conley says. "A wedding gown is unlike anything you've ever purchased before in your life. Getting familiar with a silhouette shape that makes you feel confident and comfortable is so important."
Of course, as with all weddings, there are practical considerations as well. There's more to the wedding ensemble than just the dress. Accoutrements and last-minute adjustments should be factored into your wedding gown budget.
"Your total budget should take into account everything you need for your wedding day look," Conley says, "including a veil, undergarments, accessories and alterations. I always think a good rule of thumb is to reserve around 20 percent of your budget to cover those costs."
Use the Buddy System — Hire an Event Planner
While some couples are eager to plan each detail themselves, others may want a professional to help share the burden of planning a large wedding. At the same time, trusting someone to help create one of your most treasured memories can itself result in a lot of pressure. Joe Mathis, event producer and owner of J.A. Mathis Company and Vern's Props and Flowers, says being clear about needs and expectations can help couples choose the planner for them.
"It is important for a couple to understand what they need in a wedding planner," Mathis says. "Do they need organization? Creative design and direction? Or do they need labor? Some planners specialize in one of the above, while others can provide all services or perhaps work as a team to accomplish the tasks at hand. It is important to understand up front what services an event planner will be providing. Make sure you do not have expectations that will go unmet."
Mathis says one of the biggest challenges of planning the event is meeting the needs of all involved, from the bridal party to family and friends.
"Helping everyone know expectations, plans and what is important to the couple is crucial in having a great event," he says. "Communicating this can be a challenge. Additionally, organizing vendors and helping them to know expectations for the day can also be very challenging. A great planner can help with all of these details."
Bienvenue to the Venue
Be it a church, a park or a family home, many couples have a good idea of where they want their ceremony to take place. However, there's also the reception to consider. Do you need a place with a dance floor and bar? Or a simple buffet for a mix-and-mingle? What's the most important factor in picking a reception venue?
Mickey Mantle's Steakhouse in Oklahoma City's Bricktown hosts around 15 wedding receptions each year as well as numerous related events such as rehearsals, showers and engagements or bachelor/bachelorette parties. The venue provides a full host of services, from floral arrangements to professional help. Brooke Wilhite, assistant event manager at the steakhouse, says that while cost and space should be taken into account, one consideration trumps the rest.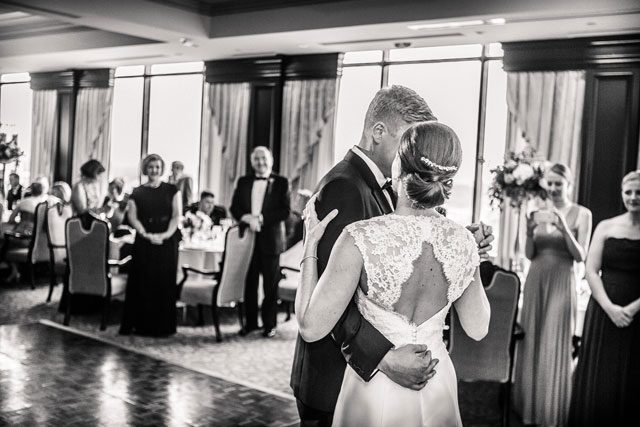 "I believe it is important that a couple choose a venue that is representative of them as a couple," she says.
So when thinking about the services you'll need for your friends and family, the activities planned and the cost involved, don't forget to pick a place that will provide memories of those special reception moments and the unique things that brought you together.
Marriage Builds up an Appetite
Your wedding may be the most treasured and memorable party of your life, and what's a bash without great food? Picking a menu should be fun (and tasty), but it can become burdensome when considering the preferences of the wedding party, balancing your taste for exotic fare with the meat-and-potatoes sentiments or numerous dietary needs and intolerances of your guests. When considering the endgame of the meal, what's most important?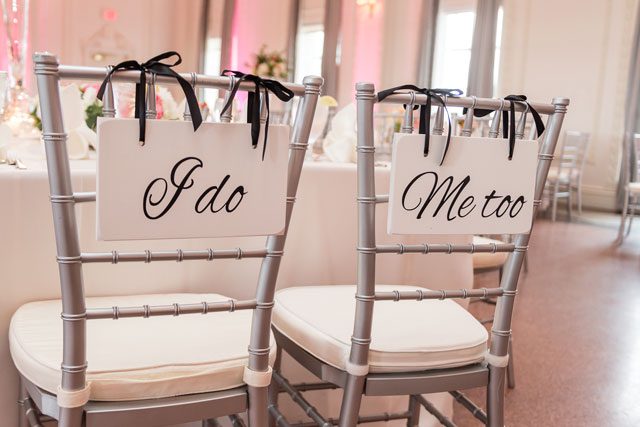 "What is the feel of the reception that you envision?" asks Maggie Howell, co-owner of Aunt Pittypat's Catering and Events in Oklahoma City. "Remember, you don't have to please everyone. You have to make sure you are having the party you want to have. Do you want everyone dining together at once or would you prefer more of a cocktail-party grazing atmosphere? Formal or whimsical? Really talk with your partner about the flow of the evening that you prefer, as this will answer a lot of questions for your caterer/planner.
"Again, what do you love to eat?" she continues. "Include favorites that go along with the feel. Easy, bite-sized, cocktail-style food or your favorite meal plated for each guest? Avoid heavy, overly starchy foods to ensure everyone is ready to enjoy the entirety of the event and not ready for a nap after dinner. Seasonality is also really important. If you must have watermelon, don't plan a winter wedding!"
Howell also points out a lesser-known tip: some caterers, including Aunt Pittypat's, can double as event planners.
"Catering and event planning go hand in hand," she says. "A seasoned professional caterer should be able to help guide your event in layout, flow and even décor to best meet the needs of your vision."
All About That Cake
Next to the bride and groom, the centerpiece of any wedding is the cake. From traditional tiered affairs to tables of pies or colorful macaroons, Merritt's Bakery, run by family members Bobbie, Larry and Christian Merritt, has been baking for Tulsans' weddings for 36 years. Bobbie says one of the most important considerations isn't just the type or flavor of cake, but the amount as well.
"I recommend that they [couples] should order enough cake for each guest that they invited, in addition to ordering a groom's cake for another 30 to 40 percent of the guests," she says. She also recommends factoring in 10 percent on top, just in case some members of the wedding party want to take some home for continuing celebrations with family.
Traditionally, Bobbie says, if a couple orders a tiered cake, the top layer is saved and shared between bride and groom on their first anniversary. She recommends freezing the tier in a large container with a tight-fitting lid. In addition, she says, plan your order three months ahead during peak wedding times (specifically May, June, October and December).
According to Bobbie, style is important too. Be sure to consult with your baker about your vision and keep in mind the bridal gown and décor or theme. Feel free to bring drawings of what you imagine your cake should look like.
"There is nothing that says 'wedding' better than the cake," she says.
Flower Power
Classic roses or herbs and wildflowers? Traditional shades or a riot of colors? Flowers can be one of the most telling statements of wedding style, but can also be the most difficult (and fun!) to choose. Melissa Brumfield, floral designer and wedding consultant for New Leaf Florist in Oklahoma City, says to start with the practicalities in mind.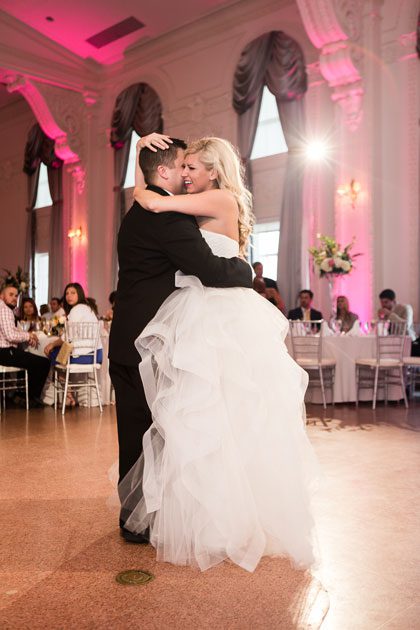 "While couples should be aware of what arrangements they need for their wedding day, such as bridal bouquets, boutonnieres or centerpieces, I find it more important to have a budget in mind even if it's vague at first," she cautions.
Once the numbers of the budget and the order are crunched, Brumfield says consult with your florist about what inspires you and what colors and styles you are drawn to. And always have the practical details handy.
"Details are important in our business," she says. "We don't want to offend Grandma Fern because she didn't get her corsage!"
When choosing a florist, Brumfield encourages couples to do their homework diligently.
"Look online, check out social media," she says. "Most florists have a website that will show some professional work, and most of us have Instagram, Facebook and Twitter pages that will show off what's happening on a more day-to-day basis. You can see who we are and what we can do. So window shop online and then schedule appointments with several florists."
What a Picture is Worth
Picking the right photographer can help couples relive all the laughter, tears and joy of the wedding day for years to come. Since 2011, Alex Dugan and Howie Mapson of Alex and Howie Photography in Oklahoma City have been capturing and preserving the memories of Oklahoma's happy couples. Dugan says before selecting the right photographer, there is a lot you should investigate.
"Make sure that their style is something that you are looking for," she advises. "Do their photos seem traditional, conceptual or heavily edited? Think about what your wedding needs. For instance, if you are looking at a photographer's website and you don't see any photographs at night or during a reception, and you have an evening wedding, this may not be the photographer for you. Using flashes and off-camera lighting is an entirely different skill from daytime photos and using natural light."
Dugan also recommends not just relying on the photographer's curated portfolio, but looking at examples of the whole event.
"Ask to see a full wedding from the wedding photographer, not just their four or five best shots from one – that's what you'll be getting after all," she says. "Capturing good candid shots requires different skills and anticipation than posed photos. You want a photographer that can show they are capable of both."
Chris Humphrey has been photographing weddings in the Tulsa area for 19 years. When selecting a photographer, he advises couples to choose someone who cares as much about the wedding day as the couple does.
"It goes so much deeper than the 'creative shots' that a photographer will get," he says. "This day is about the couple, their family and their friends, and as a photographer, I get to preserve that day for everyone. It's a tremendous honor and an equally tremendous responsibility, so choosing someone who can not only handle a wedding but will take care of you is a must – and make sure you like them. It's always nice to like the people you surround yourself with on your wedding day.
"I envision my couple sitting down with their kids, maybe 10 or 15 years after their wedding, opening their wedding album and reliving that day again, right there," Humphrey says. "Not just looking at the photos and seeing who was there, but genuinely feeling the emotions of that day all over again – the anticipation, the excitement, the laughter, the tears and the joy of their wedding day. I love that part!"