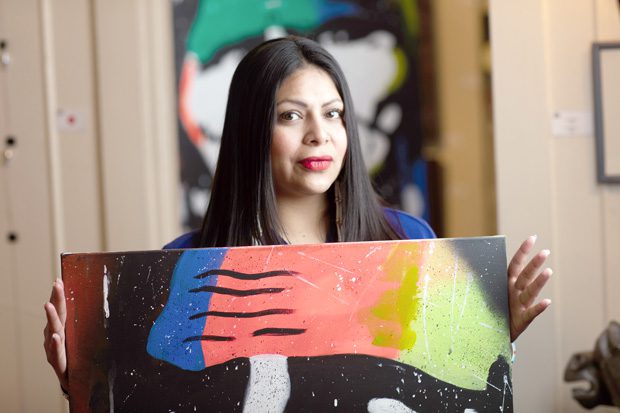 [dropcap]"[/dropcap][dropcap]My[/dropcap] culture fires me up when I'm painting," Norman painter J. Nicole Hatfield says. "In our native culture, a lot of times, we did storytelling. We did it verbally and with art. We've been doing it for thousands of years. Just being able to tell a story about our ancestors really inspires me. Our people inspire me. Our ceremonies inspire me. Our language inspires me."
A native Oklahoman, Hatfield often turns to her Comanche and Kiowa heritage for subject matter. Growing up Apache exposed her to plenty of material. The Kauffman and Associates Native Art 4 Health Campaign 2015 featured her piece Cheyenne Girl. The projection exhibit has put Hatfield on the walls of buildings across the country from Seattle to Tampa, Florida.
Hatfield prefers acrylics on canvas, but she doesn't shy away from other media. She's currently working on a mural on the Lacey Pioneer building in Anadarko. It was inspired by a Cheyenne proverb: "A nation is not conquered until its women's hearts are on the ground."
[pullquote]I do art for my people, and I feel like art has helped me throughout my whole life,"[/pullquote]"We're probably halfway finished with it," Hatfield says. "That's been a really big project. The people in the mural are real people. These are our ancestors. A lot of my work is based off of old photos of Native people. I paint them to show them honor and to give them a voice."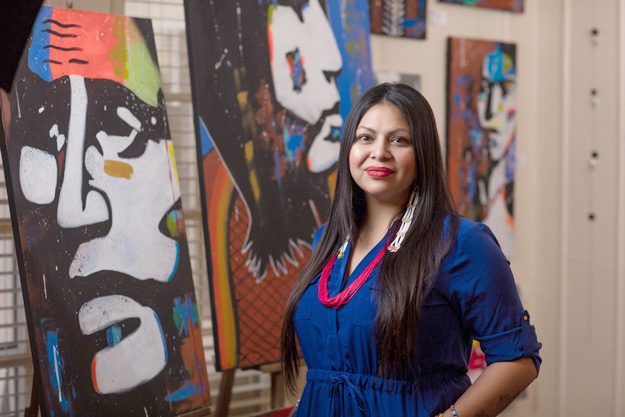 Her loose usage of color combined with a liberal application of white gives her artwork a ghostly feel. It leaves viewers with no doubt that they're seeing figures from the past, while the color gives them substance, makes them real and lifts them out of their graves. She artfully adds a spirit of newness to the past while retaining the integrity of her subjects. She frequently incorporates tribal language into her paintings to keep American Indian languages alive.
Hatfield's work is frequently on display at the University of Oklahoma's Oscar B. Jacobson House Native Art Center and the Comanche National Museum and Cultural Center. She's also a favorite of collectors at the Indigenous Fine Art Market. She enjoys live painting at Oklahoma City's Paseo Art Gallery. She recently placed second in the 2D painting division at the Artesian Arts Festival and the 2015 Comanche Nation Fair.
The 32-year-old artist attended one semester at the Institute of American Indian Arts in Santa Fe but is largely self-taught. She began painting at 15 years old, when an art class released a world of creativity.
"If anybody knows me, they know that when I was younger I never expressed myself verbally," she says. "I just kept everything in. I would be sitting somewhere drawing. That's just how I expressed myself. I think I was probably about 15 when I had my first art class in high school and I was introduced to paint. Our art teacher gave us the freedom to do whatever we wanted. I just went off from there. I put everything into my canvas or whatever it is I'm working on."
Hatfield has no exhibits planned for the immediate future. The mural in Anadarko and traveling to follow the Kauffman project are keeping her plenty busy.
"I really enjoy what I do. Art is my passion. It's what I love. It keeps me alive. I do art for my people, and I feel like art has helped me throughout my whole life," she says. "I've struggled with things, but the art is healing. It's medicine to me. I'm always painting, all the time. I also feel that it's important for the Native youth to carry that art tradition on. That type of storytelling is as important as the verbal stuff. We need to carry our traditions on."