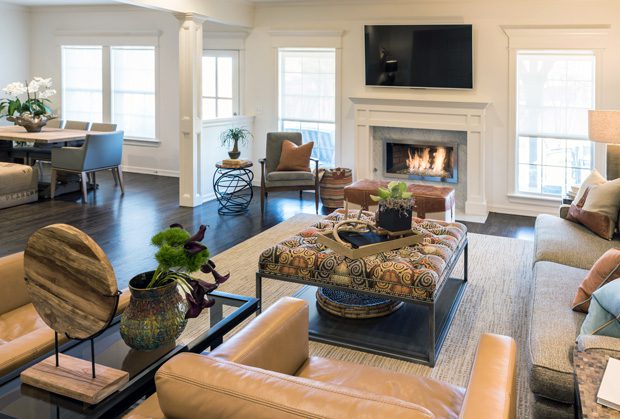 [dropcap]After[/dropcap] Monica Coombs' husband passed away, she began thinking about giving her two-story, Tulsa-area home a much-needed facelift and interior makeover. Running her husband's business was quite consuming, yet it gave her time to consider a new look for her home.
"I knew I wanted to lighten up the home and give it some custom touches I had wanted since it was originally built," Coombs recalls. "I like to entertain. Now I feel like the house is open and airy, more inviting."
Lori Sparkman, owner of Fifteenth and  Home, remembers that first meeting with Coombs. "A design client of mine referred Monica to me. She came by Fifteenth and Home just to meet and chat. I could tell she was really ready to make a big change. I also sensed some anxiety about how to go about it.
"Fortunately, she had great ideas, photographs and a clear vision of what she wanted the end result to look like. I knew my job was to guide her through it, and make sure the choices met the criteria for her vision."
Coombs' home was traditional in design but begged to be updated with a lighter color palette and opened up for a fresher look and easier entertaining. The interior now looks contemporary and upscale.
"Contemporary design can get such a bad rap," Sparkman says. "It's often thought of as shiny lacquer, chrome, leather and very cold. I knew that was not Monica's vision. We incorporated a variety of materials."
Sparkman also juxtaposed design periods. A soft color palette contributed immensely to the fresh look.
"The toughest part was choosing paint colors. I really wanted to nail the look she was after, which was a very light, peaceful, cool palette," she notes. "I also wanted to have a nice balance of layers, textures, coolness and warmth."
The chosen colors included Sherwin Williams Shoji White for all walls and trim, Aloof Gray for the master bedroom and bath, and Gray Matters for kitchen cabinets.
"The cabinets turned out so amazingly beautiful that the Jay Rambo Co. added the color to their standard selections," Sparkman says.
To achieve that textural mix, Sparkman used varied fabrics: wool, leather, velvet and Belgian linen. Lucite, tile, antique brass and textured woods also star in this remodel. There is a birch wood, carved deer head over a custom chest, a lighthearted nod to the men in Coombs' family who hunt.