Loretta Barrett Oden wants to educate you about Native American cuisine. She wants to introduce you to the wonders of the "three sisters" – corn, beans and squash – and help you understand that there are 567 recognized tribes in the United States, with cuisines varying from region to region.
Fascinating life experiences encompass this Shawnee-born chef, educator and member of the Citizen Potawatomi Nation. When the topic revolves around food and tribes' cookery, looking past the fry bread and understanding the roots of our nation's First People is at the forefront.
"The Potawatomi people originated in the Michigan and Great Lakes region, so our cuisine was lake fish, deer, wild rice, nuts and berries," says Oden, emphaszing how native cuisine captures the wondrous array of flavors from Mother Earth. "If you are the Coast Salish people of Washington and Oregon, you're eating fiddlehead fern and salmon."
The Corn Dance Cafe in Santa Fe, New Mexico – the restaurant Loretta ran from 1993 to 2003 – was a turning point in her life and a chance for new beginnings in a new state at age 50. Along with her son Clay, Oden set out to make something of a 150-year-old adobe compound that needed new life. But being the newcomer in town, a Native American and a woman had its challenges.
"So I leased the old Maria Isabel's, and when I got in there the place was just a pit," she says. "We had to figure out a way to retro-fit this place and make it work. But the powers-that-be had other plans."
Greasing palms and the good ol' boy way of doing business with a woman were not Oden's ways of opening the restaurant. Jumping over more hurdles than necessary, she felt an inspector was using her gender against her.
"It was the day of our opening, Christmas Eve, and the building inspector was not going to sign off on the permit," says Oden, adding that, after he made a few sexist remarks, she "snatched the clipboard out of the his hands, jumped in the car and did a wheelie in the middle of the street. Then I went to the fire station, marched into the fire chief's office and slammed the clipboard onto his desk.
"He said, 'Uh-huh … you're the lady on West Water Street.' Signed off on it right there, and we were open."
Corn Dance Cafe then began its 10-year run.
"I knew I wanted to do Native American cuisine," Oden says. "I developed a great supply chain of purveyors: bison from Colorado and beautiful quail that I would marinate in achiote paste and root beer, then smoke over sassafras wood."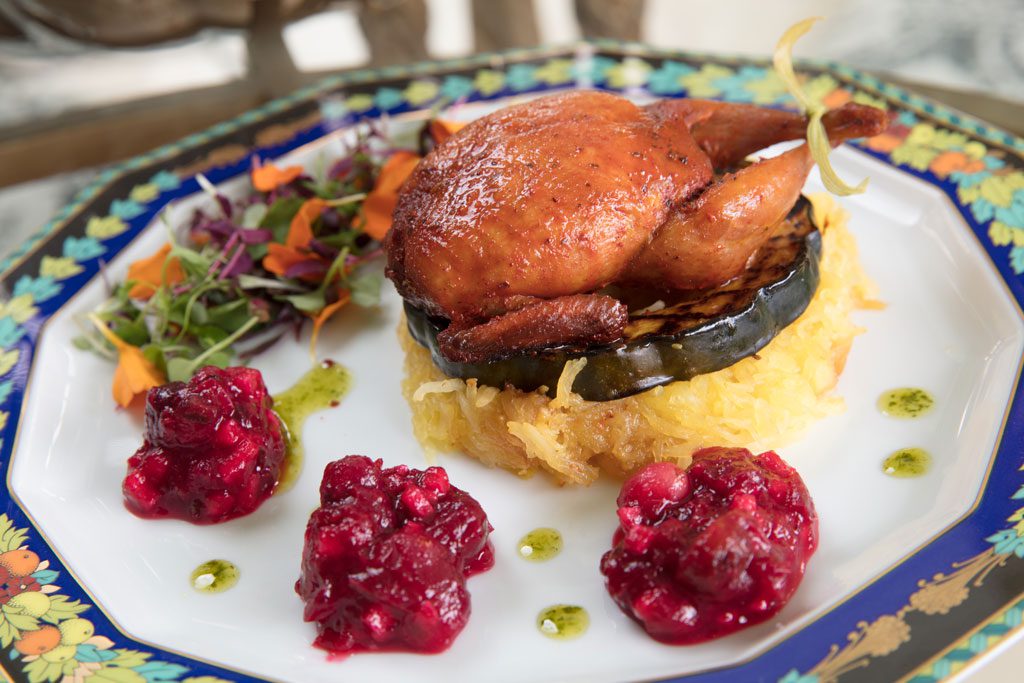 Since creating a permanent residence in Oklahoma City, Oden travels extensively, lectures, teaches, consults and cooks for special events. She also works with tribes on health issues relating to the loss of traditional food and preparation. Recently, she's helped filmmaker and vintner Francis Ford Coppola, who purchased the Geyser Peak Winery in Sonoma County and re-branded it as the Virginia Dare Winery. (Virginia Dare was the first English child born in America.)
"Francis developed a Native American restaurant at the winery called Werowocomoco to tie into the colonial theme," Oden says. "He received some backlash on social media from Indian country, and even a scathing editorial from the San Francisco Chronicle, namely for the focus on fry bread. So he reached out to me to help with the menu for three weeks and smooth out some of the rough patches with the native community."
Oden spends many passionate hours researching the spice routes and silk roads of the Americas and how they influenced food, life and medicine for indigenous people.
"The majority of familiar food around the world had its start in the Americas and with indigenous people," Oden says. "Chocolate, vanilla, tomatoes, potatoes, varieties of squash – can you imagine European cuisine, so celebrated in the culinary world, without chocolate and vanilla? My goal is making a small attempt at correcting history through food and telling stories about Native American food."
Oden can be reached via email at [email protected] or on Facebook.
Achiote marinated quail
Preparation: 1 hour
Cook: 30 minutes
Serves: Four (two birds per person)
INGREDIENTS
3/4 cup Achiote paste
8 oz. Birch beer or root beer
1/4 cup Cider or seasoned rice wine vinegar
1 tsp. Cumin seed, toasted and ground
1 tsp. Coriander seed, toasted and ground
1 tbsp. Mexican oregano
1 tsp. Kosher or sea salt
Sprinkle Pepper
1/4 cup Honey
1 tsp. Smoke oil or Wright's liquid smoke
1/4 cup Olive oil
8 Whole quail (bobwhite preferred or European style, partially boned)
Whisk all ingredients together, except the quail, for a marinade.
Marinate quail for at least one hour.
Grill over hot coals, in a grill pan or in an oven pre-heated to 450-500 degrees.
Put irds breast side up on the grill or in a roasting pan just large enough to accommodate them.
Baste with marinade after 10 minutes of cooking, then continue to cook until done (about 10 more minutes).
Serve birds hot, warm or at room temperature.
Note: These are small, delicate birds and will dry out quickly. Properly cooked, the birds will have a bit of pink inside. If using a meat thermometer, 150 degrees in either the leg or breast is perfect.