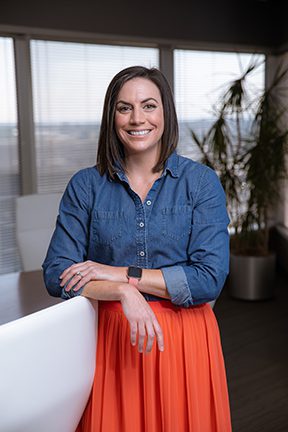 Born and raised in Kansas City, Missouri, Jennifer Hankins comes from a family deeply rooted in its community; her father and grandfather both served as mayor and city counselor in Kansas City, where the family also owns a bowling alley. After graduating from Oklahoma State University with a degree in political science, Hankins worked in nonprofits, the Wyandotte County (Kansas) Economic Development Council and the Greater Oklahoma City Chamber of Commerce. She is vice president of entrepreneurship and small business at the Tulsa Regional Chamber of Commerce. We caught up with Hankins and got her thoughts on …
… her professional focus.
Community-focused work has always been extremely important to me, and I managed to somewhat stumble into economic development. My career has allowed me to work with companies of all sizes across multiple industries, but I'm most passionate about our entrepreneurs and innovators because they are the future of our communities and present opportunities that in many ways are still hard to imagine.
… her routine.
My primary role is to ensure that Tulsa-area startups and small businesses have the resources and environment they need to succeed. We have a lot of great startups that are disrupting industries and have significant potential, but they need a lot of support to access capital, talent and expertise. We work … with other partners to make sure the community is doing everything it can to support this new era of Tulsa-made companies.
One of the resources we provide is The Forge, our certified business incubator for innovative, high-growth companies. We provide affordable office space for up to six companies, pairing them with mentors, resources and other strategic partnerships that will help them gain access to resources … to build a sustainable business. I also oversee the Tulsa Small Business Connection, our suite of programming designed for small-business owners.
… the state of small business.
It's excellent. Small-business owners applaud Tulsa's recent renaissance, which has given them an increase in pride and … positively impacted their businesses, whether it be through increased sales [or] improved access to talent. Inc. magazine and WalletHub have rated Tulsa as one of the top 10 large cities for launching a business, and Forbes rated Tulsa as the No. 1 city for young entrepreneurs in 2017. As the best city for female founders, according to Thumbtack, we also see a lot of women launching businesses, which is creating a new wave of enthusiasm.
… supporting small businesses.
It's extremely important for our existing business community to take a chance on local startups. Often, especially for our tech companies, it's hard to even get in the door with established Oklahoma companies. This reluctance to take risks on our local entrepreneurs isn't just bad for them; it's bad for our economy at large, so we need to be sure to take the time to meet with other entrepreneurs, learn about their businesses and look for areas of collaboration.