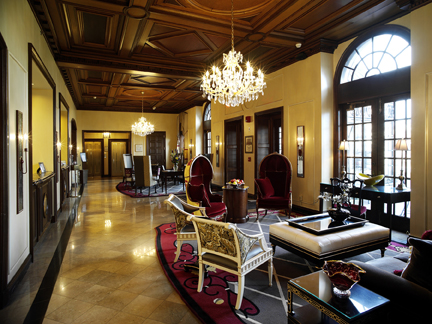 Stay In Style
Boutique: Every major city has one of those gorgeous hotels combining touches of Old World splendor and contemporary ease. The Raphael Hotel, built in 1927 in Italian Renaissance Revival style, has both, plus a liberal dab of luxury wrapped in charm. www.marriott.com

Splash: The Country Club Plaza District has some of Kansas City's best upscale shopping, and Hotel Sorella Country Club Plaza makes it so easy to relax between spending sprees. Inspired by a Mediterranean villa, the modern architectural lines spell out a new sophistication that's hard to resist. www.hotelsorella-countryclubplaza.com
Traveler's Notes
Music
Kansas City is also known for jazz and the blues, and it developed its smoky tenor (much like the town's barbecue) from 18th & Vine. Musicians, such as sax player Lester Young, pianist/composer Bill Basie (later nicknamed "Count") and vocalist Jimmy Rushing of Oklahoma City and pianist Jay McShann of Muskogee, found work there in the '20s, but it was Charlie Parker who was born to K.C. and stormed the jazz old guard with his bebop and virtuoso finesse on saxophone in the 1940s and '50s. Today, the 18th & Vine Jazz District is home to the American Jazz Museum (www.americanjazzmuseum.org), still hopping with jam sessions, concerts and the 18th & Vine Jazz & Blues Festival each fall.
Sports
Kansas City is home to two professional sports franchises – the NFL's Kansas City Chiefs and the MLB's Kansas City Royals. Fans of the pro football team watch the Chiefs play at home at Arrowhead Stadium, where they ecstatically witnessed the team come from a 2-14 finish in 2012 to 11-5 in 2013 (www.kcchiefs.com). The echo of home-run hits returns to Kauffman Stadium as another Royals season moves into spring. If the team's promising spring training is anything to go by, fans can look forward to more in 2014 (www.royals.com).
City Of Fountains
Rome comes to mind, right? But Kansas City is home to almost 200 fountains (second only to Rome), making it America's "City of Fountains." Found in city plazas, squares, ballparks and grounds in front of architectural and civic treasures, fountains range in size from small pools to grand memorials complete with incredible sculpture and photo-ops (www.kcfountains.com).
At A Glance
Access: The Kansas City International Airport is 25 minutes north of downtown Kansas City and serves major carriers Southwest Airlines and Delta Air Lines.
Climate: Average temperature hovers between the 60s to the 80s between April and October.
Main attractions: The Sprint Center, Worlds of Fun, Boulevard Brewing Co., architecture, barbecue, jazz.
Visit Online
www.visitkc.com