Oklahoma Lake Guide
Included below are just some of the 200+ lakes Oklahoma harbors within its borders.
Broken Bow Lake– About 14,000 surface acres and 180 miles of shoreline, located in southeast Oklahoma near Broken Bow. Mountain water feeds the lake, making it a scuba diver's ideal location for spotting aquatic wildlife. Described as one of the most beautiful bodies of water in the state, Broken Bow boasts spectacular views from most lodging options in the area.
Lake Eufaula– Oklahoma's largest lake with 105,500 surface acres and 800 miles of shoreline. It is located in the eastern part of the state, surrounding the town of Eufaula, stretching north towards Checotah and south near McAlester. The notable activities on or around Eufaula are: fishing, hiking, horseback riding, hunting, biking/ATV riding and golfing. Rentals are available on-site for all listed activities, including boats.
Grand Lake– 46,500 surface acres and 1,300 miles of shoreline. It is located in the northeastern part of the state in the foothills of the Ozark Mountains. Home to seven state parks, Grand Lake provides all the traditional water activities in addition to terrestrial outdoor activities, too. This lake is known for its scenic lodging and campgrounds, unique dining experiences, festivals, events and vibrant nightlife.
Hefner Lake – Located in Oklahoma City with 2,500 acres and 18 miles of shoreline. Small but mighty, Hefner offers the population an escape from city life with various waterfront dining and lodging options. Although this lake does not permit swimming, water skiing or jet skiing, boats and fishing are allowed, but require permits.
Skiatook Lake– 10,190 surface acres and 160 miles of shoreline located in northeast Oklahoma, northwest of Tulsa. Best known for its lakefront RV/camping sites and a dense sport-fish population, Skiatook attracts fishing enthusiasts from across the state.
Lake Tenkiller – 13,000 surface acres with 130 miles of shoreline located in northeast Oklahoma, just south of Tahlequah. Also known for its clear water and ideal scuba diving location, Tenkiller is a treasure worth visiting for all lake activities, plus three state parks. If relaxation is the goal, Tenkiller has multiple spa and golf opportunities surrounding the lake, in addition to a lively festival and event scene.
Lake Texoma – 93,000 surface acres with 580 miles of shoreline bordering Texas, and southeast of Ardmore. Known for bountiful fish, over 600 campgrounds and casinos headlining some of the most popular musicians in the country, Texoma offers fun for everyone.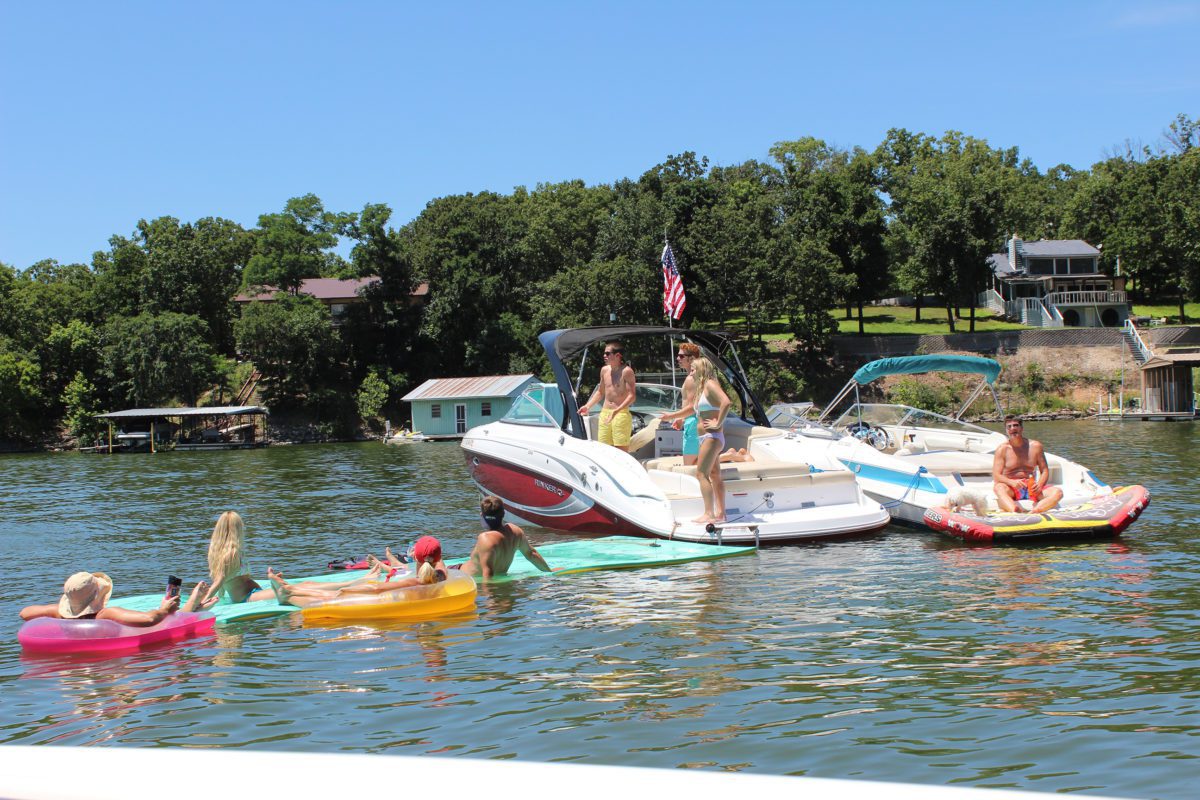 Unique Ways to Enjoy the Lake
Oklahoma lakes and rivers offer individual and family adventure, plus competition, escape and relaxation, but you do not have to own a boat to enjoy the beautiful waters and scenic views. Here are some less traditional, but equally memorable, ways to enjoy Oklahoma lakes and rivers:
Canoe/kayak/raft rentals are a great way to interact with the waters directly. Depending on the location, visitors can experience a more relaxed or ambitious approach. Local canoe, kayak or raft rental vendors are easily found at your closest lake or river. It is an intimate way to allow participants to explore Oklahoma. Popular traditional rental locations include: along the Illinois River in Tahlequah, along the Lower Mountain Fork River and Beavers Bend State Park area.
Artificially stimulated white-water activities are ideal if you are looking to engage your competitive and athletic side. Oklahoma City's RIVERSPORT Adventure Park offers surfing, water skiing, whitewater rafting, whitewater kayaking, tubing, flat water kayaking, flat water paddleboards, ziplines, climbing walls, a bike park, eSports and a youth zone.
Enjoy a meal on a river cruise. Oklahoma City River Cruises offer specialty trips for holidays such as Mother's Day, Father's Day, Halloween and more. The cruise also hosts summer "Cocktail Cruises."
Participate in Citizen Science on a hike or camping trip. Jena Donnell, spokesperson for the Oklahoma Department of Wildlife Conservation, is one of the developers for Oklahoma's Citizen Science, a program where people can post pictures of plants and animals on platforms such as "iNaturalist." Donnell says programs like Citizen Science are the "easiest way to get involved and help contribute to statewide conservation."
Water Safety
When engaging with open waters, safety is the priority. Justin Alberty, communications director at the Grand River Dam Authority, urges people to continue the pursuit of safety by staying updated with regulations as they change over time. However, a steadfast safety tip is always wearing a life jacket when engaging in open waters. Alberty urges parents to "set a good example and always wear your life jacket. Life jackets are not 'one-size fits all,' and a child needs a child-sized life jacket. Not something they will, 'grow into.'"
A lesser known caution, Alberty warns, is the damage the sun can have on a person's senses, creating imbalance in water and becoming a danger while operating around or on a boat/open waters. He encourages people to stay hydrated and wear sunscreen, a hat and sunglasses.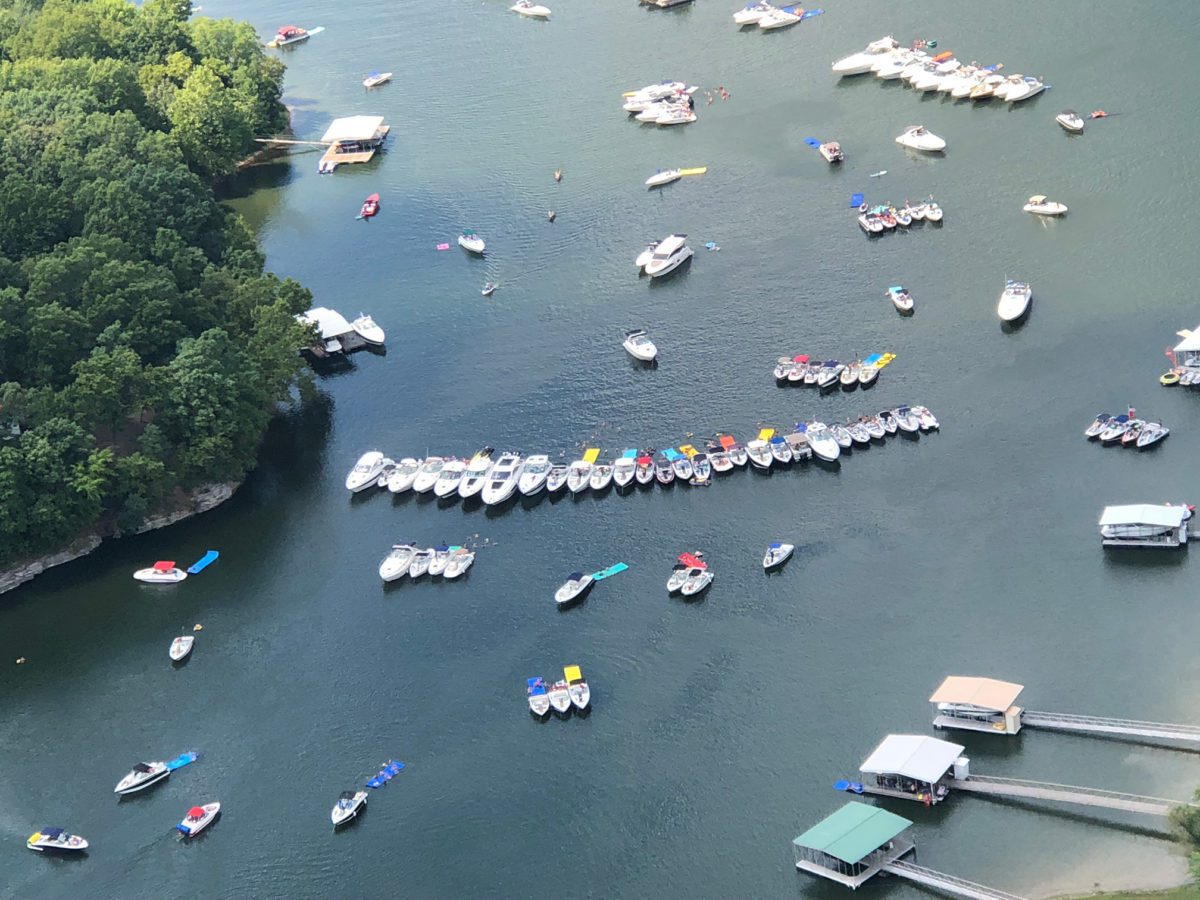 Additional tips include communicating with a person onshore if visiting open waters by yourself, and obeying the no-wake zone markers and other designated buoy areas.
"Finally," says Alberty, "do not drink and boat, as most recreational boating accidents are alcohol-related."
Top Spots for Anglers
From crappie to paddlefish and a wide range of species in between, Oklahoma waters are teeming with a diverse population of fish.
Before heading to your local lake or river, make sure you get a state fishing permit or check if you are exempt at gooutdoorsoklahoma.com. You can purchase an annual or two-day license. If you are fishing in city waters, make sure you acquire additional licensure from that specific municipality. Note: fishing for paddlefish requires a specific free permit used to provide data to help track paddlefish populations.
Popular fishing locations include Lake Texoma for striped bass, Lake Eufaula for crappie, Canton Lake for walleye (this lake is also known for hosting a "Walleye Rodeo" event each year), Mountain Fork River for trout, Fort Cobb Lake for catfish and Grand Lake for paddlefish.
Kelly Adams, communication and education supervisor for the Oklahoma Department of Wildlife Conservation, unveils hidden gem locations for anglers. Guymon's municipally owned Sunset Lake is 17 surface acres and periodically stocked with trout and catfish. Secluded in the Ouachita National Forest, Cedar Lake covers 86 surface acres and holds the state record for largemouth bass (14 pounds and 13.7 ounces, caught by Dale Miller).
Adams also shares the department's "Close to Home Fishing Program." According to its website, the program provides "a local pathway for sharing the fishing heritage." Adams says the idea is to inform people of nearby "urban small lakes or large ponds that are stocked with touchable-sized sunfish and catfish, offering people places to conveniently fish."
Adams says the "Close to Home Fishing Program" is perfect for people or children who are being introduced to fishing, or want to start fishing without the hassle of long drives.
Adams and Donnell believe the Department of Oklahoma Wildlife Conservation's "The Dock," an online platform for anglers to post photos and reviews of their catch, is a helpful tool for novice and experts alike to share information on lakes, types of fish and current conditions.
Lake Town Guide
Come for the water, stay for the amenities. Towns and cities surrounding lakes and rivers are brimming with family-, couple- or individual-friendly activities.
Cookson is just east of Lake Tenkiller. Nestled in the Cookson Hills of Cherokee County, the town is best known for its popular scuba diving opportunities. Nautical Adventures Scuba offers scuba certification courses, scuba equipment rentals and an introduction to scuba diving events in an indoor pool. For history buffs, a visit to The Hunter's Home, formerly known as the George M. Murrell Home, is a must-see historical home preserved by the Oklahoma Historical Society as one of Oklahoma's last standing plantation homes through the Trail of Tears.
The city of Eufaula is known for its bald eagle sightings near Eufaula Dam as the national bird comes south for the winter, arriving in late November and staying through March. Outdoor enthusiasts should consider staying in a once-in-a-lifetime yurt at Eufaula State Park. Eufaula is an angler's dream, priding itself in hosting an enclosed and heated dock for all-year fishing.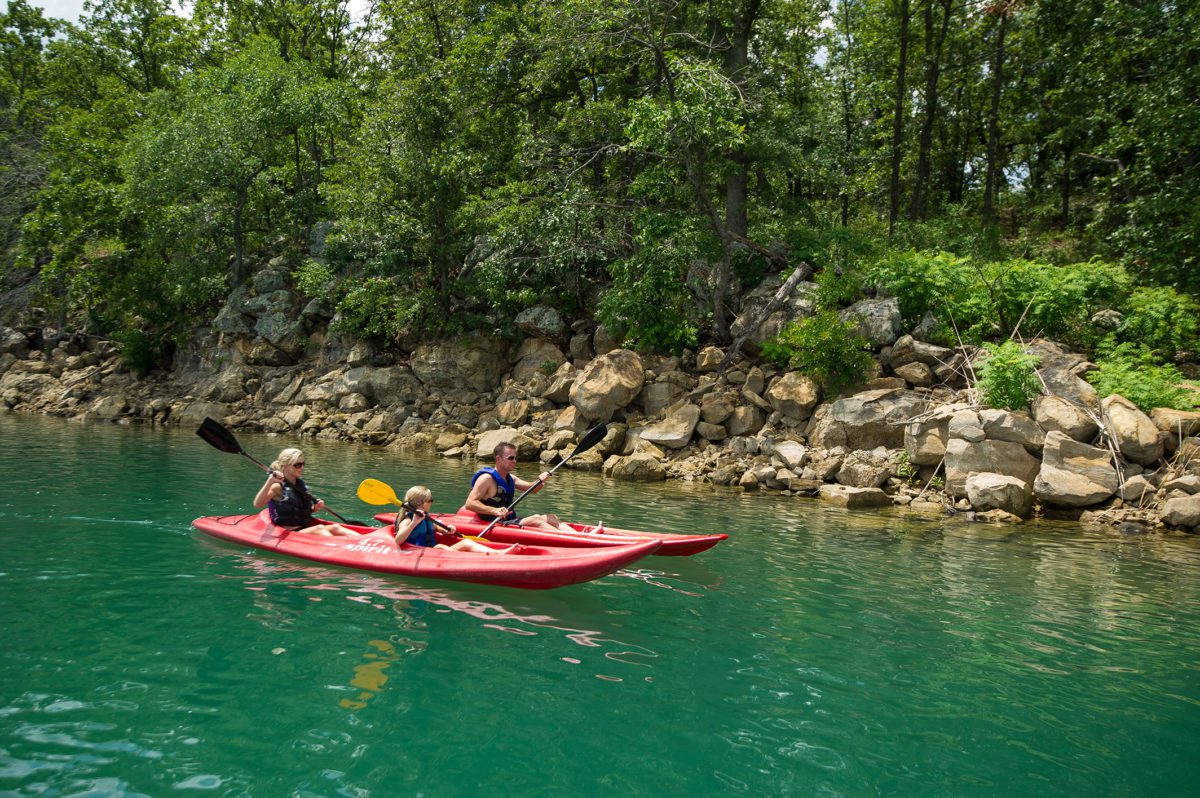 For the opulent vacation seekers, Monkey Island is a peninsula on the northern shore of Grand Lake and features the luxury Shangri-La Resort featuring fine dining, a 27-hole golf course, a spa and more. This island is an ideal location for special events, membership opportunities and extravagant rentals.
Whether you are looking for a relaxing getaway or an adrenaline adventure, Oklahoma open waters and surrounding cities/towns are ready to provide you with spectacular memories.