A biker's paradise, Oklahoma offers everything from urban cycling to scenic rides and mountain trails. Riders – both professional and novice – have numerous biking options at their fingertips, all with the added benefits of enjoying Oklahoma's stunning scenery and promoting tourism through health and cycling. 
Saint Francis Tulsa Tough
June 9 through 11, the Saint Francis Tulsa Tough cycling phenomenon marks its 16th year in T-Town. The event is primarily known for its highly competitive, professional criterium ("crit") races on closed courses downtown, with a street spectator party involved. Crit racers speed through Tulsa's Blue Dome District on Friday and the Arts
District on Saturday. On Sunday, they race through the Riverside neighborhoods, and also the infamous "Cry Baby Hill."
Non-competitive fondo riders choose from 40, 60 and 100-mile rides through Green County, and all skill levels can participate. Free kids' races take place on Saturday and Sunday, plus a free, five-mile Townie Ride on Sunday.
The three-day event drew roughly 3,900 crit racers and 2,200 fondo riders last year. Bikers hailed from 40 different states and as far away as Australia, New Zealand and parts of Europe.
A criterium, or crit for short, isn't for the faint hearted. Cyclists race through downtown streets at breakneck speeds, taking tight turns at 30 miles per hour, often in huge packs. Aggressive and slightly manic, it's one of bike racing's fastest forms of competition, requiring navigation of corners with riders on either side and in front and back.
Wheeler Criterium
For those with the grit for more crit, saddle up in the Wheeler
District for Oklahoma City's premier cycling event – the Wheeler Criterium. Taking place weekly from spring through fall, bikers huddle up every Tuesday evening and start pedaling.
Considered a weekly festival in the 150-acre Wheeler District (which is perched on the south bank of the Oklahoma River), the events are expanding to include
children plus other unique riding experiences. The landmark Santa Monica Ferris Wheel overlooks the shops,
eateries and crowds, with pedestrian and bike access to the Oklahoma River Trail network.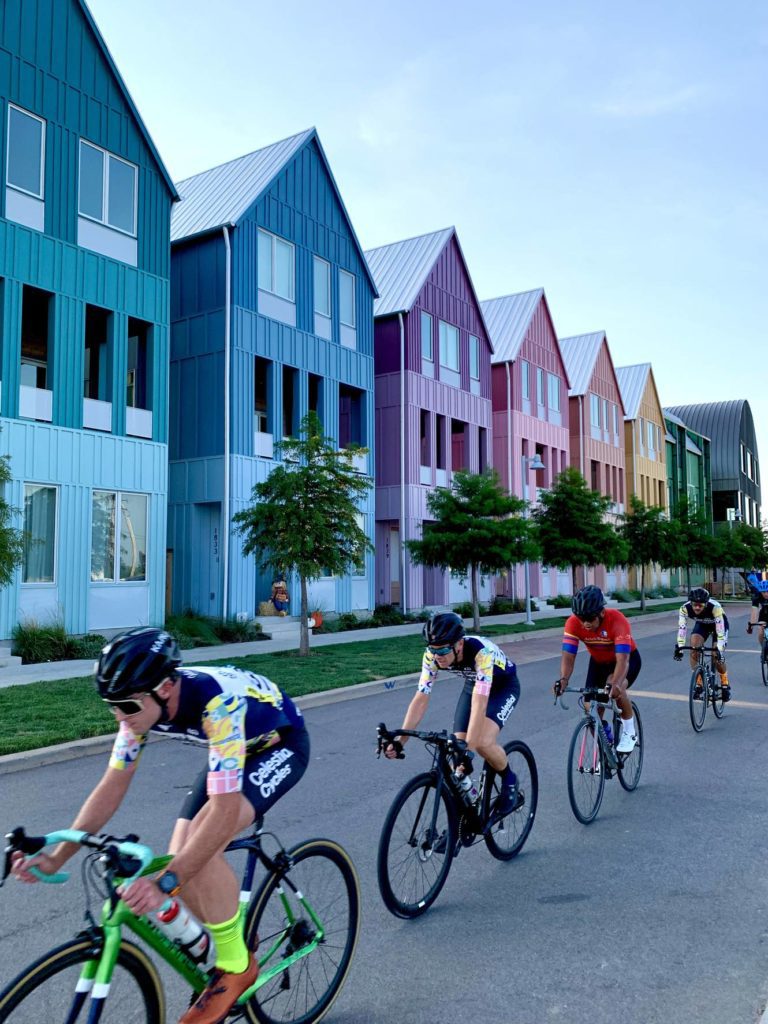 OK Freewheel Route
Anyone hankering to challenge the outdoors will enjoy the 2023 OK Freewheel Route, which takes bikers to the roads for the 44th year from June 11 through 17. For over four decades, the seven-day trek has been Oklahoma's only cross-state cycling touring event. Founded in 1979 to promote amateur bicycling tours, health and community spirit, bikers peddle through Chickasaw, Frontier and Green Country, with all their diverse terrain and beauty.
Hosted by No Drop Tours, cyclists pedal from the Red River to the Kansas border. Bikers start in Denison, Texas, then on to Tishomingo, Pauls Valley, Tecumseh, Perkins, Pawnee, Pawhuska, and finally to Sedan, Kansas.
Considered an outdoor camping event, bikers pop up tent cities along the route, with a hot-shower truck provided. Limited indoor camping is available. Spinners enjoy all things local at area cafés and restaurants, plus civic groups, churches and school groups also provide meals. And No Drop Tours is dedicated to removing hurdles, thus allowing children and families all that biking has to offer.
The Dehydrator
Those ready to sweat like crazy will love Duncan's Dehydrator. Founded in 1985 and held the last Saturday every July, this year's hot event takes place July 29. Participants get a free "famous homemade chicken spaghetti" meal, plus every-10-mile stops that include fluids, fruits and homemade cookies.
The Dehydrator includes single and tandem bike (two riders) options for 10, 25, 50, 62 and 80-mile rides through Stephens County's rolling hills and plains, and a stretch across the Waurika Lake Dam. Proceeds go to the award-winning Duncan High School bands, as well as funding needs for the community.
Dam J.A.M.
Rain or shine, on Sept. 9, roadies will line up for northeast Oklahoma's most scenic fall bicycle ride. For the Dam J.A.M., they'll wheel through Mayes and Delaware counties with more than 2,500 miles of lake shorelines in the foothills of the Ozark Mountains.
Options include 33, 55, 73 and 105-mile treks with Lake Hudson, Lake Eucha, Grand and Chimney Rock lakes, and numerous dams along the way. Beginning the adventure in 1992, pals Jim, Allen and Marie (J.A.M.) created this unique event.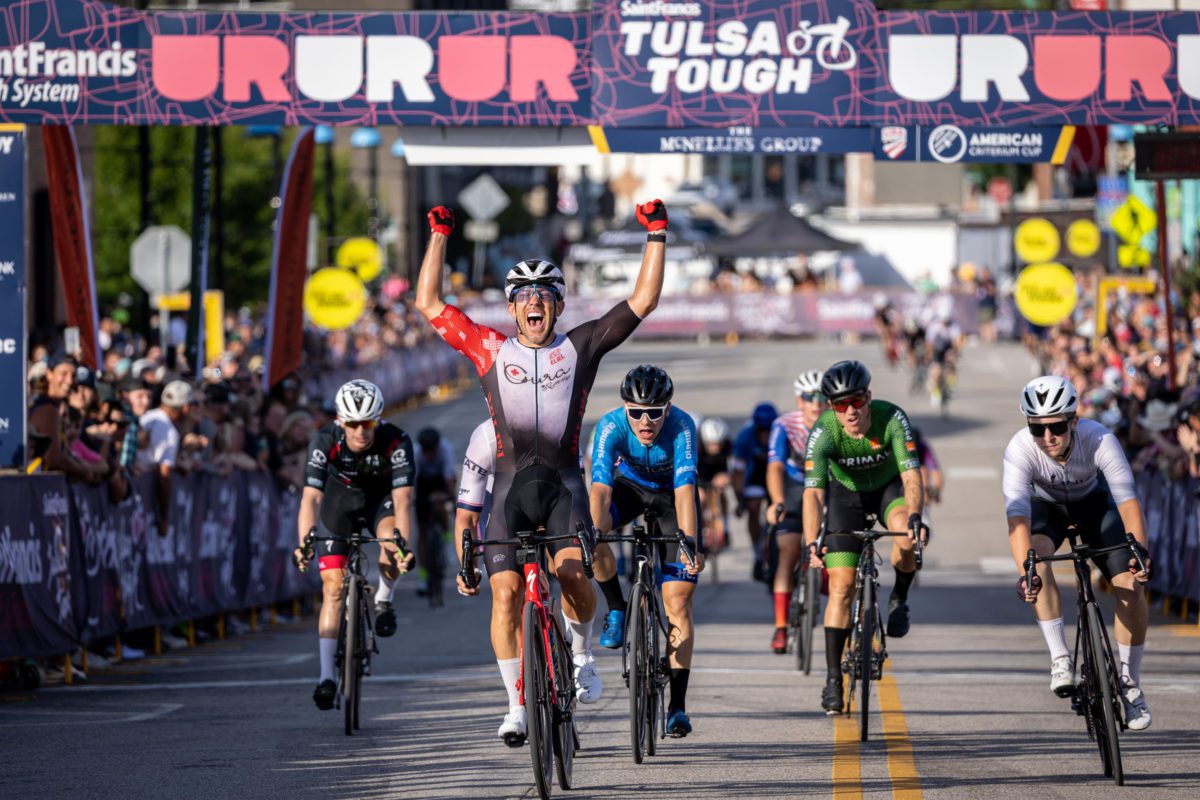 Mountain Biking Safety
Biking's a blast, but safety is no joke. Choose the right bike for the ride. Wear proper clothing and footwear, take your helmet, eye protection, water, sunscreen, bike repair items, first aid kit and cash. Side mirrors are a good idea, plus a pre-ride bike check-up. Ride in groups, and check the weather forecast, which is especially important for mountain bikers.
For off-the-beaten path mountain bike adventures, Tulsa's 300-acre Turkey Mountain Urban Wilderness Area is west of the Arkansas River. With no cars, the one, two and five-mile trails are hilly, primitive, wooded, and have lots of rocks, steep climbs and descents, plus restrooms, water, and a bike tool station.
East of Edmond, Arcadia Trails, for biking, running, birding and horseback riding, includes 6.5 miles of twisting, single-track trails with a bridge, and a creek crossing (weather permitting).
Near Pawhuska, Osage Hills State Park boasts 3.5 miles of dedicated mountain bike trails. Heavily forested with wildlife, the challenging-single-track terrain has switchbacks, climbs and descents.