Just east of Woodward Park is a massive red brick house that looks as if it was built to last for centuries – and it was. Nick Corcoran's great grandfather built that home in 1923, and four generations of Corcorans have lived there.
Inside, you'll see photographs of Nick's grandfather barbecuing in the yard; he used a made-in-Tulsa Hasty Bake grill. Nick's father also had a Hasty Bake, but he did fancy stovetop cooking too. So, it's no surprise that Nick gravitated toward a career in restaurants.
Nick was a server at a few upscale spots before deciding fine dining wasn't right for him.
"So I worked for years at the original Hideaway in Stillwater," he says. "That was my introduction to restaurant kitchens, and it was fun. Kitchen life is fun."
Just as Nick moved back to Tulsa, two of his cousins – Robbie Corcoran and Adam Myers – opened a new restaurant and followed the family tradition by doing all the cooking on Hasty Bake grills. They called it BurnCo, and by the time they were done, it had achieved nationwide fame. Nick was their first hire; he worked there for eight years, ending up as pitmaster. Every day, he'd unlock the dining room doors at 10 a.m. and greet the long line of customers with a hearty, "Welcome to paradise!"
By 2019, he was ready for a change. He ran into a former classmate named Justin Carpenter, who owned Foolish Things Coffee and wanted to set up a bar serving Korean food: enter High Dive. Nick put a menu together and ran the place, but when the pandemic came knocking, the restaurant closed and Nick started serving takeout barbecue to bring cash in.
"I got to explore things beyond traditional barbecue while still playing with heat and fire," he explains. "Most barbecue uses the same spices. I didn't. People don't have preconceived expectations of Oklahoma barbecue the way they do of other states, so I can make it whatever I want it to be."
Get Nick talking about barbecue and he'll tell you about every aspect that excites him. But what gets him most animated is talking about Alley Cat Ranch, the new restaurant he's building for Watershed Hospitality – the same one that operates Nola's, Kilkenny's and Hemingway.
"It will be one of the biggest barbecue places in the country and the biggest bar around," says Nick. "Four thousand square feet indoors and an acre outside, with chairs and tables and fire pits and maybe a pickleball court. We'll make this the absolute anchor of the neighborhood."
That neighborhood being the amorphous sprawl just east of downtown, 723 E. Second St., north of Bohemian Pizza and Lowood.
The food will be creative. Burnt ends will be braised in a sauce using either gochujiang or molé. There'll be custom blend sausages, frybread tacos, pulled pork finished in an adobo braise, and brisket finished in homemade tallow.
All this will take time. But by the time you read this, there should be a food trailer in that same spot serving a preview of Alley Cat Ranch's fare. And yes, the food will be cooked on Hasty Bakes. There will also be a covered area with picnic tables; Nick uses local craftsmen whenever he can, and the tables are created by an 80-year-old-man in Bixby.
"He got bored and started making picnic tables," says Nick. "I'm picking up three this week."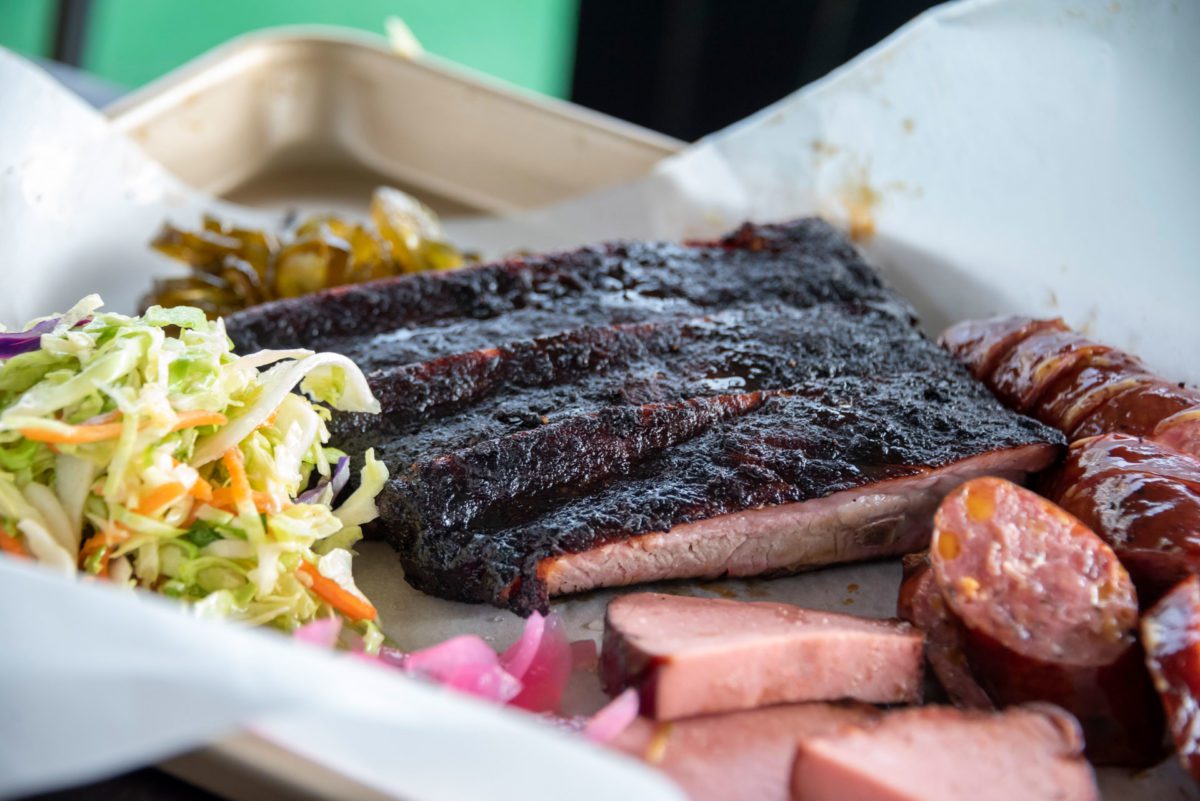 My candied jalapeños are fantastic over cream cheese with crackers, or used as a topping for literally anything savory. The syrup is great for brines, drinks, dressings or anything that needs a bit of sweet/spicy. 
Fresh Jalapeños
2/3 cup Apple cider vinegar
2 cup Sugar
1 tablespoon Granulated garlic
1 teaspoon Cayenne pepper (optional)
1. While wearing gloves, stem, seed and dice the jalapeños. 
2. In a saucepan, combine vinegar, sugar, garlic and cayenne. Bring to boil, stirring regularly and ensuring the sugar doesn't burn to the bottom. Simmer for five minutes. Monitor well or the solution may bubble over. 
3. Add diced jalapenos to simmered vinegar solution. Bring back to a boil, stirring regularly to ensure the vinegar solution doesn't bubble over. 
4. Cook for three to five minutes or until the jalapenos take on a deep green color. Using a slotted spoon, remove jalepenos and place in a Mason jar. 
5. Continue boiling solution for another four to six minutes until it starts to thicken and resemble a syrup.
6.  Pour syrup into jar and leave at room temperature for 1 hour while it cools. Place in fridge, covered in a terry cloth or cheesecloth overnight. 
These will keep, covered, in the fridge for two weeks.