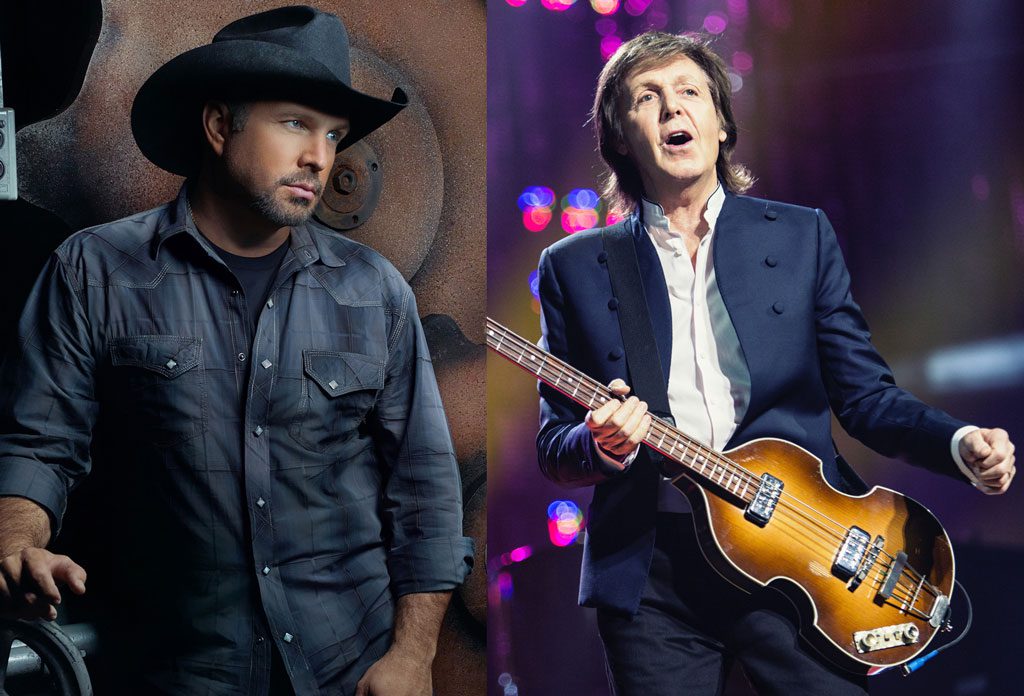 [dropcap]Unless[/dropcap] you've been living under a rock for the past sixty years, you know them both well: one is an Oklahoma native catapulted to global fame for his mix of country and rock and roll tunes; the other is the genius singer/songwriter of the most famous band of the 20th century (and all time). That's right  – the illustrious Garth Brooks and Sir Paul McCartney will both visit Oklahoma City in mid-July to play Chesapeake Energy Arena.
Brooks comes first – July 14 and 15 – and will play four shows in the span of two days, no doubt due to the throngs of passionate local fans flocking in to support. Over Brooks' 30+ years in the music industry, he's been dubbed "Entertainer of the Year" by establishments like the Academy of Country Music and the Country Music Association, and he has managed to nab two Grammy Awards for his genre-bending country/rock hits. Most Oklahomans can also fondly recount a time when they saw Brooks at a baseball game/grocery store/local event and were met with his classic Oklahoma charm.
McCartney then drops in on July 17 with his One on One Tour. The man, myth and legend that is Sir Paul McCartney has captivated audiences since his first performances with The Beatles in 1960. By 1963, the entire world was engulfed in Beatlemania as John, Paul, Ringo and George dominated the charts and the hearts of fans across the continents. And although that success is hard to top, McCartney has been met with paramount acclaim as a solo singer, songwriter, multi-instrumentalist and rock icon since The Beatles' end in 1970.
Chesapeake itself has been on a hot streak in the past year, with acts like Tom Petty and the Heartbreakers, Bon Jovi, Lady Gaga and Kings of Leon all performing in 2017. Tim Linville, the director of sales and marketing at Chesapeake, attributes this all-star line-up to a special occasion.
"This is the Chesapeake Energy Arena's 15th anniversary, and it's shaping up as one of our best years," he says. "It has been truly exciting to watch the growth of Oklahoma City over the last fifteen years. The changes have been amazing. We're really proud that we've been able to play a role in it."
Brooks' shows begin at 7 p.m. and 10:30 p.m. on July 14 and 3 p.m. and 7:30 p.m. on July 15. McCartney's show begins at 8 p.m. on July 17. Visit chesapeakearena.com for tickets.