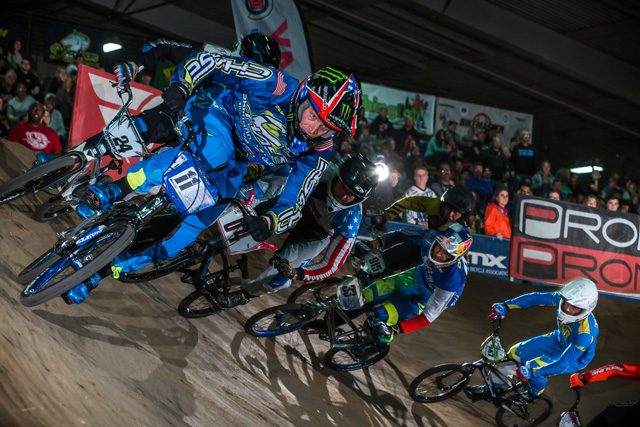 [dropcap]During[/dropcap] the early '70s in southern California, kids began racing bikes on dirt tracks just for fun. From there, the humble beginnings of the activity known as bicycle motocross escalated into a serious sport at a rapid pace; by 1974 the National Bicycle League had formed, and by 1978 the NBL was a national sanctioning body for BMX.
To see this sport in action, visit the BMX Grand Nationals, which will conclude its year-long competition at the River Spirit Expo in Tulsa on Nov. 25. This competition has been ending its national rides in Tulsa for nearly 20 years.
"The Grands is the 29th national event of the series, but a rider does not need to race at all of those. To be up for a national title, we count a racer's best 10 scores in five weekends of racing," says Craig Barrette, chief communications officer at USA BMX. "But still, there are plenty of hardcore BMX families who will often race more than just five of our races."
Competitors will race on a 1,100 foot-long course, filled with obstacles of varying degrees of difficulty along with steeped bank dirt turns for an entertaining spectator experience. Up to eight athletes will take to the track at one time.
Although it's still relatively young in the sports family, BMX has grown exponentially over time and has become uniquely family-oriented as racers of varying ages and skill levels can compete.
"USA BMX has age classes from as young as 2 years old up to 65 and over, and it's not unusual these days to find three generations of a family racing, with grandparents being some of the original BMXers from the '70s," says Barrette.
The city of Tulsa is about to embrace BMX culture on a whole new level, as a state-of-the-art venue will soon be built to host a slew of the sport's competitions and activities.
"After the City of Tulsa voted yes on the project this past April as part of the Vision 2025 extension, plans are underway for the building of an ultimate BMX venue where the old Driller Stadium currently resides," says Barrette. "It will be an Olympic-caliber facility, with a dual-hill track so that it can host major events such as the Pro Championship Finals, the U.S. Olympic Trials and a UCI World Championships."
BMX headquarters will also make the move to Tulsa, creating new jobs and a booming economic impact on the city.
"USA BMX headquarters will be a part of the project as well, with a complete renovation of the existing structure next to Driller Stadium," says Barrette. "USA BMX is looking forward to the completion of this project, which will take the sport of BMX to the next level." For details on Grand Nationals and the upcoming additions in Tulsa, visit usabmx.com.