When Lone Wolf opened its window to Tulsa residents and the city's still-burgeoning food truck movement in 2012, banh mi was still something of a mystery to diners. The fresh and flavorful Vietnamese sandwich quickly caught on, however, and business has been brisk for Lone Wolf. So brisk, in fact, that the proprietors of the truck, Philip and Danielle Phillips, appeared on CNBC's Restaurant Startup to seek investors in Lone Wolf's yet-to-come brick-and-mortar establishment.
Lone Wolf has established a schedule that makes it easier for those craving Asian cuisine to find it. Truck meet-ups are where you may find Lone Wolf parked for lunch Tuesday through Friday, and at nights, The Fur Shop becomes the temporary home for Lone Wolf.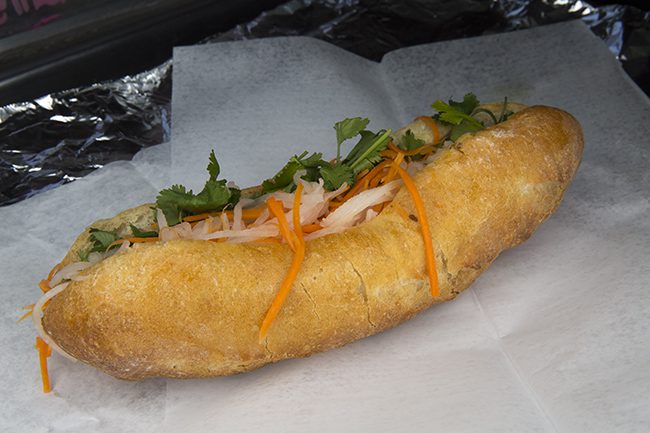 Banh mi filled with Kung Pao pork, cilantro pesto chicken, soy Dijon portabella and other mouth-watering options remain the center around which Lone Wolf exists. Kimchi fries – French fries fried crispy and topped with a variety of options, including candied bacon, pulled pork or an over-easy egg – are also popular at the truck. Fried rice bowls in myriad flavor combinations are popular options for hungry customers. The spiced flavors of this Vietnamese-inspired cuisine are tamped by fresh, tangy carrot and daikon slaw, cilantro, cucumbers and aioli.
Follow Lone Wolf on Facebook or Twitter to find out the daily menu, specials and for more information on booking Lone Wolf for special events. www.lonewolftruck.com