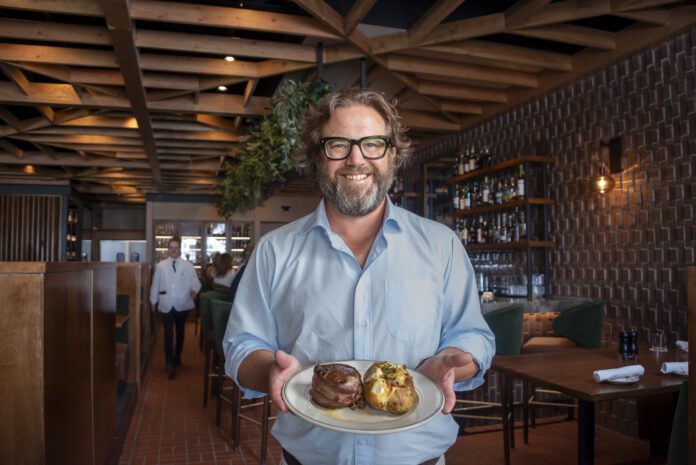 The night Elliot Nelson told his parents he was building a big Irish pub in downtown Tulsa, they drove to see the neighborhood for themselves. What they found was a collection of dark, deserted streets, punctuated by low-slung, dilapidated shells of hundred-year-old warehouses.
They couldn't see the future, so they didn't know that after several years of working 100-hour weeks for $17,000 a year, living on leftover hamburgers and beer prepared for patrons who never showed up, their Elliot would become a glorious success – hailed by many as the "King of Tulsa" for that big Irish pub – McNellie's. What they did know, however, was that the city had been trying for decades to develop that area of downtown, and were met with failure. And yet, they gave him their total support.
"My mom used to tell me," Nelson recalls, "that you can do anything you can set your mind to. Maybe there were some days when she regretted telling me that, but my parents lavished me with unrelenting support and unconditional love. They wanted to support my dreams."
Perhaps that's why Nelson's newest venue, Jimmy's Chophouse, is named for his father.
Growing up in Tulsa, Nelson never imagined he'd be a restaurateur. But, he says, he should have.
"Childhood memories of food and restaurants are the memories that stick with me the longest," he says. "Even little things, like looking forward to the check because that's when they give you bright green wrapped Andes mints. My favorite thing in life is going out to a restaurant and sharing a meal with people."
Nelson and his family went out a lot, often on Sundays. They'd go to places like Italian Inn, Jamil's and Celebrity Club, places with dark, old dining rooms and red leather booths. When Italian film director Federico Fellini wanted to pay homage to his childhood, he created one of his greatest masterpieces, Amarcord, a film that critic Roger Ebert said was "made entirely out of nostalgia and joy." Nelson is not a filmmaker, so he, instead, created Jimmy's with those exact same ingredients.
One thing Nelson admires most about his father is that "Dad treated people well and cared for them no matter what their station." From him, Nelson learned to assemble a strong team. Which was how he built Jimmy's.
For example, he told his executive chef Ben Alexander, James Beard semi-finalist and food genius, that he wanted a 12-ounce meatball. Alexander went through at least ten versions before he created the rich, juicy giant that's on the menu today.
"Ben has so much pride in his product," says Nelson. "That's why he puts so much time and care in."
That's the hallmark of the food you're served at Jimmy's. They are classic dishes from Nelson's childhood memories, but recreated with so much care that they are better than they've ever been. Take the stalwart of fine dining, the chicken breast. Here, it's cooked very slowly, and frequently basted in duck fat.
"Yes – it's still chicken breast," says Nelson, "but care and attention make it spectacular."
And so it is for the entire menu. The steaks, aged beauties from Creekstone Farms, are superb of course, but so are the other entrees, including sea bass, shrimp scampi, spaghetti with that giant meatball and many more.
All are served with elegance amidst the sort of gleaming wood and modern decor you'd see in a 1950s movie. And every meal at Jimmy's begins with a complimentary relish tray – with the same breadsticks and cheese dip that Nelson remembers so vividly from Italian Inn. Later, when your bill comes, it arrives with those shiny green Andes mints.