An Entertainer's Dream Space


This historic Tulsa domicile received a face-lift in the kitchen, dining and bath areas. Created in 1922, the home was built upon a sturdy foundation that could support a wide-scale renovation.
Spearheading the project was Duvall Atelier, which offers interior design and architecture services alongside a retail shop and showroom. John Duvall served as head architect and Sherri Duvall served as head interior designer; this husband and wife duo brought a bevy of creative and sophisticated solutions to the space.
An Overall Look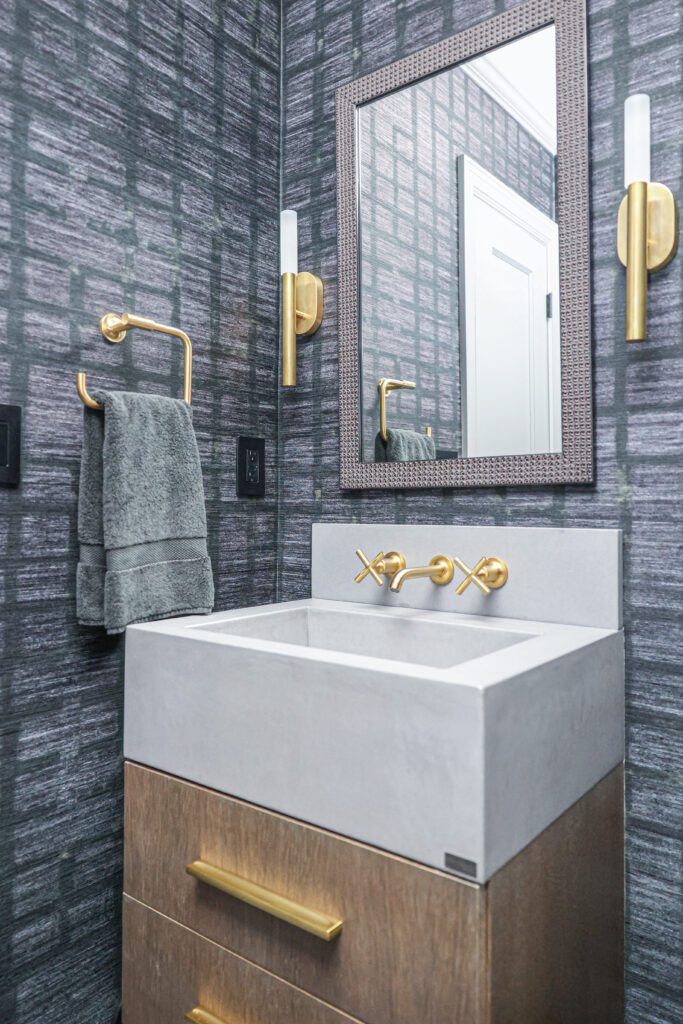 "We squeezed every inch out of the space," says Sherri Duvall.
Because the original footprint of the kitchen and hall bath was limited, the powder room was relocated to grant additional space to the kitchen.
By creating an archway, the kitchen opens to the existing dining and living rooms, bringing in plenty of natural light. Since the homeowners entertain weekly, the new space needed – and got – a better flow. State-of-the-art lighting accents the homeowners extensive original art collection, with a new sound system to boot. For a fresh update, the wall color was lightened and complementary cabinetry colors worked with the home's aesthetic.
Kitchen
The kitchen now boasts a professional, 48-inch Thermador brand range that integrates two induction burners onto the gas top.
The island, which has ample seating, has two dishwashers that flank a large, deep sink. A Thermador brand refrigerator and freezer towers bookend the appliance wall and are conveniently located for efficient cooking.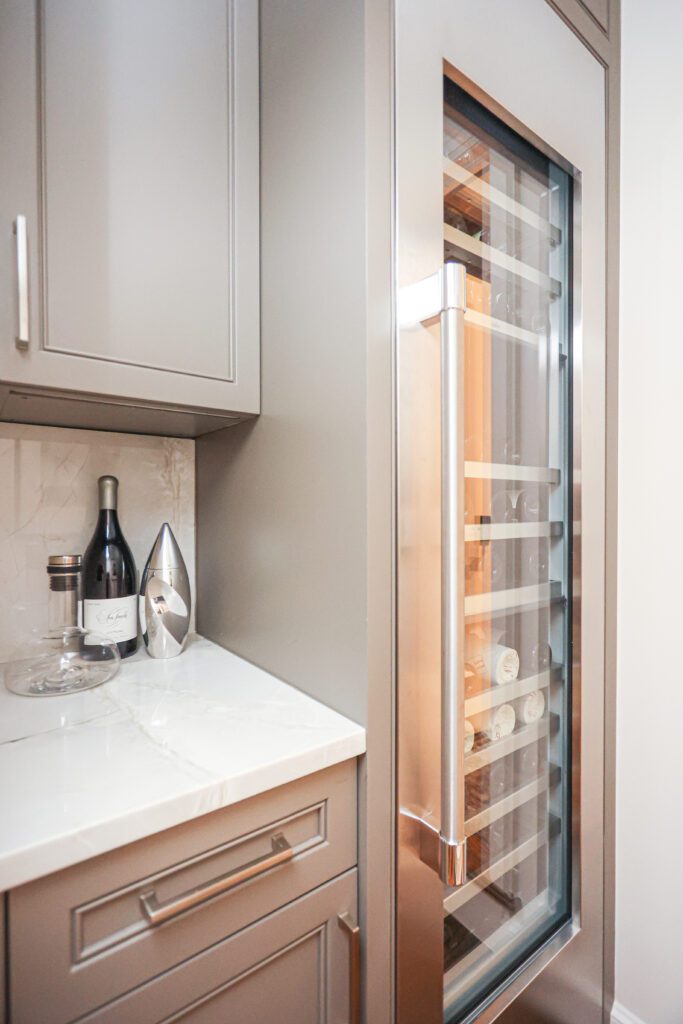 Butler Pantry and Coffee Bar
Floor-to-ceiling storage for china and pantry items and "secret" center doors reveal the hidden walk-in butler pantry and coffee bar area. This space, which includes extra pantry shelving, has refrigerator drawers providing reach-in access for bottled beverages and coffee creamers.
The microwave oven located here keeps the appliance out of the main kitchen's valuable real estate.
Dining
Since the homeowners entertain often, the new archway allows a direct connection to the formal dining. New to the formal dining room is a dining table, chairs and hand-knotted rug, all sourced from Duvall Atelier.
In the dining nook, new windows and a three-panel patio door bring in natural light while providing gorgeous views of the back patio area and its landscaping. A custom-designed corner banquette, made of suede and mohair, accompanies the custom-designed dining table.
"This banquette maximized the seating capacity and brought a comfy-cozy element to this space that is used daily," says Duvall.
Powder Room
The relocated bath, which Duvall described as having a "moody aesthetic," features a concrete sink and a floating vanity cabinet. A natural brass faucet and sconces adorn the area while the abstract patterned wall covering ties in with the black "flannel" marble hexagon floor tiles.
The Duvalls, through creative thinking and collaboration, achieved the optimal entertaining space for their clients.
Aesthetics and Practicality


Built in 1973, this ranch-style home received a kitchen remodel that incorporates a cozy dining nook. The kitchen, remodeled and designed by TimerLane Interiors, includes a custom banquette area created by Huntington ID, a full-service residential and commercial interior design firm located in Tulsa. Tracy Huntington, owner and interior designer, highlights this project.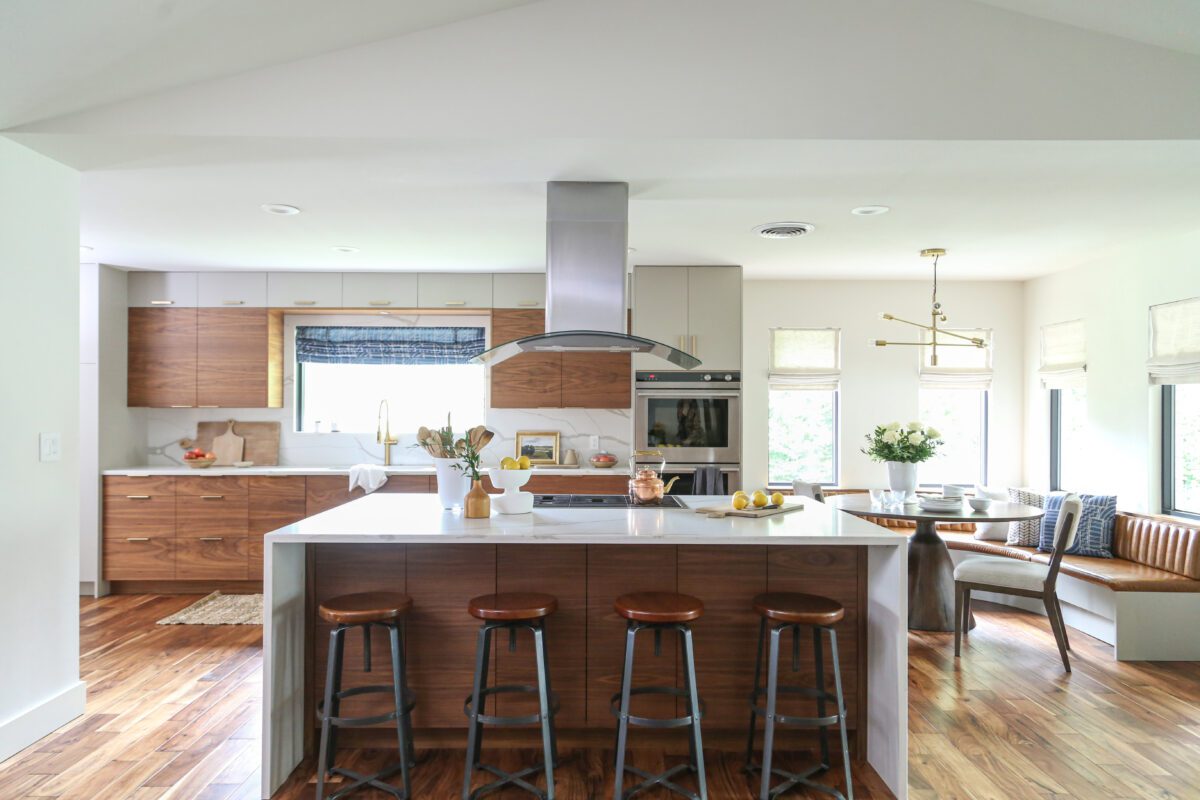 An Overall Look
This 3,000-square-foot home has a wide-ranging color scheme that combines earth tones with blue accents. One standout accomplishment was the design and installation of a truly unique custom banquette.
"It is the focal point of the kitchen," says Huntington, "showcasing a perfect balance of aesthetics and practicality."
Kitchen
Inspired by the home's 1970s roots, this remodel incorporates warm wood tones, classic cabinetry and eye-catching brass fixtures.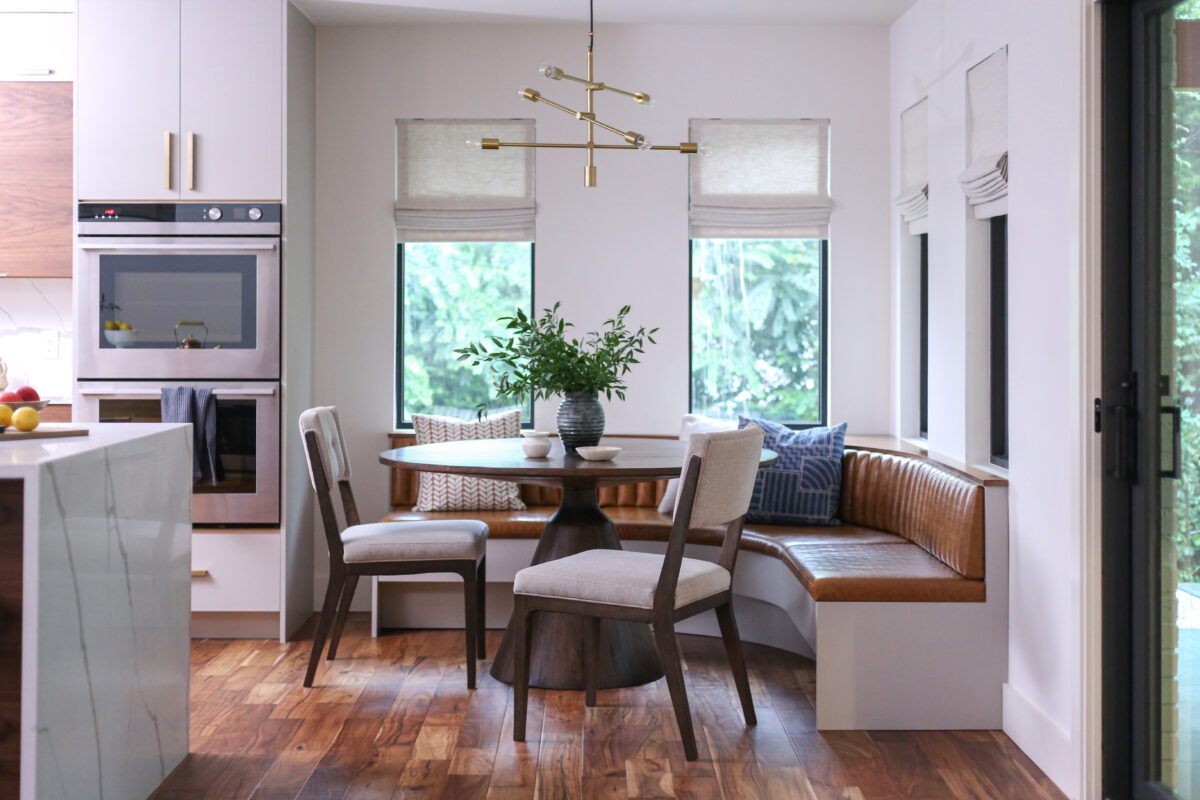 "Our favorite kitchen elements are the stained cabinets, large island and the custom banquette," says Huntington.
Dining Nook
The nook, which is used daily, infuses stylish elements like faux leather fabric and a custom-channeled texture making it a "one-of-a-kind" design feature. The custom-made curved banquette optimizes the space, as opposed to filling the area with a traditional configuration of a dining table and chairs. Through its design, the banquette also encourages conversation and togetherness.
The modern circular table and chairs give ample seating while a modern light fixture floats above. With four windows bringing in natural light, the area has become a beautiful, comfortable and stylish place to eat and socialize.
"We designed the breakfast nook with family gatherings in mind," says Huntington.
This remodel centered around the wants and needs of the home owners, who requested a casual, family friendly seating in their kitchen. They also desired a warm color scheme along with a comfortable design.
"It's truly satisfying when functional spaces are transformed into beautiful areas," says Huntington.
Two Historic Home Renovations


Design firm Kitchen Ideas, located in Tulsa, focuses on complete remodels of kitchens and bathrooms. Founded in 1976 by Roger Shollmier, the design company is now owned by Michael Thorp. Design Team member Janae Dixon walks through two recent kitchen remodels tackled by the company.
Kitchen 1: Staying True to an Era
Built in 1925, this home is in a historic neighborhood of Tulsa. The kitchen, which had previously been divided into three spaces, was converted into one open area.
"We wanted to make sure to stay true to the history of the house while modernizing the space," says Dixon.
An Overall Look
The homeowners, who were inspired by the bistros they visited during numerous trips to France, often cook fresh meals based on what is available at local farmer's markets. So, they wanted a renovated, fresh kitchen in which to cook.
The kitchen has a Ilve brand range, which also boats a pizza oven and rotisserie.
Keeping the kitchen enclosed – as opposed to opening it up to the dining room – was a design element requested by the homeowners. They also wanted an island with no seating or appliances so that it served solely as a prep area. The color palette is black and white with pops of natural wood.
A few of Dixon's favorite elements in this updated kitchen include the soapstone countertops with flecks of gold, the tiled wall behind the range, the custom-stained and -designed stove vent hood and the lighted glass display cabinet.
Kitchen 2: Cozy and Inviting
This Tulsa home, built in 1929, has a color scheme of warm gray and black, along with accents of natural wood.
"By using warm tones and natural elements such as the stained wood and soapstone counters, we were able to keep the kitchen cozy and inviting and cohesive with the entire house," says Dixon, who was the head designer on this remodel.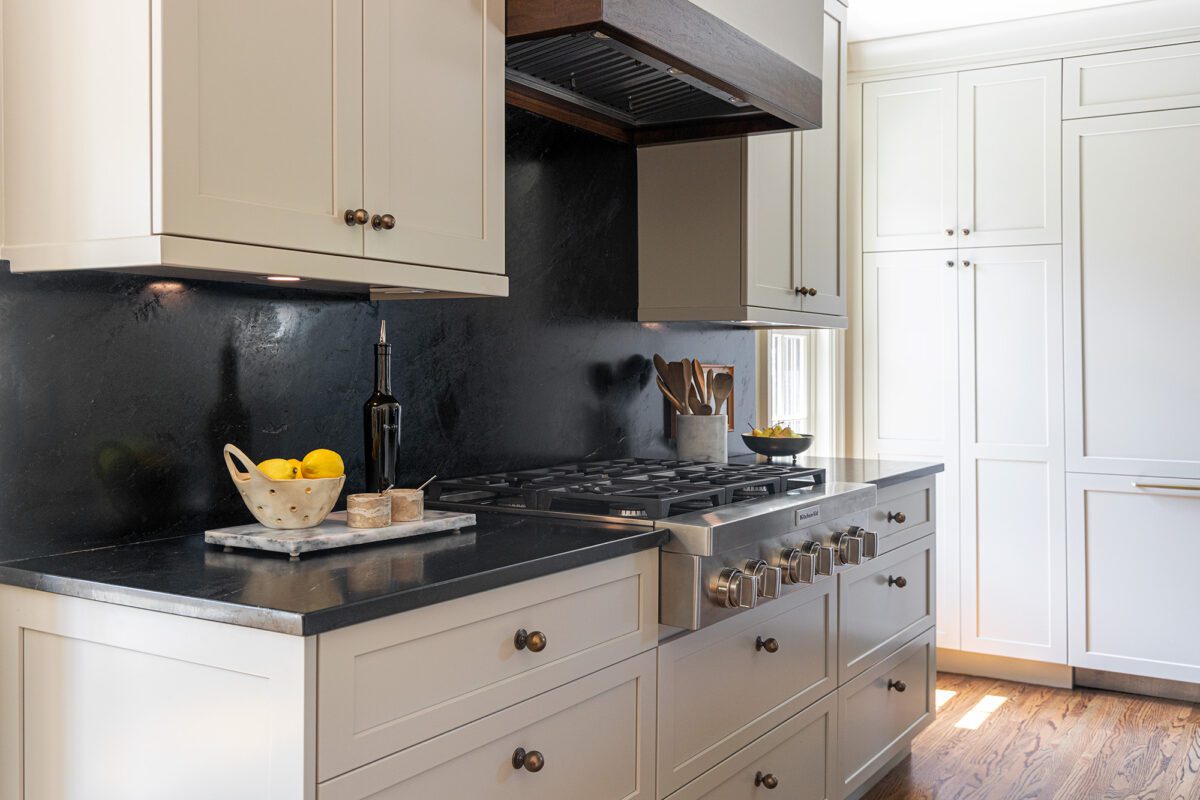 The Overall Look
In this kitchen remodel, the owners desired a space to cook while not feeling isolated from others during entertaining. A wall was partially removed, and widening the opening created a better flow into the adjacent rooms. An exterior door and window were also removed to repurpose the existing space.
The previously unused eating nook is now a bar area, with floor-to-ceiling pantry cabinets along with an abundance of drawers.
"It needed to have good flow and space for their family while maintaining warmth and coziness," says Dixon.
Dixon's favorite elements are the new larger window that lets in loads of natural light as well as the soapstone backsplash. A walnut cabinet, now a hidden coffee bar, is one of the homeowners' favorite elements of the remodel.
The Kitchen Ideas team successfully renovated two distinct kitchens and gave the homeowners their desired serene spaces.
A Journey to Tranquility


This ranch-style home in Tulsa, with its modern and organic aesthetic, was built in 2016. Interior design professional Jill Croka – owner and creative director of Jill Croka Designs – helmed the creation of the kitchen and primary bathroom. The design studio, established in 2010, offers a full range of interior design services.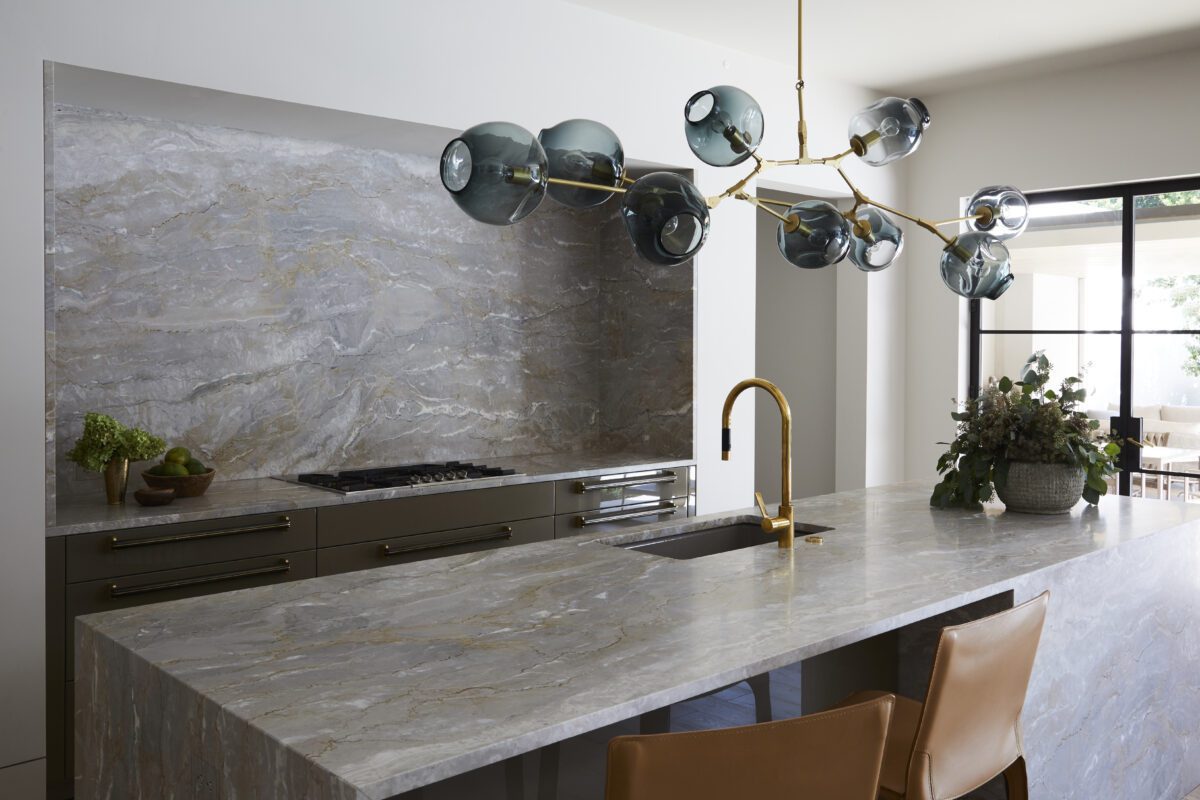 The homeowner desired a calming space that provided room for an art collection. Also important was a kitchen and great room designed for entertaining – all while retaining an intimate feel.
The goal of the kitchen was to be a place of serenity while being visually captivating. In the primary bathroom, the focus was to achieve a spa-like atmosphere that could become a haven for restoration and renewal.
Providing warmth within the color scheme is a mix of natural wood tones, stone and blue hues, all of which the homeowner gravitates toward. The smoky blues used are a neutral color that work well throughout the home. Clean craftsmanship and simple details made for challenges to details such as concrete joints and hardware. All was neatly resolved – resulting in a beautiful and harmonious home.
"There are always challenges in construction," Croka says. "Solving those issues can create an incredible design."
Dulce Vita marble and a stunning Lindsey Adleman chandelier were the inspiration and cornerstones for this new space. The brushed Bulthaup cabinets and the chandelier itself are Croka's favorite elements in this kitchen, and she wanted the area to remain open to the rest of the home.
"I wanted the kitchen to be a part of the great room," she says.
To achieve a spa-like atmosphere in the primary bath, leathered stone with lavender and blue hues were used, while also mixing in woodwork of brushed ash with a custom-stain. Special elements include the stone wall behind the soaker tub, which is flanked by two floor-to-ceiling windows that bring in natural light.
The tub's exposed plumbing makes an artful and visually interesting element. In this bathroom, Croka's favorite features are the rose-colored plumbing fixtures and the leathered stone.
Across from the free-standing tub is a bank of storage cabinets and drawers. The floating two-sink vanity with a large mirror and luxurious lighting create a truly peaceful atmosphere.
"The custom lighting elevates the space to the spa-like vibe we were after," she says.
Family Friendly and Sophisticated


Completed in 2021, this newly built stunning home is located in the Nichols Hills area of Oklahoma City. Ross See, principal of Sees Design, helmed the project.
Sees Design focuses on creating unique and personalized living spaces. The company's services encompass the complete design process – from selecting materials to managing projects, interior architecture and designing exteriors.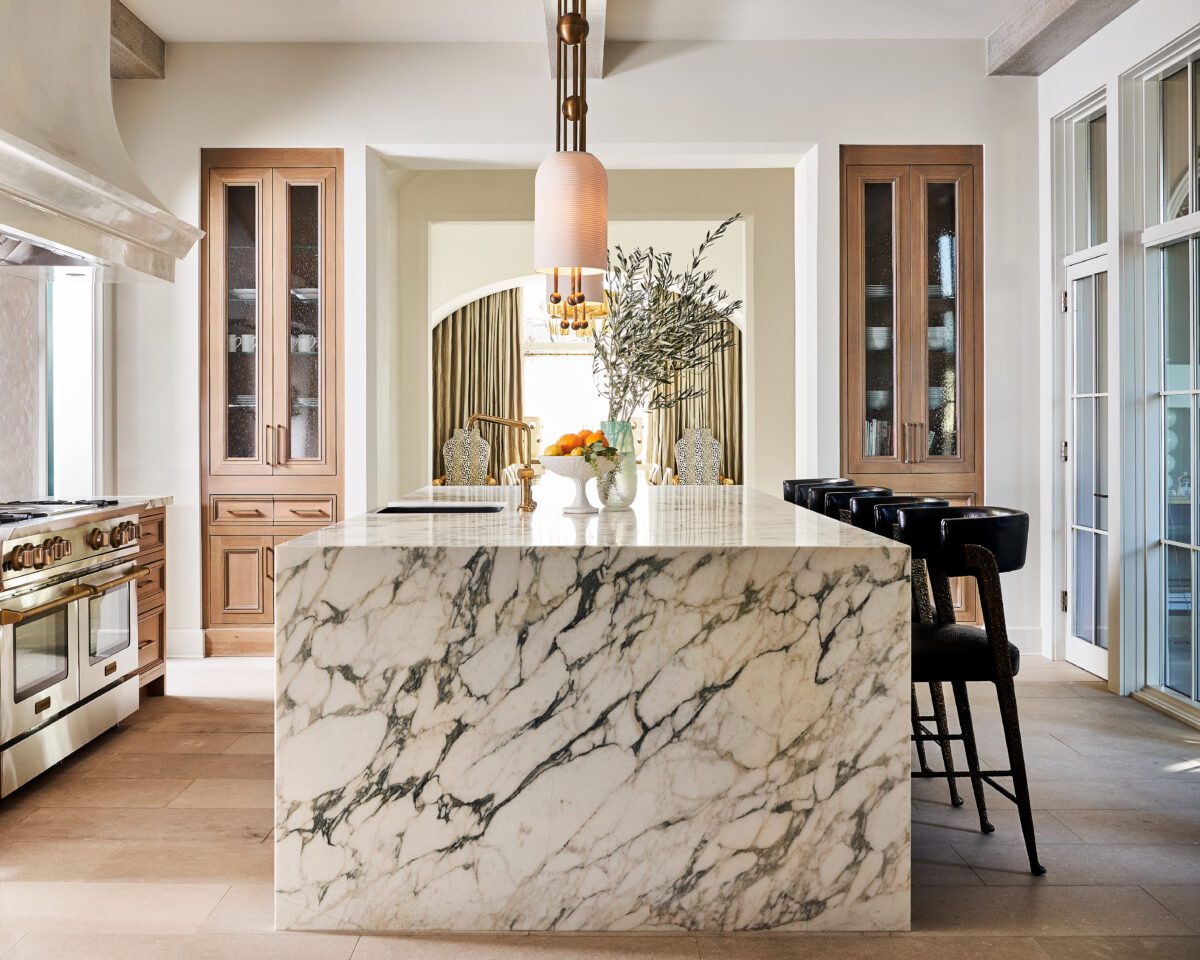 This specific home, which is a unique blend of "romantic modernism," offers a contemporary twist on traditional design.
An Overall Look
See handpicked the architect and builder for this project: Scott Torode and Chris Candelaria, respectively. The family, a second-generation client of Sees Design, desired a home that is "family friendly" while maintaining a mature, sophisticated design.
That being said, there are plenty of spaces for the kids to play – such as hidden lofts in their rooms – while an in-wall water dispenser in the pantry is convenient for everyone. Also utilized is furniture created with "performance fabric," making it stain-resistant and a practical choice for formal and informal areas in the home.
Kitchen
Creating a typical kitchen where appliances are the focus was not the goal for this client.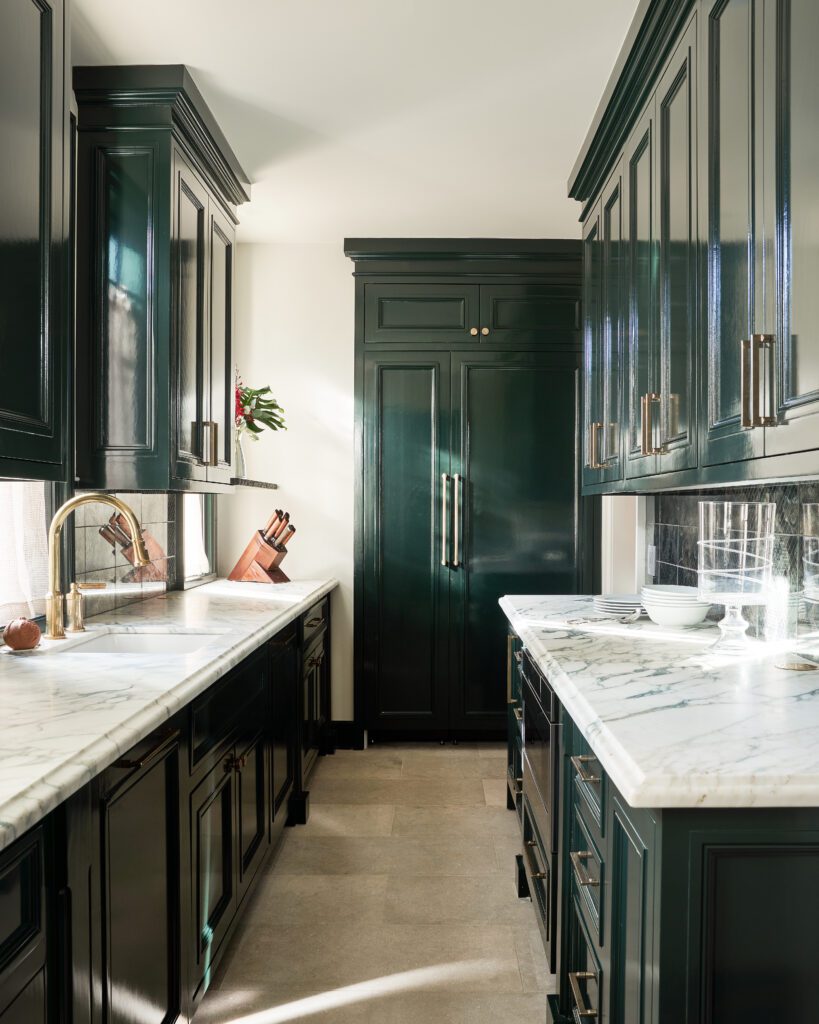 "Instead, we centered it around an amazing Calcutta marble island, perfect for family dining and entertainment," says See.
Some of See's favorite elements here are the custom Venetian plaster vent hood, the Ann Sacks Zelig handmade fish scale tile and the impressive French cook top burner on the 60-inch Wolf brand stove.
Pantry
From daily coffee to toasting, this pantry is an essential space for the family. The room has hidden appliances, like the refrigerator and microwave, and is perfectly suited for functionality and privacy.
"This space plays a significant role in daily routines," says See.
The pantry achieves functionality while maintaining a spacious feel. The mirrored backsplash and the "dark moody vibe" from the high gloss paint opens the space and creates a roomy atmosphere.
Primary Bathroom
This luxurious bathroom has an oversized tub on a pedestal, a shower with a double-head faucet and a Neorest brand heated toilet – leading the way to relaxation and pampering.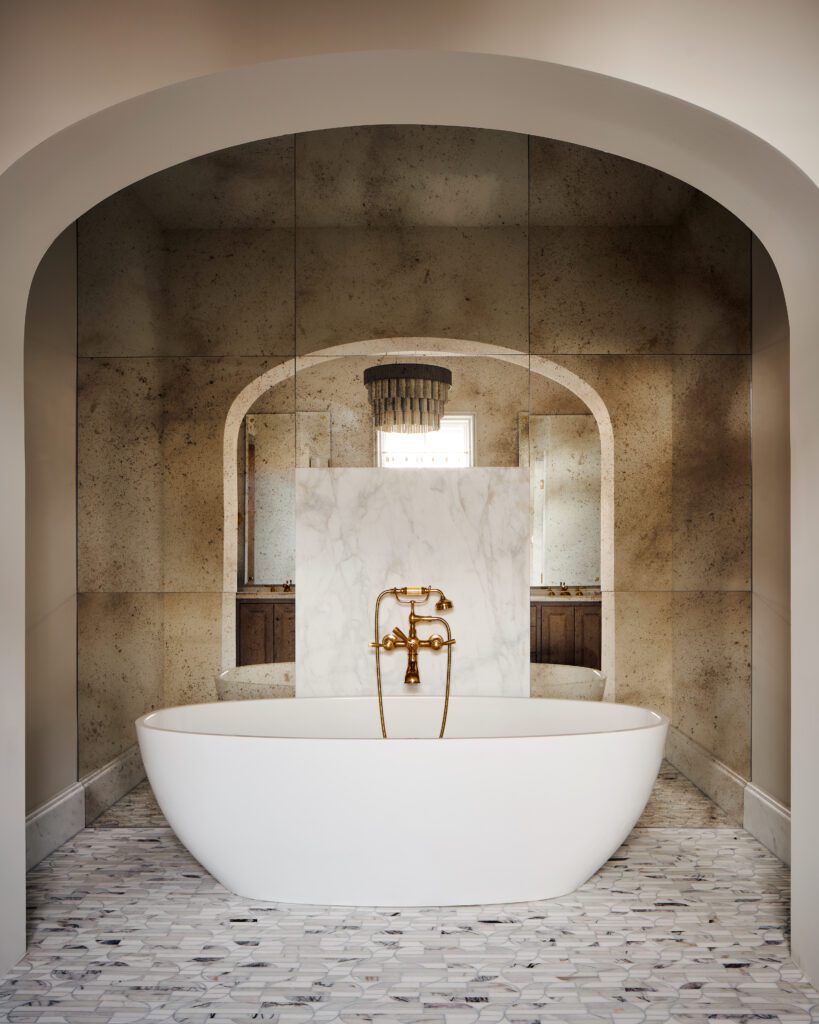 "The primary goal here," says See, "was to provide a tranquil space for our clients. This bathroom truly reflects our client's tastes."
A mosaic marble tile floor, which has hints of purple, was created by Kelly Wearstler, and the Terrazzo slab shower adds a dramatic twist to this space. The antique mirrored wall behind the tub, which gives a "touch of timelessness," is another favorite element.
Spotlight: Streamlined with Maximum Efficiency
If you're looking to bring your kitchen into the future, luxury brand Gaggenau can help. But where to start? The Range, Reconsidered may be a good place.
Seamlessly join together modular cooktops, including the Gaggenau Vario 400 series cooktop, Teppanyaki grill, electric grill and induction with an oven, combi-steam oven, combi-microwave oven, plus a vacuuming or warming drawer below.
Also enticing is the discreet downdraft ventilation. The Vario 400 Series Downdraft System offers uninterrupted sight lines, ideal for open-plan living, plus effortless, quiet cleaning of the air – all without a hood.
Spotlight: Ahead of the Curve
Wine aficionados should invest in Sub-Zero's Designer Undercounter Wine Storage, which offers a sleek and sophisticated solution for storing your favorite bottles. The product – alongside providing guards against heat, humidity, light and vibrations – also comes with endless customization options to fit your space.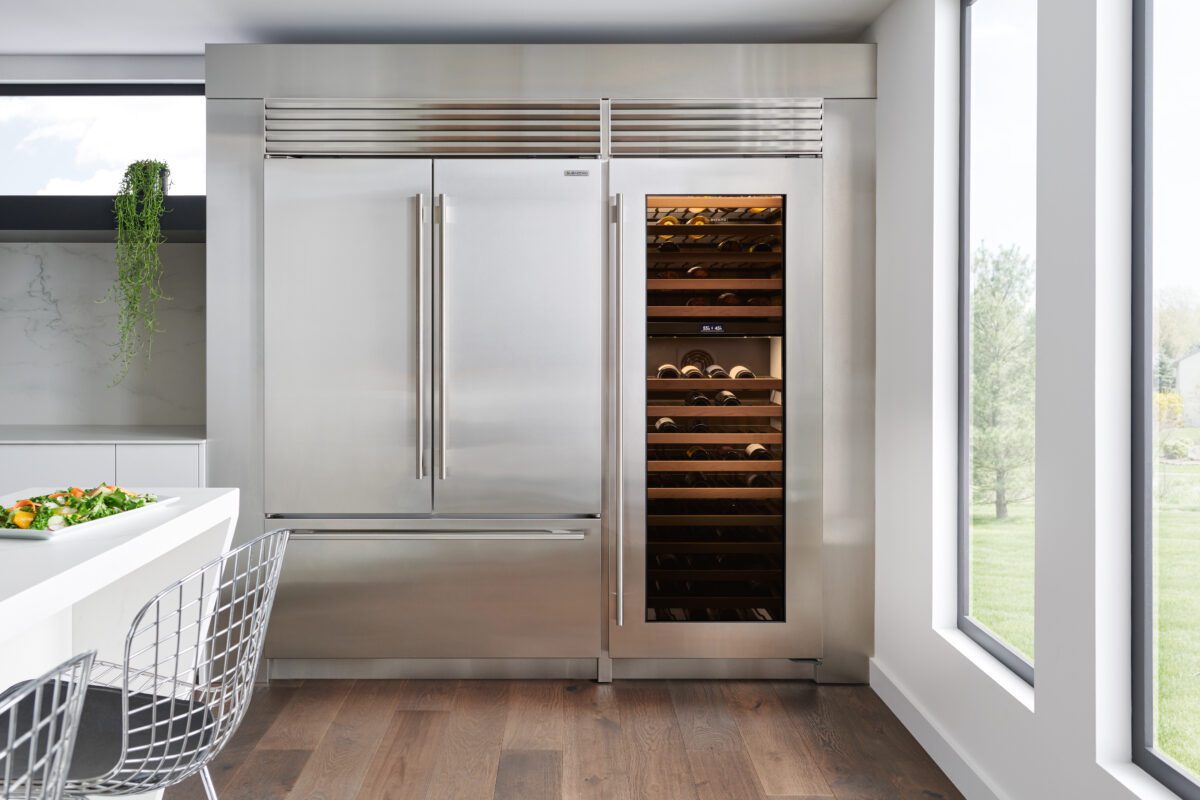 Also from Sub-Zero, the Classic Series Classic French Door Refrigerator offers a timeless design and features like Split Climate intelligent cooling and ClearSight LED lighting. It's available in signature stainless steel and panel-ready options and works to keep food fresher for longer.
Spotlight: Revamp Your Space
Keeping things aesthetically pleasing while delivering the optimum output is where Miele appliances come in.
For those with a love for fresh produce, the PerfectCool Built-in Bottom Mount Refrigerator/Freezer is a must-buy. The product offers active humidification, meaning your produce will stay fresh five times longer. How? The PerfectFresh Active technology converts water droplets into vapor and releases it in the form of a waterfall. Other perks include a built-in ice maker, adjustable glass shelving and uniform temperature distribution.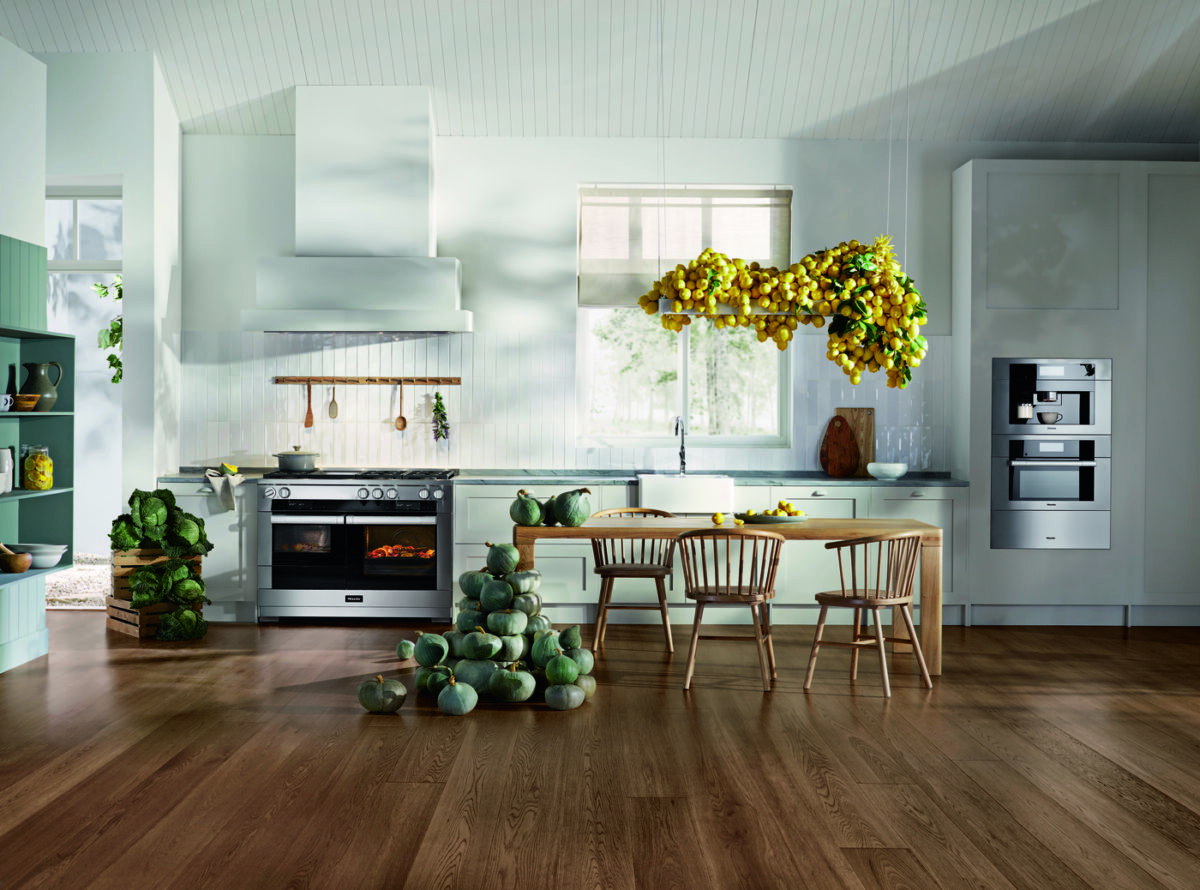 If you're hoping to revamp the entire kitchen, Miele's Generation 7000 line of built-in appliances offers a combinable range of products, from conventional and combi-steam ovens to coffee systems.
Spotlight: Master of the Kitchen
Combining bold and professional style with the newest technologies, the Wolf Professional Induction Range seamlessly integrates within any kitchen and provides precise temperature control.
Another option for dependable and delicious results is the Wolf Induction Cooktop, which presents a scratch-resistant and easy-to-clean ceramic glass surface, along with heat control and nearly instantaneous temperature response.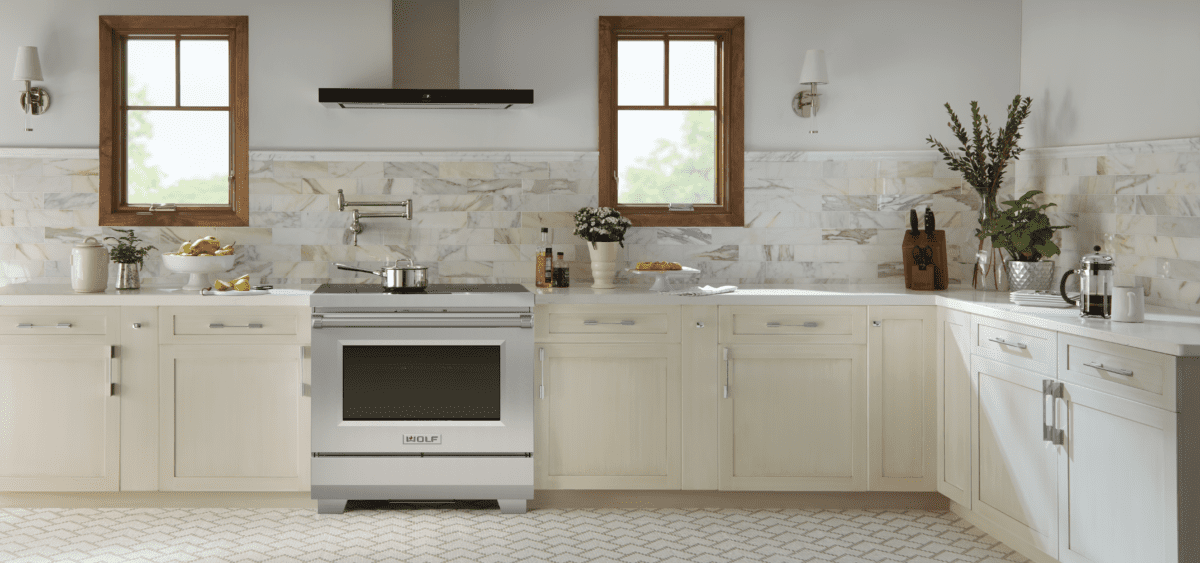 For those still partial to a gas oven, the Wolf Dual Fuel Range is just the ticket – ensuring guesswork-free cooking. The range comes with patented gas sealed burners on top and a Dual VertiFlow convection system below.