When
one of Oklahoma City's most talented chefs and restaurateurs – Jonathon Stranger of En Croute, St. Mark's Chop Room and Ok-Yaki – teams with celebrity chef Fabio Viviani, the result is … oh, just a little ol' Italian joint with the auspicious name Osteria.
The restaurant in Nichols Hills Plaza grew from a casual conversation the once-acquaintances had while Viviani was in Oklahoma for a speaking engagement. The catch-up led to the question that inevitably comes up between all chefs: "What's next?"
"Fabio and I actually reconnected at the school of entrepreneurship" at the University of Oklahoma, Stranger says. "We met up after a talk with students in hospitality and, after a while of conversation, decided it would be fun to do a restaurant together … which has now blossomed into a great partnership."
The Italian word osteria refers to a casual, mom-and-pop type of establishment. The Stranger-Viviani restaurant doesn't appear to be of that variety; however, if you consider the basic elements of Viviani's homey Italian cuisine and Stranger's inclusion of local growers and producers, the concept rings with authenticity.
The restaurant, manned by executive chef Darshon Daines, occupies space that was once a Starbucks. It's been beautifully renovated into an open room full of outdoor light – be it sun or moon – bursting with delicious smells and lively dining. Banquettes line open windows that look to outdoor seating, with plenty of space on the center floor for families.
Daines and crew take pride in making all of their pastas by hand every morning: a squid ink garganelli (a flat noodle, hand-rolled into a tube); spaghetti; rigatoni; fettuccine; gnocchi; and agnolotti, tiny square pillows filled with ricotta and spinach.
It's what the chefs do with these delicious pastas that makes this portion of the menu exciting … and what has made Osteria the talk of the town. From the Roman delicacy cacio e pepe (spaghetti) to a whimsical rigatoni dubbed "carbonara in a jar," all of the pastas are expertly cooked, dressed and presented.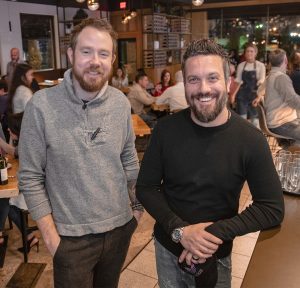 Because Osteria knows that humans do not live on pasta alone (although this reporter could make a good case for doing so when it comes to this restaurant), there are many other roads to travel when it comes to Italian cuisine. Locally sourced wagyu beef from the Iron Horse Ranch in the Pottawatomie County hamlet of Macomb, the pork chop (Milanese), the lamb (ossobuco) or a 12-ounce wagyu beef meatball appetizer nestled in tomato sugo and creamy house-made ricotta will knock you off your seat.
The seafood is an absolute must, too. It's flown sea to table in 24 hours, courtesy of Osteria's supplier. The braised/grilled octopus (yes, octopus) with fennel, romesco sauce and charred lemon has become one of the many stars of Osteria's menu, along with the seared hake and toasted wheat berries.
The expansive bar, which runs the length of the interior, is home to creative shakes and pours, plus aged grapes from Italy to the West Coast. Prosecco cocktails, wines from Chianti to cabernet … you can find your poison for brunch, lunch or dinner, complete with a knowledgeable waitstaff and barkeeps who promise to keep your glass lively and the Osteria experience at a fabulous Cin-Cin.
Brunch is not to be missed. Familiar favorites with an Italian twist are welcomed sights. House-cured salmon and egg pomodoro – along with Osteria's brick-oven-baked pizzas, pastas and paninis – are the perfect match with a pristine cocktail. If you feel decadent, try the Chelsea's Cinnamon Roll from pastry chef Chelsea Berry … delizia!
Keep an eye out for the dynamic duo opening another restaurant this summer. Stranger says the joint is "not exactly Osteria 2, but there will be a heavy, all-encompassing Mediterranean theme to the menu – Italian obviously, Spanish and north African – in the old Urban Johnnie's space downtown."