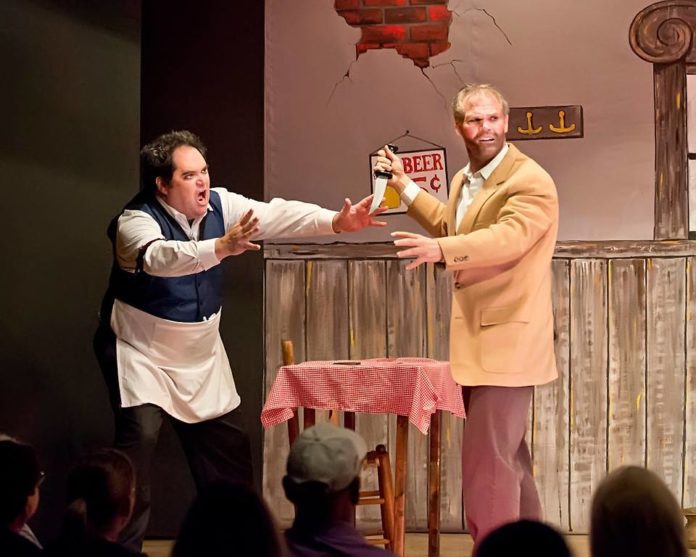 Every Saturday at Tulsa's Spotlight Theatre, you can catch the longest-running play in the United States – The Drunkard. The family-friendly production opened Nov. 14, 1953, and shows no signs of slowing down.
Stage manager Jere Uncapher, a part of the Spotlight since 1957, says the show's long-term success comes from patrons.
"We have continued our run for 66 years by trying our best to put on a show that all can relate to," he says. "The main reason it has been going on for so long is that we have repeat audience members. They see the show and bring friends and family members to see it."
The Drunkard requires audience participation; guests are encouraged to boo, hiss, cheer, applaud and sing. While the show's plot remains the same, the ever-changing cast keeps it fresh.
"We like to have at least three or more [people] for each role, so if you were to come down two weeks in a row … different people appear, bringing their personalities and interpretations," Uncapher says. "One cast member could play the hero one week, and he might be playing the villain the next week."
The Spotlight always looks for new talent for its long-running production and for The Olio, a variety show before The Drunkard featuring singers, dancers, magicians, comedians and other entertainers.
"We have open auditions on Wednesday night," Uncapher says. "No experience is necessary as melodrama is a different type of theater than the normal shows."
The theater, designed by famed architect Bruce Goff and known as the Riverside Studio when it opened in 1928, has hosted The Drunkard since Richard Mansfield Dickinson condensed W. H. Smith's version of the temperance melodrama from five acts to three. Dickinson intended for the show to have one or two performances, but it was so well received that its run was extended.
"The play has stayed the same over the years because our directors saw to it that we put on a very clean melodrama, one that people could bring their entire family to see," Uncapher says. "Our current director, Joe Sears, and his committee are responsible for the integrity of the show."
Sears was nominated for a Tony Award for his play Greater Tuna, which he co-wrote and starred in.
Over the years, some have wondered whether The Drunkard would fizzle out as other theater groups emerged, but the Spotlight continues to be a place where performers can learn to adapt themselves to their roles and hone their skills.
Anyone interested in being part of the show can visit spotlighttheatre.org for details. The theater also needs hospitality workers.
"The performers and hospitality crew are all volunteers," Uncapher says. "We don't pay them except with applause from the audience and seeing the happy faces as they leave after the show. That is the most gratifying thing for me."