I first met Ana Berry a little more than two decades ago, when my filmmaking partner Leo Evans and I cast our feature Café Purgatory. She came to our attention by her father, Milton Berry, who had a leading role in the picture – and she turned out to be absolutely perfect as the young teenager who takes up with Elvis (Darwin Warner) in an afterlife eatery.
Café Purgatory ended up winning a few film festival awards and getting some good regional and national press, which led to a limited video release. But it wasn't until a couple of years ago that Ana Berry's path crossed mine again as she became the new co-host of Film Noir Theatre, my RSU TV series now in its fifth season. In getting reacquainted, I found that Berry had worked diligently and successfully in TV, movies and other media on both coasts before returning home to Tulsa, where she's continued as a creative force.
Most recently, she's been seen and heard to good advantage as the lead vocalist for a band called Bossa, which, she notes, "plays classical bossa nova from the [Antonio Carlos] Jobim family; a lot of beautiful Latin jazz from the '40s, '50s and '60s; cha-cha-cha; mambo; salsa; and some really classic jazz-standard songs that we put to that sexy bossa nova beat."
Only a few months old at this writing, Bossa has emerged as a top act on the local scene.
In addition to her work with that group, Berry continues at the Rogers State University station not only with Film Noir Theater but also as the host of I Want Answers, a popular quiz show pitting teams from area high schools against one another in academic competition. Plus, her interview program Unscripted, which she describes as "a news show that highlights good news, local businesses, and local heroes – the type of news I like to share," runs on RSU TV as well as online at unscriptedok.com and facebook.com/beunscripted.
Then there's This Is Tulsa, another online offering (thisistulsa.com), now in its second season.
"I co-created the show, and it's like Unscripted times 10," Berry says. "It shows the culture of Tulsa, with short videos showcasing what you can do in the city and how you can get involved. My goal is for it to be a social media push to change the narrative of what Tulsa is, to see it for its vibrancy, its culture, its community."
That fits with still another of her endeavors: working with the George Kaiser Family Foundation for the much-publicized Tulsa Remote program, helping young professionals brought to Oklahoma via the foundation's $10,000 grants and other incentives.
While life in her hometown seems to be working out well for Berry, she freely admits that she made the move back from New York "kicking and screaming."
"I came back not by choice," she says. "I was going through a horrible divorce. I was the mother of a 1½-year-old, and I had no other choice but to come back and move into my father's house. I had nothing. And I started over."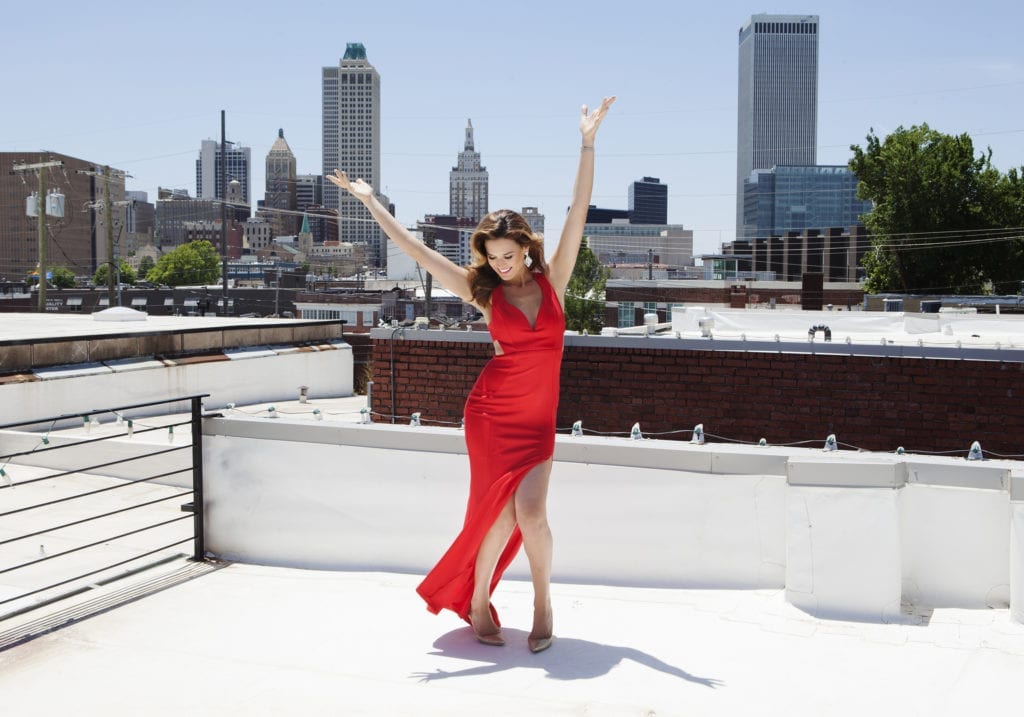 She at least returned with an impressive resume – graduating from the Theatre School at DePaul University in Chicago before heading to Los Angeles to pursue a career in movies and television. While I'd like to believe that it was Café Purgatory that launched her on that trajectory, her drive to act predated our movie by several years.
"Café Purgatory was my film debut, but before that, I did a lot of on-camera stuff with my mom," Berry says of longtime Tulsa television anchor Beth Rengel. "I like to say I was on TV before I could walk because I was always next to her at the MDA telethons or on Christmas commercials – all kinds of things. I feel like I always wanted to be an actress, and I would really attribute it to my parents. My mom, obviously, was in media, and my dad was an actor, so I never knew anything other than, 'I'm going to be an actress.' I always knew I would."
Berry got her first national TV job just after college by playing a flight attendant on an episode of the series Prison Break.
"That tiny little role got me my [Screen Actors Guild] eligibility, and I went to Los Angeles and got tons of small roles in commercials, films and TV. And then I went to New York City, and I was in Blue Bloods, The Following, 30 Rock. I was in The Bourne Legacy. But I was always a reporter," she says with a laugh. "I guess I just had it in me. I knew how to talk. I knew how to interview. And I guess I had the hair and the looks."
She returned home more than four years ago, but it's only been about a year since she came up with the idea for the Bossa band. She readily admits it happened during another challenging time in her life, when she considered going into bartending.
"Then I thought, 'Well, maybe I could sing in a bar. I wonder how much money I could make if I sang in a bar?' Then, by the grace of God, I got together with Edwin Garcia, and he wanted to do some bossa nova."
Garcia, one of Tulsa's top bassists, is known for his work with Mezclave, the long-lived salsa band that Berry had heard and enjoyed. After their initial musical meeting, Garcia suggested the two of them jam again … and Bossa was on its way to being born. When two more top-drawer musicians, guitarist Randy Wimer and drummer Michael Bremo, came aboard, the group was complete.
"They took a chance on me," says Berry, noting that she had neither been in a band nor sung professionally before Bossa.
She caught on quickly, with good results.
"We had a bunch of rehearsals, and on our first gig, we packed out Hodges Bend," Berry says. "Then we packed out the roof of the Mayo [Hotel]. Fast forward a few months, and we sell out Duet. So we're building a name.
"Bossa is a Portuguese word meaning a cool trend, like a wave. Nova means new. So it's this new wave of music. We used the name Bossa because it's just kind of something new and fresh.
With a chuckle, she adds, "And bossa is like a female version of boss."
Of all the musical genres, bossa nova might seem unusual to launch a singing career.
"When I was in New York, I had Carioca roommates," Berry says of these friends from Brazil. "So they were all from Rio, and they were wild, and so much fun. I learned a song from them, 'Chega de Saudade,' which means 'no more sadness.' And truthfully, last March, when I made this decision to sing, I was tired of being sad. I was tired of feeling sorry for myself. And I said, 'I'm going to sing. I'm going to stay creative in this town. I can do this.'
"I didn't want to compete with [vocalists] Annie Ellicott or Branjae Jackson, even though they're my friends. So I thought, 'What can I do that's different and authentic?'"
It didn't take her long to figure that one out.
"I had a travel blog called America's Gypsy when I was back in LA, and in New York I turned that into a [TV] show. I've always been this gypsy. So I wanted to sing in different languages – and what could be better for that than Brazilian bossa nova?"