In Tulsa, not all that far from his old Maple Ridge neighborhood, writer and producer Micah Fitzerman-Blue is having a beautiful day. Along with hundreds of other adults and kids, he and his family members are experiencing first-hand what USA Today has called the "best new attraction" in the nation – Gathering Place.
"I've never seen anything like this in my entire life," he says. "Truly. I've got a 3-year-old here and I'm thinking, 'Yeah, I can take her here forever.' There are a couple of masterpiece parks in London and Berlin that I've seen, but nothing like this. It's world-class."
World-class isn't a bad tag for Fitzerman-Blue himself. After amassing a solid set of writing and producing credentials over the past several years, including an Emmy-nominated stint on the TV series Transparent, he's an executive producer and writer for one of the most anticipated theatrical features of the year, A Beautiful Day in the Neighborhood, featuring Tom Hanks as the late public-TV icon Fred Rogers. In post-production at this writing, the film is scheduled for a Thanksgiving release.
The classic kids' show Mr. Rogers' Neighborhood was still on the air when Fitzerman-Blue would've been a member of its target audience. (It ran for more than 33 years, beginning in 1968). However, the former Tulsan confesses that he was "more of a Sesame Street kid growing up.
"To be honest, I came to Fred Rogers a little later in life," he says. "I write with a partner named Noah Harpster, and when his daughter was about the same age as my daughter is now, she was a real handful. Just on a whim, he put on a YouTube video of Mr. Rogers, and all of a sudden, his little firecracker toddles over and does everything this man says."
He laughs and adds: "And, of course, Noah showed me the video and said, 'Who is this warlock?'"
Deciding they wanted to find out, Fitzerman-Blue and Harpster researched the real-life man behind the TV program. They soon discovered something both unusual and compelling.
"He was in contact with hundreds of people all the time," Fitzerman-Blue says. "He'd pray for them by name. He'd involve himself in the lives of the different people he would meet, people who came to visit him on set or at events, or just people he'd sit next to on an airplane. He was compulsively intimate.
"There was no such thing as small talk for Fred Rogers. He'd ask you how you were, you'd tell him, and all of a sudden he'd ask you for your address or telephone number. And you'd give it to him, thinking, 'Oh, maybe he'll send a head shot, or some kind of Mr. Rogers merchandise.' But he would send you a letter, saying, 'How are you? That thing you mentioned – how's it going?'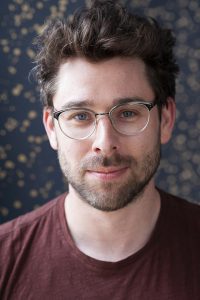 "He'd put it in a very quiet, very ministerial way and help the lives of people he met. It was something he did without fanfare, without credit, out of the public eye. But he did it all the time. He was a Presbyterian minister, and this was his own personal ministry."
However, while Fitzerman-Blue and Harpster found the man "endlessly fascinating," they both came to realize that Fred Rogers' life would be challenging raw material for a straight-ahead biopic.
"As much as anyone I've ever encountered," says Fitzerman-Blue, "he lived his life according to the things he truly believed. He was who he was for a very long time, and then he left us. If you're just telling his story, that doesn't make for a great movie."
Then, the two ran into one of those people whose lives had been influenced by Rogers' ministry – and that ultimately provided them with the tack they needed to take.
"We read this marvelous profile of Fred Rogers in Esquire magazine, written by Tom Junod, a staff writer," Fitzerman-Blue says. "We got to know Tom, to learn about what was going on in his life at the time he was asked to do a profile of Fred, and that for us became the nucleus of the movie.
"It's not a biopic. It's actually about a journalist, inspired by Tom Junod, whose life is in crisis at the time he's given the assignment to do what he thinks is a puff piece about an American hero. What he ends up writing about is not just Fred Rogers, but about himself, delving into the issues of his own life that he never thought he would."
With Junod's story as inspiration, Fitzerman-Blue and Harpster went to the Fred Rogers archives in Latrobe, Pennsylvania, where they sifted "through all these other details, these things that are all based on fact and are part of the historical record, about the specific methodologies and ways that Fred helped people. And we were helped along the way by everyone who was involved in the Fred Rogers company, in the making of the series. Joanne Rogers, his widow, read many drafts and helped consult in big ways and tiny ways to make sure that we were able to portray everything correctly."
Beginning more than a decade before the eight-year process that led to the upcoming Rogers movie, Fitzerman-Blue also got writing help from his teachers and family members in Oklahoma. Unlike a lot of current filmmakers, he was not one of those kids running around town with digital cameras, casting friends and family in no-budget productions.
"I came at filmmaking through writing," says Fitzerman-Blue, who lives in Los Angeles. "I've always loved to write; that's sort of the driver of it all. I watched my dad [Rabbi Marc Boone Fitzerman of Tulsa's Congregation B'nai Emmunah] write and deliver sermons every week; he was a certain kind of role model. I had wonderful teachers at Holland Hall, who really invested in me and my writing. To whatever extent you can take a 15-, 16-, 17-year-old seriously, they took me seriously and gave me the confidence to keep writing. Sharon Irvine, Ron Palma – these are teachers who are still a part of my life.
"No one was saying, 'You're going to be a professional writer one day,'" he adds with a chuckle. "But they engaged with my writing – as did my dad. I remember him reading my first essays and giving me a lot of notes – and me getting really angry and saying, 'C'mon. I'm in seventh grade. This is good enough.' And him saying, 'Yeah, it's probably good enough. But it's not good.'"
Now, Fitzerman-Blue has become a lot more than good enough, even for Hollywood, where he has two more pictures in the can – Magic Camp and Maleficent: Mistress of Evil, both for Disney – along with several other projects in various stages of development. And while he laughingly says, "I'll let you know," when asked when he first felt he could make a career of the movie business, he cites Transparent as a turning point.
"I think being able to come onto Transparent when it was just a web series and we had no idea what we were doing, and then to raise that bar, so to speak, with the incredible community on that series, really helped shape me as a writer," he says. "But early on, I got a great piece of advice from a seasoned writer, who told me, 'Micah, never write your masterpiece. Never think that what you're doing is your masterpiece because it will clog you up and stop you from writing. What you should focus on is the writing, the doing of the thing itself, not having done the thing.'
"Hopefully, every project allows me to continue doing that."