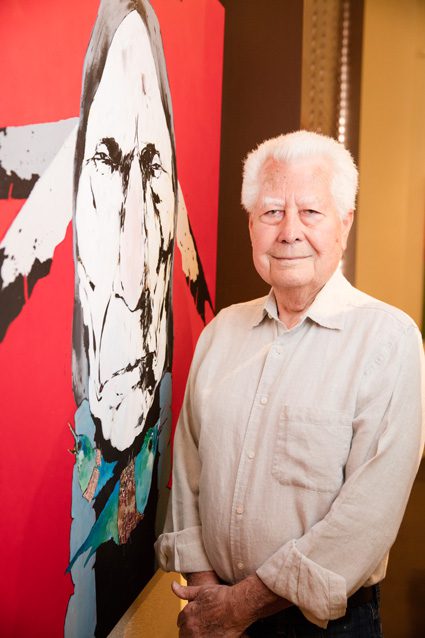 [dropcap]As[/dropcap] a child, Bert Seabourn dreamed of a career as a cartoonist. Today, remnants of that dream live on in the internationally renown artist's paintings.
An American expressionist, Seabourn grew up in Purcell, Okla., and began his career as a Navy journalist and artist during the Korean War. He later became an illustrator, graphic design artist and art director for Oklahoma Gas and Electric Company. He remained there for more than two decades before dedicating his time to becoming a full-time artist.
The Oklahoma Hall of Fame at Gaylord-Pickens Museum currently features 34 pieces of Seabourn's latest works of art. The artist has gone through many phases, but in the last few years his work has become a hybrid: It showcases his inner cartoonist as well as abstract and realist sensibilities.
"It seems my paintings have changed over the years," Seabourn says. "It could be me, it could be the influences. I'm influenced by every good piece of artwork I see."
Every artist needs motivation, and Seabourn says he discovers his in daily life.
"I find my inspiration wherever I can," he says. "It might be in a magazine in the doctor's office, or another artist inspires me."
Seabourn also sketches for inspiration and has hundreds of sketch books that include drawings that often become the paintings he exhibits, like those in the Oklahoma Hall of Fame gallery or in permanent collections around the world. His work is featured in locations like the Vatican, the Smithsonian Museum of Natural History, Moscow State University, the American Embassy in London, the National Cowboy and Western Heritage Museum and the Oklahoma City Museum of Art.
Seabourn says that his artwork is creative expressions of his everyday life, and thus, he likes to have a little fun.
"My artwork is more humorous these days," he explains. "I hate doing anything that looks like a regular face. I also often think my titles are better than my paintings. I have one that features a priest holding an empty wine glass that is titled, Another Blue Nun Please."
He has been married to his number one art critic, his wife, Bonnie, for 65 years. Bonnie says her husband can easily get lost in his work, but that isn't a bad thing.
"He gets so absorbed in his paintings," she says of the great-grandfather to eight. "He can feel bad, or be tired, and go paint and come back feeling better."
Seabourn is not only a painter; he is a printmaker, sculptor and teacher. He regularly teaches at the Oklahoma Contemporary Arts Center in Oklahoma City and the Institute of Fine Arts in Edmond. Seabourn has also also received several notable honors. He is a designated Master Artist by the Five Civilized Tribes Museum in Muskogee and has received the Governor's Arts Award; he also holds an Honorary Degree of Doctor of Humane Letters from Oklahoma City University.
His current exhibit, Bert Seabourn: American Expressionist, features new works from the artist and will be on display until Jan. 9, 2016, at the Oklahoma Hall of Fame at Gaylord-Pickens Museum, located at 1400 Classen Dr., Oklahoma City.