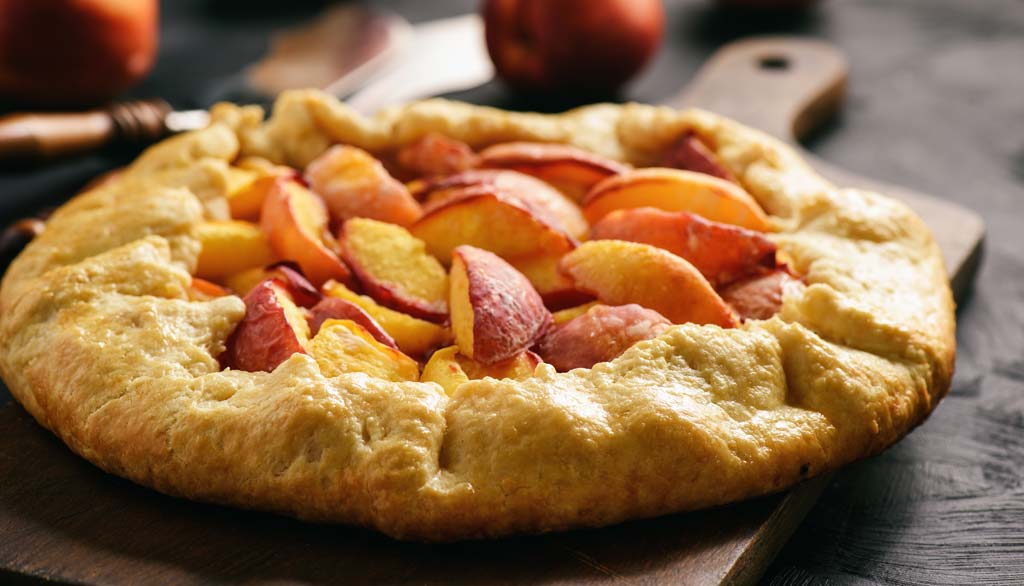 A fleshy, juicy, sweet peach is a delightful dessert – whether eaten whole in hand or sliced over vanilla ice cream. The peach can also provide the filling to a baked treat. The Oklahoma Food Cooperative shares this delectable recipe perfect for harvest season.
Rustic Peach Galette
This free-form dessert is easy to make.
4 cups sliced peaches, frozen or fresh
(if frozen, thaw before using)
Juice of 1 lemon
1/2 cup all-purpose flour
1 cup granulated sugar
1/2 tsp. ground cinnamon
Crust for a single 9-inch pie,
homemade or store-bought
1 tbsp. Half and half or cream
1 tbsp. raw or granulated sugar
Preheat ven to 375 degrees.
Place peaches in a large bowl and add lemon juice. Gently toss.
Add flour, sugar and ground cinnamon to a small bowl and mix.
Add flour mixture to peaches and gently mix.
Roll out crust to a 12-inch circle on parchment paper or a baking mat and place on a baking sheet. Don't stress over the shape.
Pour peaches in center of crust and spread out, leaving approximately a 2-inch border.
Fold edges of crust over the filling. Lightly brush the edges of the crust with half and half and sprinkle with sugar.
Bake for 55 minutes or until the crust is brown and the filling is bubbly.