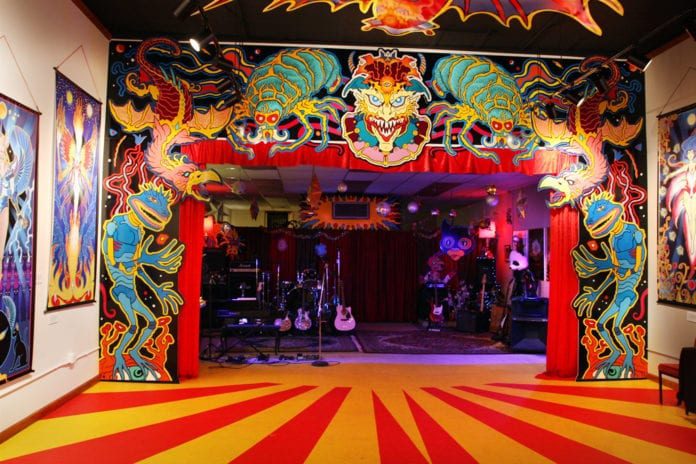 Pauls Valley is a familiar rest stop on the bustling Interstate 35 between Oklahoma City and Dallas-Fort Worth. But those who venture into the city will find a community rich in history and culture, a fascinating museum, and, once a year, one of the most unique fishing tournaments anywhere.
The annual Okie Noodling Tournament – where competitors scavenge for catfish with their bare hands – has been a fixture on Father's Day weekend for the past two decades, and last year brought an estimated 12,000 visitors to town. Although organizers were forced to cancel the tournament this year due to COVID-19, they are planning to resume it in 2021.
In addition to the Saturday weigh-in for the biggest catfish taken from any Oklahoma body of water, the contest features a free Friday night concert, food and craft vendors.
The tournament is the city's largest event, bringing in impressive tourism dollars, says Jason Selman, the tourism director of the Garvin County seat of just over 6,000 people.
"We promote it on billboards, radio commercials and social media," he says, "and we use it to advertise our other attractions."
A September high school marching band and police department car show called Brickfest also brings flocks of tourists to town. Named in recognition of Pauls Valley's estimated 17,000 square yards of brick streets, Brickfest is scheduled for Sept. 26.
"We're not your ordinary small town," says Selman. He is echoed by the city's mayor, Jocelyn Rushing.
"We have people from all walks of life and ethnicities, yet we can come together," she says. "It's not like it's a fairytale, but we work together for the good of the community."
Selman says Pauls Valley has close to 600 hotel rooms, and he and Rushing agree that occupancy will rise once COVID-19 wanes. Several years ago, the city adopted a 5 percent lodging tax, with the money dedicated to tourism.
Prominent among these tourism draws are the Stark Art Gallery and the Toy and Action Figure Museum, opened in 2005 in a former downtown department store. The 7,000-square-foot museum has had over 50,000 visitors from every U.S. state and 40 countries, says local artist Kevin Stark, the museum's curator. He believes it to be the only museum in the world dedicated to action figures.
Downtown Pauls Valley also offers visitors the restored Santa Fe Depot Museum, where historic photos, railroad memorabilia and a 1902 Santa Fe steam engine are displayed. The location doubles as a working train depot, where the Amtrak Heartland Flyer stops twice daily on its run between Oklahoma City and Forth Worth.
The city's name derived from North Carolinian Smith Paul, who settled in the area in the 1800s after spotting the rich river bottomland on his way west with a wagon train. Returning years later, he homesteaded it when it was part of Indian Territory, Ark., and mail was delivered to 'Smith Paul's Valley.'
Mayor Rushing says the community's strong spirit was evident as the city fought to keep its lone hospital open – an effort that included passing a 1/2-cent sales tax.
"It didn't save the hospital," she says, "but the community rallied together to try."
A Walmart distribution center that employs about 650 people is the city's largest source of jobs, says Sherri Wing, president of the Pauls Valley Chamber of Commerce. Wing says Pauls Valley's economy is diverse, including manufacturing, agriculture, and oil and gas.
Rushing says that Pauls Valley, like other communities, has suffered economically during the COVID-19 pandemic, but will rebound.
"We're right on the [I-35] corridor," she says. "Once sports and events pick up, our hotels will fill back up. When construction picks up, I look for us to bounce back."