By Stephen Hunt and Mary Willa Allen
The Life of a Student Athlete
Collegiate student athletes are creatures of habit, with lives featuring rigid in-season schedules on top of classes, meetings, study halls, practices and games.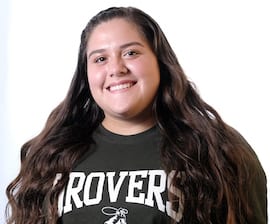 However, when COVID-19 struck in mid-March, seasons were canceled, immediately sending collegiate athletes into a state of flux.
"That's been weird for sure," says Dylan Gardner, a member of the Oklahoma State University baseball team. "It was super sudden. Not being in the facilities to work out has been frustrating."
No matter the sport, striking the right balance between academics and athletics can initially be difficult for many.
It certainly was for Arlette Melendez, a junior track and field thrower for the University of Science and Arts of Oklahoma. The Oklahoma City native was a 4.0 student in high school.
"My freshman year, I got a D," she says. "Getting home at two in the morning and then having class at 8 a.m., doing homework on the road, that was the tough part. After my freshman year, I improved my study habits, which helped me in the classroom."
Her efforts paid off; in July, she earned a Scholar Athlete Award from the Sooner Athletic Conference.
University of Tulsa senior Martina Okalova was named the 2020 American Athletic Conference's Scholar Athlete of the Year for women's tennis, an award she credits to her simple approach.
"It's mostly about time management," she says. "I was able to do it mostly my whole career. I was just trying to go to practice, then come home and try not to socialize, but do that extra schoolwork and everything I could for tennis as well."
Besides offering study halls for student athletes, universities also have tutors available when needed, and ensure teams get whatever resources they need to complete classwork on the road, like high-quality WiFi on team busses and at hotels.
But time management and balancing academics are not the only resources schools provide. Others include life skills programs which address etiquette, managing mental health and resume writing.
One thing today's student athlete deals with that previous generations did not? Social media.
Southern Methodist University basketball senior Tyson Jolly, an OKC native who previously played at Baylor and Trinity Valley Community College, doesn't remember coaches in his youth having a social media philosophy.
"[At Baylor] they told us, 'don't go crazy,'" says Jolly. "We didn't really get a speech at Trinity Valley. [My SMU head coach Tim Jankovich] said, 'Be careful what you say to the media and on social media.'"
However, knowing coaches are monitoring her social media is enough to keep Melendez from posting anything questionable.
"They see what I post," she says. "Just knowing that I have them on social media makes me not want to post something that might hurt me."
Each student athlete profiled has seen the silver linings from having their respective routines upended by the pandemic. Gardner, Melendez and Okalova have savored the opportunity to return home and see family and friends, while Jolly has mostly remained in Dallas to continue working out with his coaches and teammates.
"It keeps your hopes up, because there's been a lot going on," says Jolly. "Just being there with your teammates and coaches and getting your work in keeps you alive, keeps you grounded."
Gardner, a pre-med/economics major who aspires to be an emergency room doctor, landed a job, started applying to medical schools and preparing for the Medical College Admission Test during his downtime.
Originally scheduled to graduate this spring, Okalova changed her major after this season was canceled, petitioned for a fifth year of eligibility – a request which was granted – and will return as TU's team captain this fall.
"It's very exciting," she said. "I'm really looking forward to it."
-SH
The World of Recruitment
Due to COVID-19, the NCAA suspended in-person sports recruiting through Aug. 31.
Normally, Division I schools can begin electronically contacting football prospects after Sept. 1 of their junior years. For basketball, that date is after June 15 of their sophomore years.
Every sport has designated contact periods (contact allowed), live periods (in-person visits), dead periods (no in-person contact), and quiet periods (student athletes can only visit coaches on campus). But how does a collegiate athlete get noticed? Coaches often have relationships with recruiters and tell them who to observe. Others get noticed when recruiters attend games to scout another teammate.
Ultimately, recruiting boils down to fit, for both the athlete and the institution.
"You have to go to a college where you fit," says Jolly. "It's not about how good a player you are."
Sometimes, an athlete gets recruited for one sport … but plays another.
"I got recruited for volleyball," says Melendez. "After my freshman year, they asked me if I wanted to be part of the track and field team. I was the first female thrower in program history. I wanted other kids to know that girls can do this, too."
Okalova was recruited by assistant coach Lenka Broosova, who hails from her Slovakian hometown.
"My parents knew her pretty well," says Okalova. "We started talking. I was like, 'Yeah, I'm going to Tulsa.'"
-SH
An Update
from Pro Teams
Professional sports, like most other industries in the U.S., suffered at the hands of COVID-19. The game that was dealt the brunt of the blow was minor league baseball, which lost its entire season.
"A total of 140 games," says Brian Carroll, the public relations rep for the Tulsa Drillers. "It was the first time since 1945, during World War II, that Tulsa did not have a summer of professional baseball."
The organization, however, made the best of a tough situation.
"Everyone has remained positive and has used to time to plan for the future and improve things that might get pushed aside during a busy summer," says Carroll. "Also, the Drillers organization fielded a baseball team in the Texas Collegiate League that played 30 games."
Ben Beecken, director of marketing with the Oklahoma City Dodgers, says the team is looking forward to a regular 2021 baseball season.
"We anticipate our enhanced cleaning and sanitization measures to carry forward into the foreseeable future," he says. "Our fans are telling us they are eager for baseball to be back at the ballpark. We anticipate that opening day next year will be an exciting event in OKC."
For professional soccer, the pandemic's timing couldn't have been worse.
"We played our first game of the season on March 7 and then everything shut down the following week," says Tyler Vaughn, the communications manager for Energy FC in Oklahoma City. "Once the return to play was announced, it was decided a shortened schedule would be necessary. So, we went from having a 34-game season to just 16 games."
During the downtime, Vaughn says the team utilized video apps Zoom and Slack to keep up with workouts. Regular season play resumed in mid-July, with some major changes that include 38% maximum capacity, mandatory masks when fans are seated and sanitation measures.
"[The team] is required to undergo weekly COVID-19 tests, and we are pleased to report that all tests have come back negative so far," says Vaughn.
For the FC Tulsa, the team will play a total of 15 matches through Oct. 3, including eight home matches at ONEOK Field.
"We are excited to be the first team to usher back in live professional sports for the city of Tulsa," says Austin Gwin, head of digital and communications for the team. In their downtime, the team and its staffers strove to help vulnerable Tulsans.
"We worked with the Tulsa Area United Way and the Tulsa Foundation to put proceeds from all merch sales during the pandemic towards the Tulsa COVID-19 Response Fund," says Gwin. "FC Tulsa also made a matching donation of $500,000 to Philbrook Art Museum to assist their community efforts and help them during the crisis."
All eyes are now on the NBA, which resumed gameplay in late July in a contained 'bubble environment' in Orlando, Fla. Each team played eight seeding games, which determined playoff standings. The postseason will commence in a traditional format … minus fans in the stands.
Dan Mahoney, the Oklahoma City Thunder's vice president of broadcasting and corporate communications, says the team is taking health protocols very seriously.
"We're happy to be playing basketball again, but we are very focused on keeping everyone safe and healthy," he says. "The NBA has done an historic and wonderful job to develop and maintain a safe environment. Everyone is tested daily, and everyone is wearing masks at all times in public, adhering to the rules, because they all understand how important it is."
-MWA