Rising water isn't typically a problem for a submarine – in fact, it's a necessity. These mammoth instruments of war are designed to submerge and dive to crushing depths in the ocean.
However, when flooding in May reached historic levels in Muskogee, staff and volunteers at War Memorial Park, including executive director Brent Trout, worried about their submarine, the USS Batfish. Their fears came true when high waters inundated the vessel, which broke from its mooring system.
Renovations have taken many months and much money.
The Batfish, a World War II Balao class sub, has been on display in Muskogee for nearly 50 years. After notable service in the Pacific Ocean, the Batfish became a museum and a tribute to brave submariners. Trout says many people don't realize the important role submarines played in World War II's Pacific theater.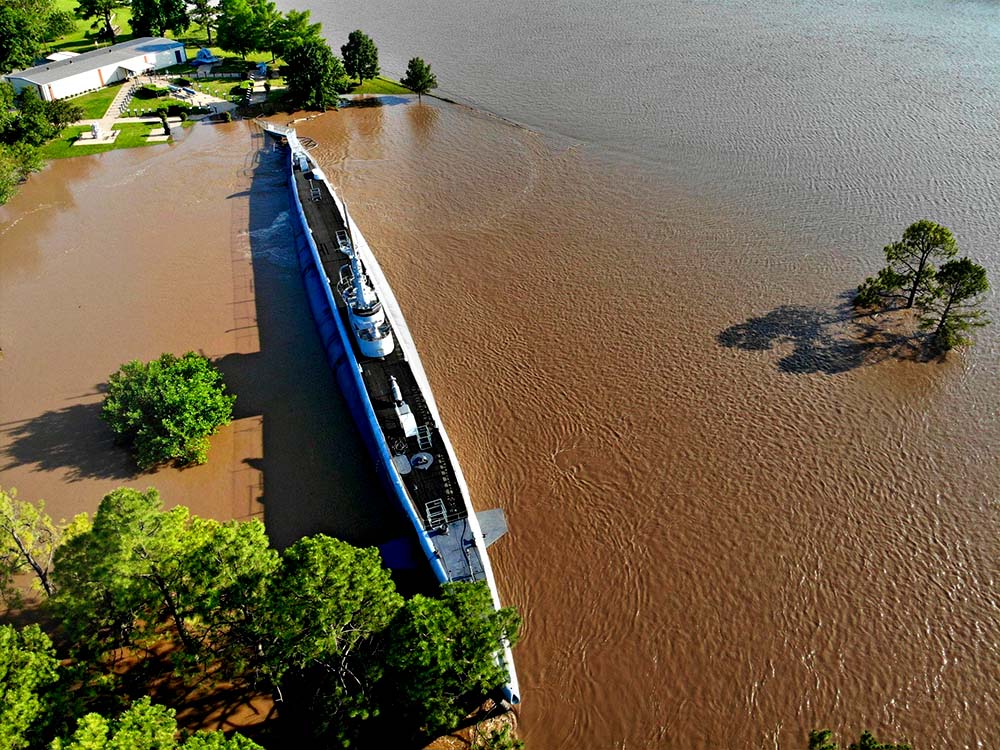 "The submarines strangled the supply line of the Japanese and acted as a long-term difficulty with sustaining war," he says.
The Batfish sank three Japanese submarines in a span of just over three days and 15 enemy vessels overall.
"On a greater scale, the USS Batfish is special because it represents the sacrifice of so many sailors in World War II," says Trout, adding that the U.S. Navy's Submarine Service had the highest fatality rate of any of its branches during the war.
Today's threats to the Batfish are much different.

"The flooding is not what threatened us," Trout says. "The complete collapse of the berm, the mooring system [for the sub] and record level flooding presented issues to the preservation and overall placement of the USS Batfish."
The vessel drifted 30 feet. Contaminated flood water damaged a protective layer of paint and corroded the hull, he says. Two compartments took on water, raising the humidity inside the sub and creating other preservation issues.
About $1.4 million in repairs and restoration to the Batfish are underway, with fundraisers accounting for about $30,000 of that. While the new location of the vessel becomes permanent, stabilization is a priority.
"The Batfish shifts … and is rolling slowly toward the port side," Trout says. "We have placed temporary preventative measures, but the ground around the Batfish is eroding, and this will present more problems as we go."
Trout says staff and volunteers have cleaned contaminated areas, rid the inside and outside of corrosive materials, and used dehumidifiers to dry affected areas. They need to paint the sub, replace flooring and continue repairs on the grounds. All of this must be done with proper restoration practices.
"We work closely with the United States Navy and their museum system for conservation [and] preservation methods to supplement our own experience," Trout says.
At the time of this writing, re-opening of the Batfish is anticipated for October, but much is uncertain when working with a 76-year-old submarine. What is certain is a reopening celebration, complete with an onboard concert, living history demonstrations and fireworks, Trout says.