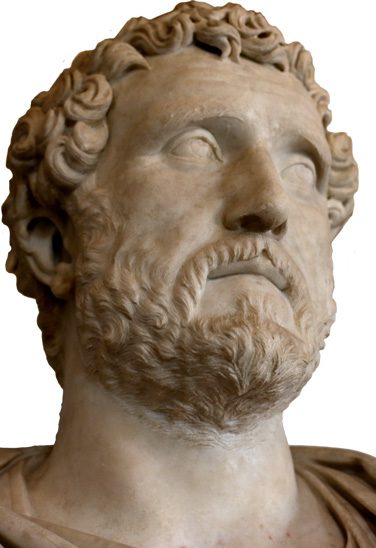 [dropcap]Roman[/dropcap] sculpture was molded by the Greeks. Both cultures idealized their rulers in statue. An example of this can be observed during Imperial Rome, 27 B.C. to 476 A.D., in the portraitures, or busts, of Roman emperors, including Augustus, Tiberius, Nero, Vespasian, Titus, Probus, Constantine and many more.
Now, a selection of those Imperial Roman sculptures arrives in the United States for the first time, and the University of Oklahoma's Fred Jones Jr. Museum of Art welcomes the relics' significance.
Opening Sept. 4, Immortales: The Hall of Emperors of the Capitoline Museums, Rome comes from a collection of the world's oldest museum: Capitoline Museum. The museum, dating back to 1471, takes pride in its collections that are closely linked with the city of Rome, including the 20 busts ranging from the age of Augustus (first century, B.C.) to the late Roman Empire (fifth century, A.D.) that make up this exhibit.
Within Immortales, three themes are explored: how portraitures served as propaganda; how they revealed social status, character and ideology; and the role of the family in maintaining Roman society.
The style in which the portraitures were created helped convey these ideologies. Leading up to Imperial Rome – what was known as the Republican era (509 to 27 B.C.) – Romans favored Hellenistic sculpture, a Greek style that reflected realistic depictions of facial features and expression to convey personality and uniqueness. As Rome turned the corner into 27 B.C., we begin to see the influence of Greek's Classical model, one that idealized human forms.
The ability for audiences today to study, explore and enjoy these artworks, created in as early as the first century and depicting the individuals who built, destroyed, terrorized and ultimately ruled one of the most powerful empires in history, allows their legacies to live on. The exhibit's title empowers this notion: Immortales, Latin for immortals, stems from Hippocrates' aphorism, Ars Longa, Vita Brevis, which means, "art lasts forever, while life ends."
On display through Dec. 6 in the Lissa and Cy Wagner Gallery, Immortales offers related programs that include a student opening party on Sept. 6 in the gallery – students are encouraged to wear a toga; family day on Sept. 20; a gallery talk on Sept. 22 with Francesca Giani, the exhibition curator and OU art history graduate student; and a symposium and reception on Oct. 22 that will explore the history and art history of Imperial Rome. Speakers include Susan B. Matheson, the Molly and Walter Bareiss curator of ancient art at the Yale University Art Gallery; Dr. Noel Lenski, professor of classics and history at Yale University; and Dr. Christopher Celenza, co-director of the Singleton Center and Charles Homer Haskins professor of classics and German and romance languages and literatures at Johns Hopkins University.
The Fred Jones Jr. Museum of Art, 555 Elm Ave., Norman, is open Tuesday through Saturday from 10 a.m. to 5 p.m., Thursday until 9 p.m. and on Sunday from 1 to 5 p.m. For more information, visit www.ou.edu/fjjma.