[dropcap]With[/dropcap] a motto of, "We'll make the mess, and save you the stress!", that's exactly what they do. Husband-and-wife duo Mike and Bridgette Skow, owners of Dinner's at 6, created their family business when their oldest child was an infant.
"We both worked full time," Bridgette Skow says. "We needed the service and couldn't find it anywhere, so we just decided to do it ourselves."
That service – preparing and packaging meals for families, couples or individual to pick-up or have delivered – allows their customers to spend more time with their families, run errands or just relax after a long day of work.
With more than 300 recipes on hand, Dinner's at 6 crafts monthly menus that cater to all households, the end of each month always welcoming new and tasty options for the month to follow. Various packages allow customers to purchase just the right amount for their families.
Included with each entrée is nutritional information and cooking instructions. Dinner's at 6 does all the preparation, so all that's left to do is pop your order in the oven and enjoy.
August's regular- and family-sized menu included Cheddar Bacon Burgers, Cranberry Pineapple Pork Roast, Honey Mustard Glazed Chicken Wraps, Italian Chicken Calzones, Orange Ginger Salmon, Shrimp and Garlic Pasta Toss, Chili Lime Tilapia, Marinated Steaks, Lasagna Roll-ups, a Bacon Spinich Breakfast Bake and Spinich Artichoke Chicken Pasta, among others. Many times, Dinner's at 6 prepares selections off its regular menu to accommodate those wanting a lighter option.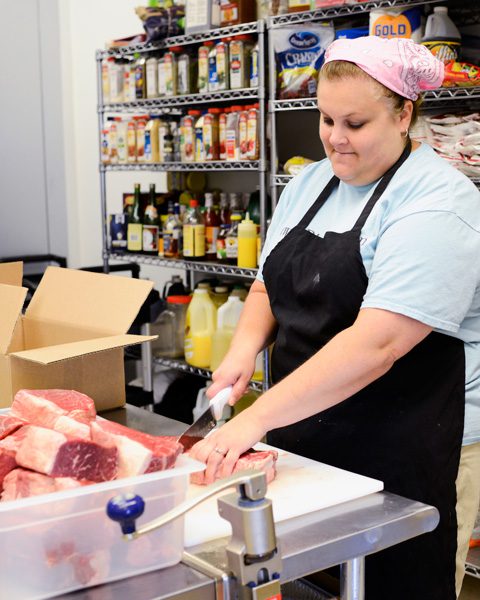 "Lasagnas are always popular," Skow says, "as well as the calzones. We have [a calzone option] every month but change the filling."
To place an order, visit Dinner's at 6's website, pick out entrees and choose a pick-up time. Delivery options are available for an additional charge.
It's not only locals that enjoy the accessibility and taste that Dinner's at 6 offers.
"We have people coming from all over," Skow says. She adds that customers come from an hour or more away for the convenience they get to take back home with them.
There are also customers locally that express their gratitude for the time Dinner's at 6's service gives back to their families. Recently, Skow dropped her son off at daycare, and a customer whose child is in her son's class commented on how thankful he is for the service.
"He said to me, 'I'm a religious orderer,'" Skow says.
He told her that when he goes out of town for work, Dinner's at 6 fills his absence, allowing his wife to work full time and take care of their two kids.
"Most people are really thankful for the convenience," she adds. 4652 W. Houston St., Broken Arrow. www.dinnersat6.com