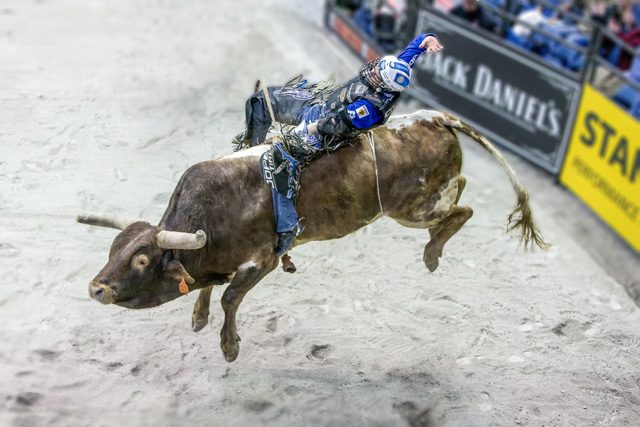 [dropcap]Hulbert[/dropcap] native Ryan Dirteater has been having a banner year in the Professional Bull Riders Built Ford Tough Series in 2016 – he has three first-place finishes this season and ranks eighth in the world as of press time. The 27 year old has been riding bulls since he was a child, and he started riding in the PBR in 2008, making the finals in his rookie season. We recently caught up with Dirteater and got his thoughts on…
… his year so far.
I think just all my preparation and hard work is just paying off. I'm drawing good bulls, and I'm getting done. It's all falling into place.
… how he started bullriding.
My dad rode bulls, and I grew up around the rodeo lifestyle. I roped since I could walk, and we were just at the roping pen one day when I was nine or ten years old, and I decided I wanted to get on a steer. I knew I wanted to do it, and I loved it. It was something I dreamed about doing. I watched PBR at that age on that TV and wanted to be at that level.
… what it takes to prepare for an event.
It's just like every other sport. You want to stay in good physical shape and mentally prepare for your event, watch films just like a football or baseball player. They're watching films, they're getting ready to go out, and that's what we're doing. We're just getting ready to ride bulls.
… the amount of time he spends training.
If you're a bull rider, you're doing it full time, and if you're one of the top 35 bull riders in the world, that's all you're doing. There are thousands of other guys trying to get your spot, but usually once you get at that level and you've proven you're going to stay there, you're doing bull riding full time at the Built Ford Tough level. You don't have time to have another job, and you're making a good living at it.
… his career goals.
If you can make it 10 years to the PBR finals, you're a legend in the sport. You've got a lot of guys that make it a handful of times, and then that's it. You don't see them again. But if you can put in a good 10 years in the PBR finals, that's great. Retirement age is about 30-35. There are a few guys that are about 37, 36 or 37, but I won't be riding when I'm that old. I'm going to be riding until I'm 30. 30 or 31.
… advice for starting bull riders.
If you're going to do it, dedicate yourself to the sport and put in the work and you'll get back what you put into it. There is a lot of money, and that money don't last forever. Get it while you're young and get out of it.