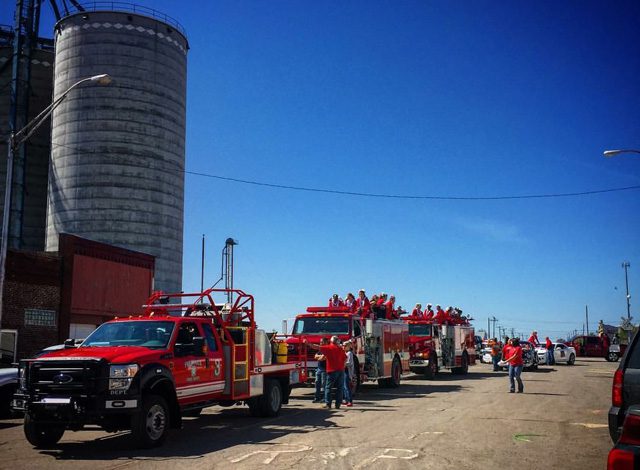 [dropcap]The[/dropcap] farming community of Frederick, tucked away about 40 minutes west of Lawton, may be one of the best-kept secrets of small-town Oklahoma. Though it's home to only 4,000 residents, it's a living contradiction and well worth the drive to experience it.
"We're small, but we're mighty," says Felisha Crawford, the Frederick Chamber of Commerce's executive director. "I've got a 13-year-old daughter, and I don't hesitate to let her go downtown with her friends. We all look out for each other. Our school has excellent technology, but when you drive downtown to a restaurant, it's common to see a pickup with a trailer and cowboys in spurs."
Despite being a small community, there are plenty of events and attractions in the city, including the Cotton Festival on Nov. 5. Agriculture – especially cotton – plays a large role in Frederick's economy, and the city has been celebrating its most important crop for more than 10 years. The festival this year will include events like a chili cook off, the Little Miss Cotton Boll and Maid of Cotton pageants, Trade Day and Downtown Market.
The town's annual oyster fry, held every third Saturday of February, is another big draw. Mayor Eddie Whitworth estimates that it draws roughly 1,000 people from around the state. Featuring fresh oysters brought from the Gulf of Mexico, it has been a Frederick tradition for over 20 years.
Visitors also travel to the town for "Open Hangar Days" at the army's World War II Airborne Demonstration Team at Frederick Regional Airport. Twice a year, soldiers from around the globe attend the school to learn the fine art of parachuting.
"It's quite a thing to stand out in your front yard and watch those parachutes open as they jump out of the airplane," Whitworth says. "That's a big highlight."
The city also has many sites available year long. Oklahoma bird watchers flock to Frederick's Hackberry Flats. A 5,000-acre natural wetland, it's home to a number of birds that can't be found elsewhere in the state. Another attraction is the Crawford Collection, which displays stuffed and mounted animals from around the world. They are the fruits of Bill Crawford's numerous safaris.
"There are beautiful dioramas set up for all of the animals so that you know what it looks like in the country the animal came from," Crawford says.
Some people may not see Frederick as a tourist destination, but the city is working to become one. The town offers tour buses for explorers, and a small flat-fee price entitles tourists to all the sites and food for free.
"People don't think of small-town America as a tourist destination," says Crawford. "But we're a tourist destination. We have a multitude of things for people to do and people come back. They love it here. They enjoy how warmly they're treated."
Frederick is less than an hour from larger cities like Lawton and Wichita Falls, Texas, so the city's small-town support doesn't come at the cost of urban amenities. Residents can get what they want when they need it and still live in a community with a small-town feel.
"It's just a quieter atmosphere. You don't have to fight traffic," says Whitworth. "It's just a good place.