While I don't want to give anything away, I need to call attention to a bonus track on Stoney LaRue's brand-new CD, Onward, that's liable to give chills to any longtime follower of the Oklahoma-born Red Dirt music scene.
Called "High Time," it's a languid call to revisit the friends and the joys of the past – in spirit, an analogue to the classic Beach Boys hit "Do It Again." And the first voice you hear isn't LaRue's, but the distinct, hard-edged, honky-tonk tones of Brandon Jenkins, the Red Dirt star who died in 2018.
"That was the last song we wrote together," LaRue says. "We wrote it together in Nashville, at my manager's place, in his basement. Brandon walked in, and I'd never seen him so excited about getting a song out. I just thought he was all pumped up on espresso or something."
He laughs.
"But he came in, and he was like, 'Man, I've got this song! I just feel like I've got to get it out,'" LaRue says.
While "High Time," with LaRue sharing vocals, appeared on Jenkins' last disc, Tail Lights in A Boomtown, LaRue says it needed to be on Onward as well because "it's an ode to Brandon."
The song is far from the only memorable track from the new album, for which LaRue was joined by fellow performer, songwriter and producer Gary Nicholson, an award-winning music industry veteran who's written a passel of country hits, including Vince Gill's "One More Last Chance" and Don Williams' "That's the Thing about Love." Impressive as Nicholson's country music resume is, his efforts extend well beyond that genre and take in names like Ringo Starr, bluesman Buddy Guy and many others.
"He's written with B.B. King, he wrote a lot of Delbert McClinton's stuff, and he played with [Billy Joe] Shaver for eons," LaRue says. "He's been on the road since the late '50s. I stayed in his house while we were writing, and when I looked at his mantle, there was more than one Grammy there. But, all his accolades aside, I was sitting there in the room thinking, 'I'm here for a reason. Let's see what it is.'"
Soon enough, he found out.
"I'd go back and forth to write with him, and every time we were together it'd be for a day or two, and we'd knock out two or three songs each day," LaRue says. "After a while, we had a theme going, and I guess that's how it became what it was for the record – it had this air, this essence."
The theme has to do with romance in all of its manifestations, but especially the darker side, the times when realization seeps in that a relationship just isn't going to work. Onward certainly has romantic tracks, especially "Drowning in Moonlight," a beautifully rendered piece of idyllic nostalgia, but many of them deal with the grinding inevitability of busted love. That feeling permeated the record so much that Nicholson and another veteran Nashville figure, Shawn Camp, wrote a new song for LaRue that fit perfectly with the ones Nicholson and LaRue co-wrote.
As the songs came together, LaRue says, "I wanted to do a little homework, as far as self-help and introspection, to … figure out what was really going on from my point of view – or just from a life point of view. I mean, hell, at that point I'd been on the road for maybe 15 years. I wanted to figure out why whatever was happening was happening and make sure that it never happened again."
Like most Red Dirt acts, LaRue came out of Stillwater. Born in Taft, Texas, he graduated from Stillwater High, where, he points out, he played the school's athletic mascot, Peter Pioneer. ("I'm wearing a different mask now," he says with another laugh.)
On the young end of that pioneering group of Red Dirt acts, he visited the scene's focal point – a building and grounds known as the Farm – at the very end of its run.
"Of course, I've gone out there since then, with Monica Taylor and the [Red Dirt] Rangers a few times, and even with [the late Bob] Childers, when they started holding things out there for the Red Dirt Relief Fund and things like that," LaRue says. "But the first time I went out, they told me, 'This'll be the last time we'll be out here.' I remember sitting around the campfire with Scott Evans and Tom Skinner and doing what people did at the Farm. If I remember correctly, I was the last to go down. And man, it sucks that I missed it. But I get it."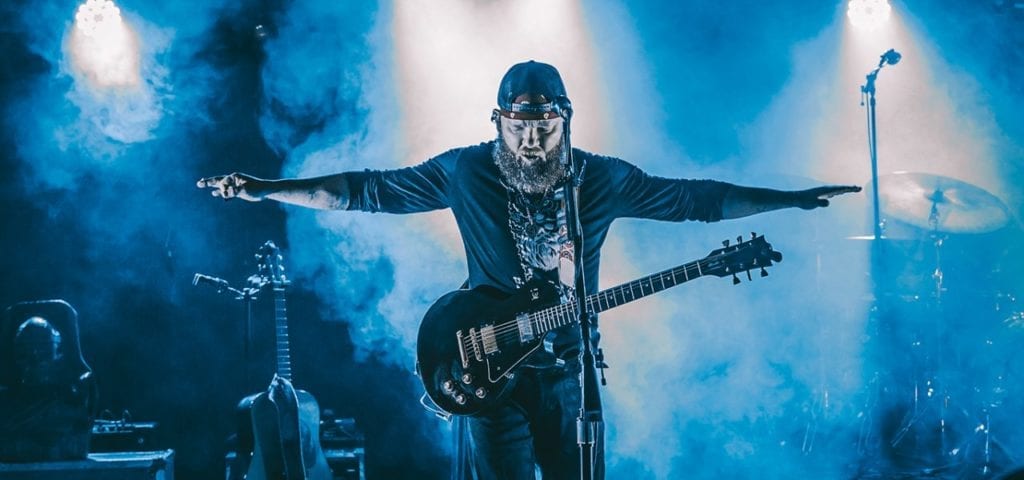 After a stint in the Army, LaRue returned to Stillwater and lived in the second Red Dirt hotspot, a building that became known as the Yellow House.
"Jason Boland and Cody Canada were there then, and [Mike] McClure and Coop [the Red Dirt Rangers' John Cooper] would come over. So would Skinner," LaRue says.
Cooper and Skinner, longtime Farm habitues, were among the first wave of Red Dirt artists, years older than the Yellow House bunch. Still, LaRue says, "The great thing was the respect we had for 'em. Everybody there looked up to their elders, if you will."
LaRue still looks up to his elders, even as he has become a veteran performer with, at last count, more than a million record sales to his credit. The new disc, for example, features an engaging reworking of Merle Haggard's 1984 hit, "Let's Chase Each Other Around the Room." It's a tribute not only to the country artist often called the Poet of the Common Man, but also to LaRue's grandfather, who was a primary caregiver for LaRue and his brothers.
"I listened to all those outlaw-country guys growing up, and the Hag, man – he was completely blue collar," LaRue says. "And my grandpa was a Democrat. We wore Velcro shoes, Rustler jeans, one-color Fruit of the Loom shirts, and we had flattops. I think I missed a generation with my raising, but I'm certainly catching up with it now," he says with another laugh.
LaRue himself is one of Red Dirt's leading lights.
"Well, I think it's the same as with any craft," he says. "If you plant the seed, and you water it and take care of it, it kind of plays with you and for you. I do it for the fans, and they do it for me. It's therapy for me, and it's a way for me to think that I'm actually legitimately doing something positive for the earth, for the cosmos and the universe. I think it's that important.
"People are listening to something, and they trust you whenever they're hearing your songs. I've listened to stories from people who've come back from war, or from serious injury, both mental and physical. Some just say they've been listening to me since they were 8, and now they're in their 20s. It's pretty mind-blowing. They've trusted this music, and it's molded them, in a way.
"So this is what they tell me, and every time I hear something like that, I hold it just a little more sacred. I can't wait to be a grandfather to this music."