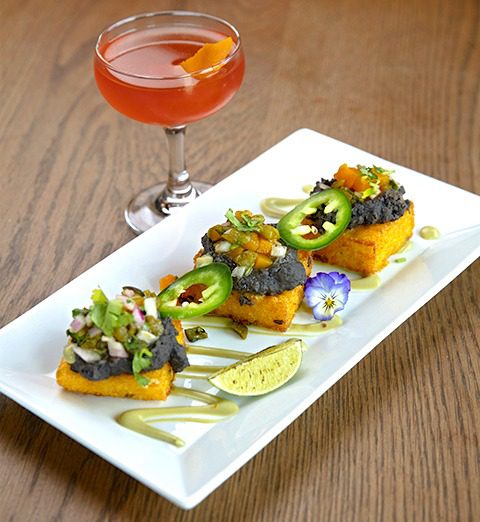 Despite the Dust Bowl and the middle of the Great Depression, Oklahoma City was a surprisingly hopping spot for new businesses and ventures. In 1937, a rooster began to crow on North Walker Avenue, where the Edgemere Park neighborhood ends and the Paseo District begins.
Through the booms and busts of the OKC economy, along with the stagnation and gentrification of historic areas, that rooster's crow became a little faint. However, partners in business and life – Andrea Koester and Josh Gautreaux of OKC's Holey Rollers fame – took a chance on a dream, and the evolved, grown-up version of the Red Rooster restaurant has once again found its vibrant call.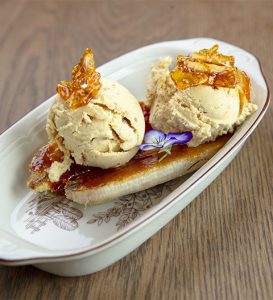 "I always wanted a full-service restaurant," Koester says. "I used to be a wine rep, so my goal was a small wine bar, serve some food, all of that. Joy Reed Belt, who owns the Holey Rollers building and the building the Red Rooster is located in, came to me one day and asked if I knew of anyone who would like to take over the Red Rooster space. I jumped at the chance."
After a phone call to Gautreaux, they popped in to check out the digs. They both knew the run-down, smoke-filled, 82-year-old space needed a lot of tender loving care.
"We brought in Josh's brother, who does construction, and started tearing down walls," Koester says. "We pushed up the ceiling tile and discovered the original tin ceiling – pulled up carpet and the original terrazzo flooring was underneath. So this place had great bones, and we decided to make it a go."
Red Rooster boasts a well-seasoned team brought together through a love for globetrotting and high-quality ingredients.
"Josh and I met while working at Big Truck Taco," Koester says. "When we left there, we did a lot of traveling, namely New Zealand, and worked on a farm. Then we traveled around Asia and ate a lot of great food. When we came back, I worked for Urban Agrarian and that's where I met our chef, Tim Mort. We did farm-to-table meals together and both of us have a passion for local, fresh ingredients. It all fell into place."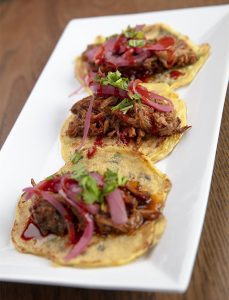 With an eclectic menu, along with Mort's influence and technique, the Red Rooster has much to offer. Carnivores, herbivores, gluten-free eaters and "get in my belly" comfort grubbers can all find satisfying dishes. These include a charcuterie board loaded with house-made pâtés and pickled everything; a kielbasa corndog; vegan della terra pasta dishes; and a nod to the Native American community celebrating the "three sisters" with masa grit cakes, black beans and pickled squash. For the sweet tooth, the sublime banana split peanut butter brûlée is a triple must.
For sips and libations, this rooster recommends sparkling summer wines, like the red lambrusco and rosy pétillant naturel, or the white crisp Greek moschofilero. For cocktails, there's everything from prohibition era classics to the joint's own creative shakes and pours. The beer connoisseur is definitely not forgotten with locally brewed suds on tap and packaged options.
With a new dawn in historic Edgemere Park, the Red Rooster caws loud and clear.