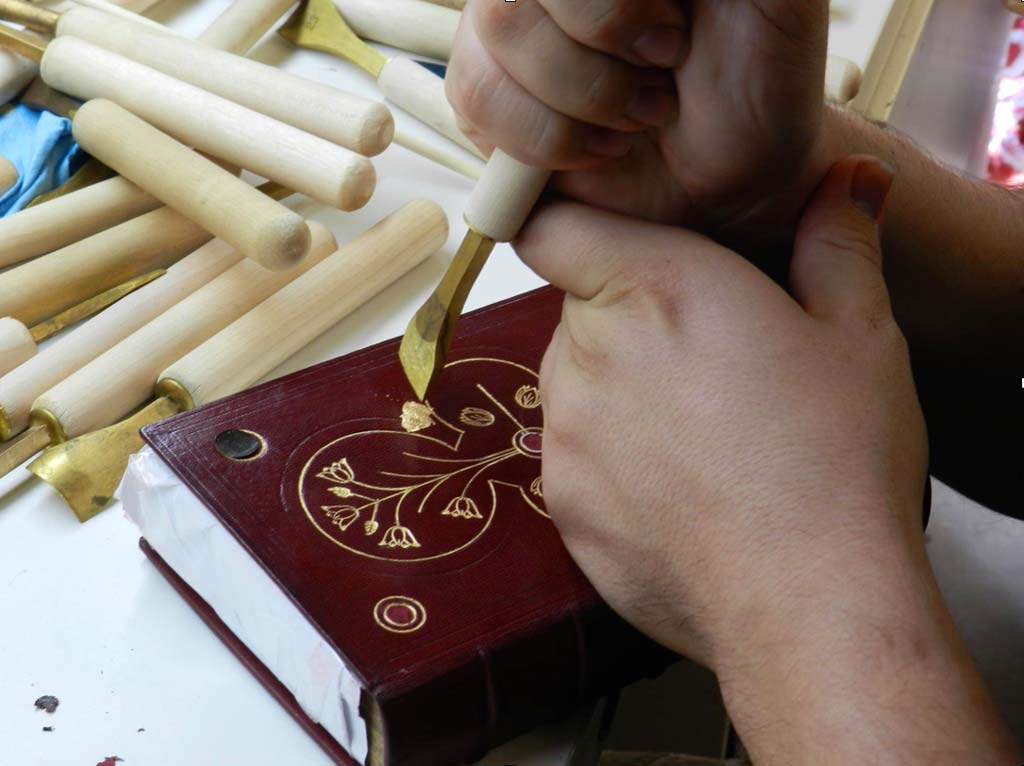 Sean Richards' hand-bound books really can be judged by their covers.
Three years ago, his replica of a 16th-century German cover, blind-tooled on pigskin, won first place for period binding in England's Society of Bookbinders competition.
For his skill in making intricate impressions on leather with a heated brass tool, Richards was awarded tools and a cash prize, and suppliers courted his business by sending free materials. He would have gone on a speaking tour had he not been working full time at the University of Oklahoma library.
His title is a big deal in the bookbinding world – something he is justifiably proud of. The winning book occupies pride of place in a glass case in his living room, and, if he were ever in a financial jam, it would fetch a lot of money.
He and his wife, Ana, are in business for themselves; Byzantium Studios operates out of a tidy, converted garage in Norman and relies on orders for repair and restoration of old and treasured books to pay the bills. But it's the design work that he gets most excited about.
Richards studied in Germany and the Czech Republic after being unable to convince U.S. master bookbinders to show him what they knew.
"There's a secrecy in the craft," Richards says.
Across the state in Fort Gibson, Polish immigrant Zbigniew Niebieszczanski, 65, and his son Artur, 36, are passionate in a different way. They mostly do Bible restorations and find satisfaction in the meticulous work, much of which preserves handwritten family records on decorative pages in tattered books.
"We're saving a family's history," says the namesake of Artur Bookbinding International, "and I get to do something with my hands that I enjoy."
Zbigniew Niebieszczanski spent more than three years in training as a bookbinder before he was banished from Poland for embracing Lech Walesa's Solidarity labor movement. Now, the father and son charge as much as $90 an hour for their work, which often calls for hand sewing with cord or heavy thread. If pages have crumbled or gotten wet, that's another painstaking process involving Japanese tissue and rice paste.
The Niebieszczanskis take just as much care with less-expensive study Bibles, which people often want to save because of notes written in the margins.
One customer spent about $300 to have his Bible spruced up, and two days later he drove off with the restored book on top of his car. He recovered the pieces, and the second restoration came with a heftier price tag. Money was no object.
"It was his Bible," Artur says simply.
There aren't many people who do hand binding, and most customers face waiting lists. But it's worth it, Artur says.
"People might pay $6,000 to $10,000 to restore a book," he says. "But their great-grandparents read it and held it. They will have it another 200 to 300 years."
Similar experiences led the bookbinders to the field.
Richards, 42, holds degrees in psychology and counseling, but he burned out as a social worker. He worked briefly as a hospital grief counselor, but, after his daughter was born, he could no longer face parents who had lost children.
Zbigniew Niebieszczanski, an ambulance worker, was so traumatized by what he saw after a car mowed down pedestrians in Warsaw that he dropped out of medical school.
"It was better working with broken pages than broken bones," he says.
Web-Exclusive Extended Interviews
Shared Interest Leads to Marriage
Ana Richards, Sean Richards' wife and partner in their Norman bookbinding business (Byzantium Studios), discovered the profession when she was a senior in college in Mexico. The couple met on social media through their shared interest and now Ana specializes in book boxes.
In their spare time, the Richardses are writing and designing a book about the dark history of pozole, a traditional stew dish from Mexico.
They work at night so they can enjoy the outdoors and search for fossils along the Red River. They have a 7-year-old Galapagos tortoise named April, and interacting with her helps them relax.
Sean's maternal grandfather, George Morgan, was the longtime Blackwell chief of police and the first professional storm chaser. He formed a team after a deadly tornado hit his city in 1955.
Before transferring to the University of Central Oklahoma, Sean studied at Southwestern Oklahoma State University on a jazz scholarship. He plays his trumpet regularly.
The company website is byzantiumstudios.com.
A More Pronounceable Company Name
Zbigniew Niebieszczanski named Artur Bookbinding International for his middle son after prophesying that the boy, then 11, would take up his trade. The name is also a lot easier for customers to pronounce.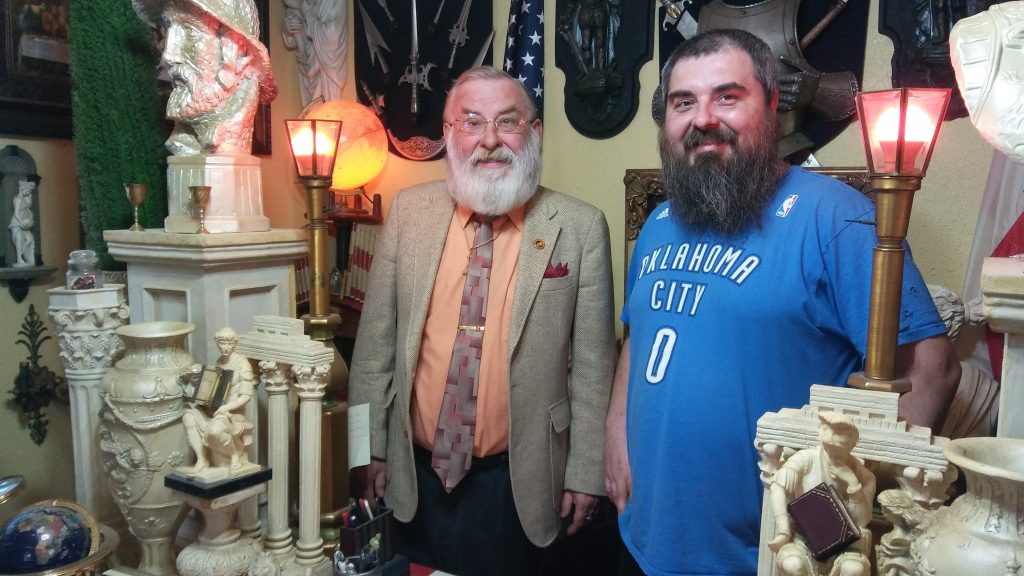 In 1992, the family opened the first Polish restaurant in the Fort Gibson area and named it for Zbiginiew's wife, Bozena, who did the cooking.
Zbigniew lost a promised job as a university bookbinder because he could not speak English when he arrived in the United States. He said he once complimented a woman of prominence by telling her, "You stink very good today."
The Texas church that sponsored the immigrating Niebieszczanskis in the 1980s gave them an aging silver Chevrolet Malibu that sported some rusted-through holes. Ever the artisan, Zbigniew patched it up with matching duct tape.
The company website is biblerepair.com.