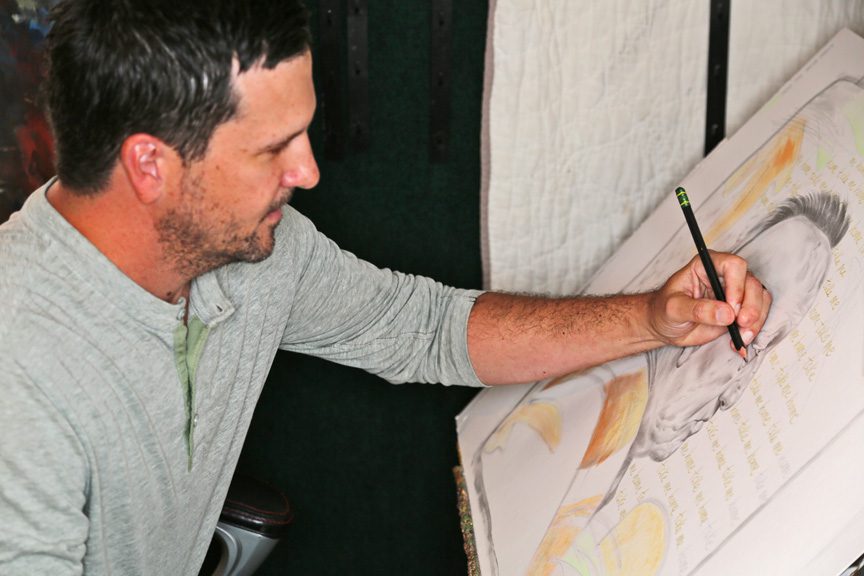 [dropcap]Artist[/dropcap] Matthew Bearden, typically known for his ultra-realistic portrayals of American Indian subjects, entered the mascot controversy in a roundabout way. During a conversation with his wife, he hit on a visual example of why many American Indians find sports team mascots based on American Indians so offensive. But it wasn't just something he could say. It was something he could do. And he did. It kicked off a yearlong effort to artistically make a point using the oddest medium of all: football helmets.
"Last fall I was talking to my wife, Tammy, about the mascot controversy and the [Washington] Redskins. Obviously, a lot of my peers in the Native American art business have strong feelings about it. It's not just political correctness. A lot of it is distasteful. It's insensitive. A lot of it's ignorant. It would be like Notre Dame, a Catholic school, putting the pope, wearing one of his mitre hats, on their helmets. They'd never do that, and she said, 'Okay, I get it now,'" he says.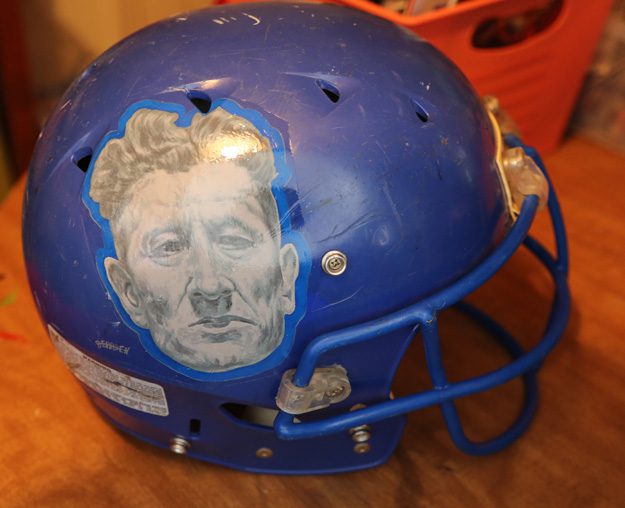 The 46-year-old member of the Citizen Potowatami Nation purposefully approached his topic with a non-judgmental, inoffensive method. He prefers making the simple point, letting the context drive it home.
"I could have gone full-throttle with in-your-face, insensitive material in my first show. That's not what I wanted to do. It turns people off. You're not going to reach anybody if you go that route. I threw in some humorous pieces, too," he says.
His first piece was a helmet featuring George Washington with a mohawk, mimicking the pen-and-ink style of political cartoons of the 18th century. At a glance, it looked like an Indian chief, perhaps a more respectable mascot for Washington's NFL team than the existing "Redskin."
"Your eye's already been trained, for a lot of these mascots, to see Native Americans," he says. "It's something I noticed while working on that piece. Just glancing at it, your mind's telling you that's an Indian chief. But when you really look at it, that's not what it is."
Bearden debuted his first collection of helmets at the Tulsa Artists' Coalition in an April exhibit entitled Sacred Mascots. The exhibit was well-received, and Bearden realized he'd hit on a quiet way of making a strong point about the offensiveness of American Indian sports mascots. But he knew he'd really hit the mark when displaying some of the helmets at an art festival.
"The first show I had the pope helmet at, I was approached by a gentleman, and I could tell he was bristling a little bit. He thought it was a statement about Catholicism. It wasn't. It was just an example. We had a talk about it. If he was offended, maybe he'll get some perspective on why Native Americans are offended by things like that. It wasn't an offensive image. It was just the pope with his hat on, not doing anything. But the guy was a little upset about it," says Bearden.
Bearden is a full-time artist and often exhibits his traditional work, acrylics on canvas, at Oklahoma City's Kasum Contemporary Fine Art Gallery. He sells a number of commissioned pieces.
"I'm going to do some more helmets. I've got a ton of helmets out there in the garage that I've been given by other coaches, and I've got some other ideas for some pieces to do," he says. "I did one piece with the white devil on it. It's just a bald white man with some horns on his head. I grew up in Osage County. At Fairfax they had the red devils. You've got the blue devils. So I thought I'd do a white devil."
Bearden graduated from Northeastern State University in Tahlequah in 1987. After that, he studied at the Institute of American Indian Arts in Santa Fe, N.M. He's a regular at Oklahoma City's Red Earth Native American Cultural Festival and the Cherokee Heritage Centers Trail of Tears art show.
Bearden's work will be on display in the East Gallery of the Oklahoma State Capitol later this year. One of his pieces is currently on display at The Fondazione Giorgio Cini Cultural Center in Venice as part of an art collection sponsored by Luciano Benetton. The Imago Mundi collection features almost 7,000 works by indigenous artists from 40 countries.
Bearden has no plans to give up football helmets anytime soon. It's too much fun for a football fan with a serious creative bent, he says.
"We'll see where it goes. It's a very small niche," he notes. "Who wants to buy a painted football helmet? I'm a big football fan, and it's been fun painting on them. I don't know. Like I said, I've got a lot more helmets to paint on whenever I get around to it."