Using beads, basswood and polymer clay, Owasso native Mat Smith transforms materials into magical creatures or Lilliputian buildings with realistic touches, such as burned wicks on tiny candles or sharp blades on a pint-sized ax.
From the foil stamp embossed on spines of leather-bound books to colorful liquor bottles made of beads, Smith doesn't miss a detail as he patiently constructs art pieces for large stage shows of the popular game Dungeons and Dragons.
The staged D&D game is an elaborate production steeped in storytelling and role-playing – with costumes, lighting, a set and live audience. Each show is livestreamed, recorded and uploaded to YouTube and the popular platform Twitch.
Known for his intricate work, Smith has received commissions each of the past eight years to create a diorama for the annual show at the Penny Expo in Seattle, but he still feels he can improve.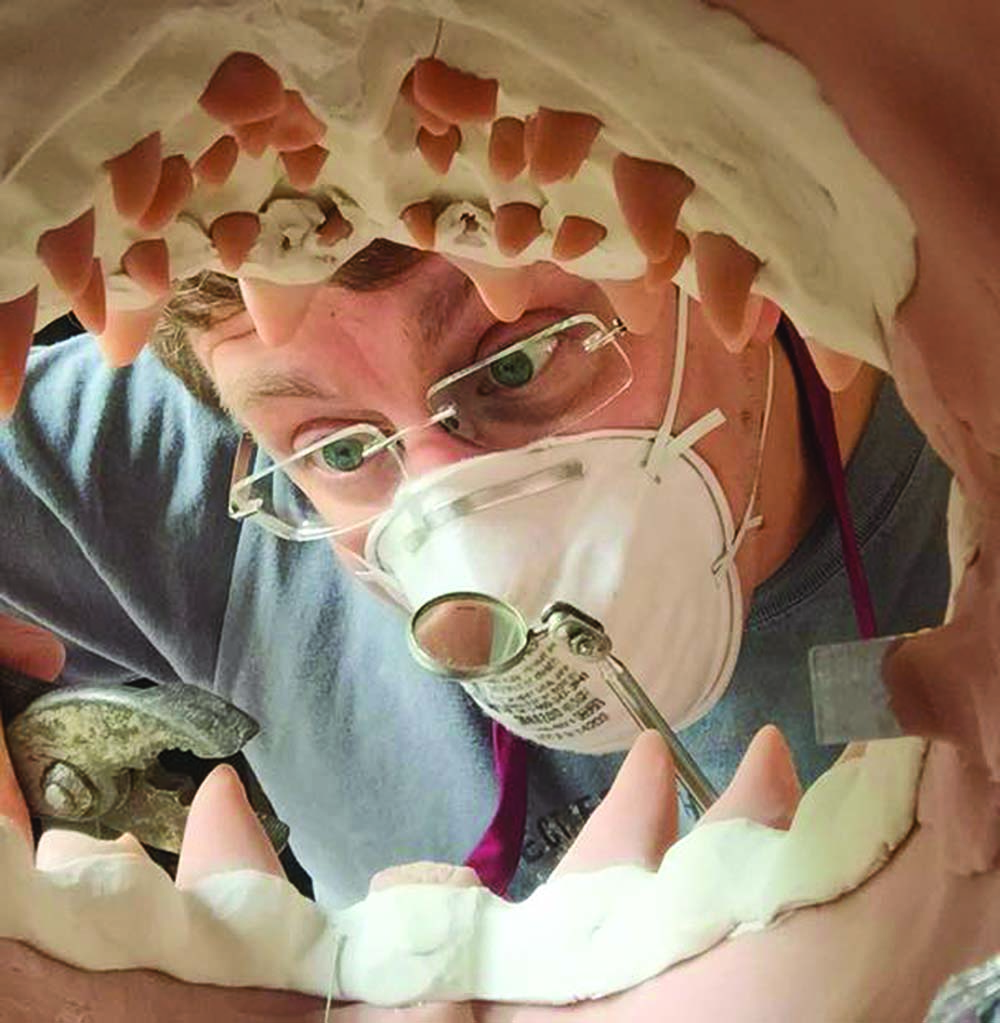 "This is where I fit the bill as an angst-y artist, waffling between liking the work I do and wanting to be so much better at it," Smith says. "But the moment the audience and players react to the diorama I built, that's when I feel best about what I do."
Smith's process begins with a month of planning and sketching; he often uses Adobe Illustrator to make detailed blueprints for each element. Over two months, the diorama comes together bit by bit.
His wife, Zara Nelson, has caught the diorama fever and, between 12-hour shifts as a nurse, joins him in creating each project.
D&D caught Smith's eye at age 12. His growing passion for the game eventually led him to a copywriting career for Wizards of the Coast, the company that produces the game in Seattle, where he began to make costumes, props and dioramas by using traditional artistic techniques that he learned in college.
After 12 years with Wizards of the Coast, Smith struck out on his own to turn his hobby into a job. He started Czar of Happiness Props and supplements his income with freelance copywriting and design work.
The name Czar of Happiness comes from "a tale of misanthropic sarcasm made good," he says.
It was crafted two decades ago as a facetious salute to a creative director who chastised Smith for being negative.
"Years later, when starting my prop-making business, I looked at the name as something that's unique and kind of fun," he says. "I liked the idea that I could create things that would make people smile. That's what a Czar of Happiness does."
Smith credits his dad for teaching him basic building skills and knowledge while growing up.
His parents have since died, but Smith returns to Oklahoma to visit his brother and 98-year-old grandmother in Tahlequah.
"A trip to Goldie's and Braum's is an added bonus," he says.