The exploits of Jim Thorpe, Shannon Miller and Mickey Mantle, among the highest-profile athletes in state history, are chronicled in numerous forms. However, they are not Oklahoma's only notable sports stars, whose stories are told at a variety of museums and halls of fame.
The Jim Thorpe Museum and Oklahoma Sports Hall of Fame, in Oklahoma City, offers a shrine to this Lincoln County native. Thorpe, a member of the Sac and Fox Nation, became an internationally renowned athlete with a superhuman skill set.
"The king of Sweden once called him the world's greatest athlete," says Mike James, the museum's executive director. "He won the decathlon and pentathlon at the [1912] Olympics. He played major league baseball. He was a professional football star. He even won a ballroom dancing contest.
"All of this is amazing, especially when you consider how Native Americans were treated in his era."
For instance, in those Stockholm Olympics, Thorpe competed in some events in mismatched shoes, found in a trash can, because his had been stolen and he couldn't afford to buy replacements. Thorpe was also an initial inductee in the Pro Football Hall of Fame.
The museum features exhibits on lesser-known Oklahoma sports stars, including tennis great and Chickasha native Don McNeill, who won the 1939 French national championships and, in 1940, the U.S. national championships and U.S. clay court title.
The free museum draws visitors from across the country.
"We had a lady … not too long ago from New Jersey who was passing through and wanted to stop because she had long admired Thorpe," James says. "She said her father used him as an example to teach life lessons to her as a girl."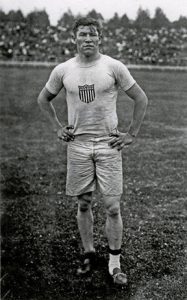 Also in OKC, the National Softball Hall of Fame complex hosts the Women's College World Series every spring, but there's plenty to see the rest of the year, including exhibits on the sport's history.
The Oklahoma Territorial Capital Sports Museum in Guthrie highlights athletes with Oklahoma ties, along with unique memorabilia – parts of a wooden goal post from the 1955 University of Oklahoma vs. University of Texas football game, a saddle from rodeo star Jim Shoulders, a bronze statue of gymnast Miller, and the original stock chute from the Lazy E rodeo arena in Stillwater. There are exhibits about Mantle and the six other Oklahomans who are members of the Baseball Hall of Fame.
"Oklahoma has a long history with baseball, and we have a lot of exhibits dedicated to that history," museum director Richard Hendricks says. "We have some baseball memorabilia that goes back into the late 1800s."
The free museum requests a $5 donation to enter.
"Most visitors who stop in really seem to enjoy the time spent here," Hendrick says. "Even if you know a lot about Oklahoma's sports history, most people come away learning something they didn't know before."
Miller, an Edmond native and gold medal Olympian, is also featured at the International Gymnastics Hall of Fame, inside the Science Museum Oklahoma in Oklahoma City. Other members include Olympic gold medalists Nadia Comaneci; her husband, Bart Conner (they run a gymnastics academy in Norman); Mary Lou Retton; and Olga Korbut.
Grapplers enshrined at the National Wrestling Hall of Fame in Stillwater include Olympians and collegiate national champions. Themed exhibits include African Americans in wrestling, the 1948 London Olympics team and individual stories from wrestlers like former world champion and current Oklahoma State University coach John Smith, along with Perry greats Jack Van Bebber and Danny Hodge.