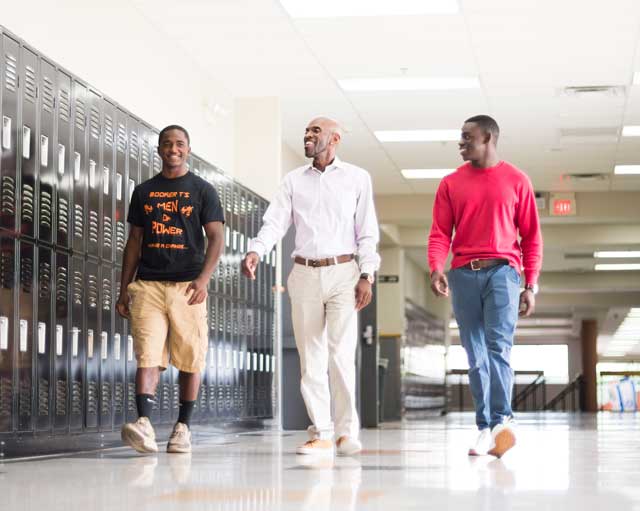 [dropcap]If[/dropcap] the youth are our future, then the future looks good at Booker T. Washington High School. That's where you'll meet the Men of Power – a group of African-American male students committed to academic excellence, community engagement and acting as positive role models to younger students. Spend time with them and you'll be blown away at their drive to excel.
The Men of Power group has been going strong since the fall of 2007, when a group of five students came to their history teacher, Dr. Anthony Marshall, with a very real concern about how young African-American men are viewed by society. They asked Marshall to help them find a way to change the misperceptions many people have.
"We need to change the perception people have of African-American male students," Marshall recalls them saying. "What can we do?" That first meeting led to the formation of the Men of Power. The group's goal is to equip young men with the tools necessary for success in every way. "Whatever power within you is motivating you to excel, it's about developing that power within you to excel," says Marshall.
[pullquote]Students will rise to whatever level of expectations you set. I set my expectations high, and they exceed them."[/pullquote]
The Men of Power group has grown exponentially since its inception. The group has more than 60 members, and they're reaching out to other schools across the Tulsa metro – including Carver Middle School, which now has its own Men of Power program; KIPP Tulsa College Preparatory; and several elementary schools, where they help third-graders improve their reading scores. They also want to show fellow students that academic success leads to success in life, a mission that Mekhi Singleton, a Booker T. senior and the Men of Power's vice president of recruitment, firmly believes in.
"Elementary and middle school kids look up to high school kids," Singleton says, which is why he visits the elementary schools. He believes in being a positive role model who makes excellence in school, sports and volunteering "cool." Fellow Men of Power member and student leader, Malik Thompson, is quick to agree. "It's almost like a look into the future – everyone wants to be an NFL player, or NBA or a singer. Well, you get your foundation first."
Singleton agrees. "We have to let younger kids know as soon as possible that you can't go far without the fundamental things." Ultimately, building that strong foundation depends on setting the standards high and refusing to quit.
"Students will rise to whatever level of expectations you set," Dr. Marshall says. "I set my expectations high, and they exceed them."
For the 2016-2017 school year, the Men of Power's expectations are higher than ever. Over the summer, Dr. Marshall is moving from Booker T. to Washington D.C., where he will work at a school where the graduation rate is strikingly low and the need for a program like Men of Power is high. That means Booker T.'s Men of Power will be taking the lead without their founding faculty adviser.
But Singleton and Thompson are ready for the challenge. Their goals for the upcoming school year include bringing in at least 20 freshmen as new members. They also are excited about the Men of Power's partnership with the Sigma Pi Phi fraternity, the nation's first African-American Greek-lettered organization. They're ready to continue working with local schools that need their leadership. And on a personal level, Singleton and Thompson both have plans to attend Howard University if all goes well.
It's hard to imagine it would go otherwise. The Men of Power are nothing if not driven to be the best they can be. "As long as I can motivate these young men to reach their full potential," Marshall says, "that's what it's all about." And it's clear that the Men of Power are just as motivated and destined for success.