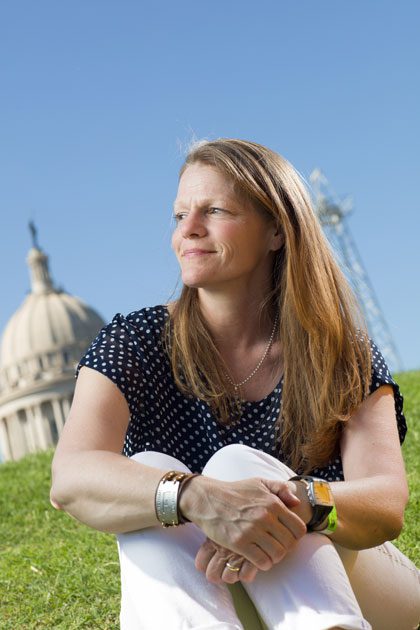 [dropcap]Oklahoma[/dropcap] Film + Music Office Director Tava Maloy Sofsky is getting a chance to use 20 years of experience in the entertainment industry to help her native state. After graduating from The University of Oklahoma, she moved to Los Angeles to begin her film career and was mentored by veteran producer Doug Claybourne and has worked with film industry likers such as Francis Ford Coppola, Steve Spielberg, Oliver Stone and Robin Williams. As director of OF+MO, she works to support and promote Oklahoma's film and music industries by connecting filmmakers and music professionals to the state's resources, including the Oklahoma Film Enhancement Rebate Program, diverse locations and professional support. We met with Sofsky to get her thoughts on…
…the benefit of bringing film, television and music production to the state.
The State of Oklahoma will benefit from national, if not worldwide, exposure by three television projects utilizing our diverse locations and local resources. American Ninja Warrior 8 alone has caused Oklahoma to garner a great deal of attention from media stories that have reached an audience of almost 200 million people with over 1.2 billion page views. The total dollar value of the media attention is approximately $4.5 million dollars. That's a huge impact to the state, not to mention the publicity Oklahoma will gain from the other film and television projects filming around our state over the next several months. The impact on Oklahoma has a long shelf life, especially when you consider the digital world of media on top of film tourism benefits.
…the impact of the film and music industry in Oklahoma.
The film and music industry is playing an important role in the sustainability and growth in our economy. Due to the thousands of jobs for the creative class and VOTECH industries (hair, make-up, catering, electrical, transportation, construction, etc.) and the production service companies and businesses benefiting from these industries, the cultural and economic impact is significant.
…turning Oklahoma into a major site for entertainment production.
Oklahoma is already becoming a major hub for filming and music production. It doesn't (or shouldn't) happen overnight, but I'm happy with the steady growth. There is a resurgence happening in the state with artists and crew members moving home to expand their careers to new film and music production companies being born every month. With the certainty and longevity of our rebate program, which keeps our crews and artists hard at work, you will start seeing larger sound stages and production facilities being built and more talent being attracted to our state.
…her favorite part of being OF+MO director.
I've always been a connector and encourager, so I love that my job is just that. I get to connect like-minded people to the resources they need, whether it be a filmmaker in Hollywood who is seeking local crew, equipment and talent or a local filmmaker scouting a specific location. Same for our musicians – there are so many opportunities that we connect artists to as well, which is rewarding knowing we are developing the infrastructure of these industries in our great state.
…using film and music to promote Oklahoma.
I truly believe that if we can get filmmakers on a plane, they do (and will) fall in love with our people and places.  There is nothing like the experience you have by filming and working in Oklahoma!